Training & Development
Issue Date:2021/07/07
Employee Development Strategy
With the corporate philosophy of "core competency, professionalism, efficiency, and service" at the core, we continue to promote "internal + external innovative talent cultivation action."

To help employees with all-round development, we established a sound training mechanism. Through the "demand analysis" and "detailed planning" before training and the performance assessment and review after, employees strengthen their professional skills and boost their work efficiency through facilitation of the systematic mechanism, which is also associated with the efficiency of corporate operation.
Talent Cultivation System
New Employee Trainings
For the new employees to understand the corporate vision, philosophy, values, culture and features as well as rapidly adapt to the requirements and environment at work, we have stipulated "New Recruit Counseling Guidelines for Chunghwa Telecom and Subordinate Institutions" and established the "new recruit mentorship and cultivation system" to accelerate the new employees' speed to be work-ready through the e-Learning courses in line with the learning habit in the digital era.
In-service Trainings
A function-oriented cultivation system has been established. Based on the "professional function" and "managerial function," digitalized trainings are available online. Community learning and knowledge management system are promoted. In addition, e-learning satisfaction survey is conducted to capture the training results accurately.
Mechanisms like a training institute, advanced studies, self-organized trainings, external trainings are available. A total of NT$451,380,000 were allocated in 2021. Taking all the 20,247 employees into account, the average training cost per capita was NT$22,294.
The dedicated training institute, Chunghwa Telecom Training Institute, has been set up to offer systematic trainings for different levels. A total of 1,726 sessions were offered in 2021, accessed by 99,566 employees with the costs totaled NT$451,380,000 for trainings thereof.
Average Training Hours/Amount in Management Levels
| 2021 | Total Hours | Total Cost (Thousand NTD) | Average Training Hours | Average Training Cost per Capita (Thousand NTD) |
| --- | --- | --- | --- | --- |
| Low-level Management | 1,678 | 1,091 | 5.47 | 3.55 |
| Mid-level Management | 1,924 | 1,251 | 1.95 | 1.27 |
| Mid-to-senior-level Management | 519 | 338 | 2.84 | 1.85 |
Note: The above information are project-based courses for three management levels in 2021.
Average Training Hours/Amount in Different Types of Training
| Types of Training | Total Hours | Total Cost (Thousand NTD) | Average Training Hours | Average Training Cost per Capita (Thousand NTD) |
| --- | --- | --- | --- | --- |
| Manager & Supervisor Training | 86,615 | 56,327 | 3.88 | 2.52 |
| Expertise & Technical Training | 246,609 | 160,374 | 10.48 | 6.81 |
| Sales & Customer Service Training | 52,692 | 34,267 | 7.12 | 4.63 |
| Health & Safety Training | 78,264 | 50,896 | 4.49 | 2.92 |
| Computer Training | 196,199 | 127,592 | 6.80 | 4.43 |
| E-learning | 488,222 | 21,924 | 24.11 | - |
| Total | 1,148,601 | 451,380 | 56.88 | - |
Employee Development Programs
AI Technology Employee Cultivation Program
Innovative 5G Application Talent Training
Description
In response to the age of Artificial Intelligence, CHT actively developed emerging services like "5G, IoT, AI, and big data." The "AI Technology Employee Cultivation" Program was initiated to map out AI talent skill learning map for different functions to enhance the AI skills for ordinary employees and train internal AI experts. This cultivation plan applies AI technologies to internal operation improvement and external new product development to achieve cost reduction, marketing and business expansion, and use AI in the smart maintenance inside the Company. Hence, three benefits were gained: customer experience elevation, maintenance cost reduction, and quality deterioration prevention. In addition, both offline and online training models were available in response to COVID-19.

Offline: AI Program and Certification Class; AI Technologies and Application Course
Online: AI Course Livestreaming; Online Academy for AI & Big Data

CHT is the 1st telecom operator in Taiwan to achieve 5G commercialization. For employees to familiarize themselves with 5G network construction and innovative applications for an ongoing career development, "Innovative 5G Application Talent Training" was promoted in 2021 to improve their 5G skills and application abilities and cultivate relevant professionals. The training mechanisms include:

"5G Series" Program: e.g. 5G open network, 5G cybersecurity, 5G vertical market applications, 5G terminal applications
5G Course Certification: e.g. "Ericsson 5G base station installation and settings" and "Nokia 5G base station installation and settings"
5G vertical market application demo site established for employees to practice innovative 5G applications.

In response to COVID-19, "Innovative 5G Application Talent" training model include offline courses, distant learning, livestreaming courses, all-e-learning, and e-learning courses)
Objective/business benefits
The objectives of the cultivation program include:

Cultivate machine learning engineers for all software engineers to apply machine learning
Cultivate AI-enabled workers: for employees to apply AI to improve work efficiency
Cultivate AI managers: to lead teams to introduce and apply AI in daily operation and businesses

Business benefits

AI-powered smart base station maintenance: about 9,360 mobile network obstacles reduced per year that raise the cell availability to 99.9%. The average obstacle time is shortened from 188 min. (2017) to 99 min.
AI-powered automated broadband construction service with the success rate raised from 94.5% to 96.5%, reducing 38,000 hours of manpower per year
AI robot smart customer service promoted, which serves up to 174,000 calls a year and cuts NT$148 million of labor costs
4. Cultivating employees to be ML engineers and improve their expertise in AI to usher in new products and revenue streams for the Company

Benefits of the Innovative 5G Application Talent Training program to the improvement of CHT 5G professionals for them to use critical innovative technologies to explore 5G application opportunities for the Company.
Empowerment of the Company with sufficient workforce to expand the 5G network construction and maintain 5G operation capacity
Improvement of 5G technical autonomy to set up and configure 5G base stations independently and cut costs of outsourcing
Construction and provision of 5G experiences, innovative collaboration and training venues in the program and the exchanges with external industrial/academic circles, elevating corporate reputation and drawing talents with potential
Benefits in promotion and training for corporate clients to develop 5G vertical market application opportunities and continuously update and improve demo items at the demo sites

Quantitative impact of business benefits

145 professional ML engineers cultivated
21,945 employees completing the AI skill training
AI team's assistance in facial and human recognition solutions in 2021, generating NT$250 million of revenue for the Company
AI team's securing the bid "license plate recognition and intersection surveillance" of the government in Taiwan in 2021, generating a revenue of NT$3.88 million for the Company
The smart solutions, big data analytic solutions, and AI solutions developed by the AI team in 2021, contributing totally NT$1.76 million to the revenues of the Company

Business benefits:

Revenues of NT$350 million generated from the bids in 2021 for the Company
1.85 million 5G users (No.1 in Taiwan) with a market share of 36.05%
Over 8 5G services developed at the 5G test sites, generating a revenue of NT$3 billion for the Company
5G Smart Edge Data Center with 61 5G smart applications developed, generating a revenue of NT$700 million for the Company
5G industry stakeholder engagement: tours for 2,256 individuals of 92 groups from the government, industry, or academia to the CHT 5G test sites, elevating the corporate image

Human capital benefits:

9,046 5G professional trained with an average course satisfaction rate of 5.67 (out of 6 points) and an average learning advancement of 47.1%
5G program certification: 261 certified 5G professionals cultivated
5G online general course: a completion rate of 98.98% for all employees with a course satisfaction rate of 5.28 (out of 6 points)

% of FTEs participating in the program
100%
98.91%
Gender Equality and Diversity
Chunghwa Telecom places great value on human rights and gender equality. In 2020, there are 1 female directors on Board and female staff accounted for 29.29% of total staff. Among them, female managers accounted for 27.84%, female junior managers accounted for 29.59%, female top managers accounted for 17.72%, female managers in sales department accounted for 53%, and female in STEM-related positions accounted for 17.17%. We expect our female in STEM-related positions to reach 20% by 2030.
To conform to the essence of the "gender equality" in the Employment Act, the Company has outlined "Regulations Governing Anti-discrimination and Anti-harassment" and established a "Complaint Investigation Committee" that specializes in the handling of employee complaints about work-related discrimination and improper behavior. The investigation committee has five members, three of whom are female. Our effective control has resulted in no incident of discrimination being reported in 2020. Training Courses are provided to employees, and occasional promotion lectures during business meeting and during new employee onbroading are also held to raise awareness to the issue in the workplace.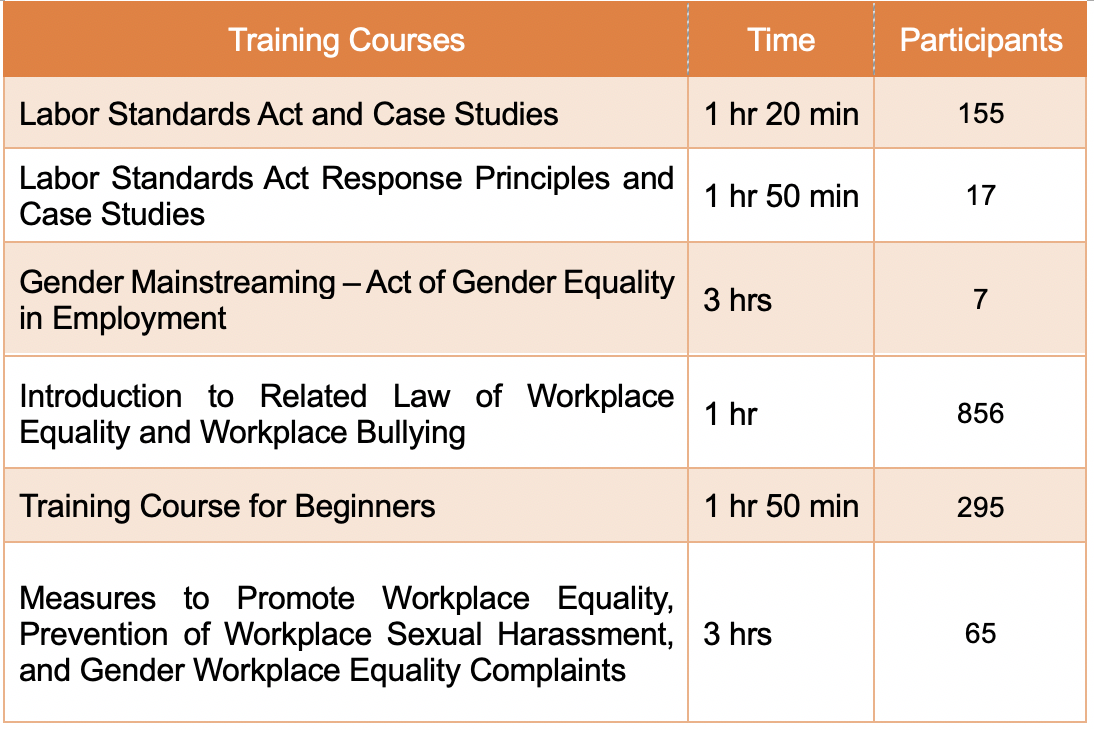 Breakdown of workforce based on ethnicity / nationality:

Breakdown of workforce based on other minority group(s):

Union Establishment
Chunghwa Telecom is the only telecommunication carrier in Taiwan with union establishment; it has also signed a collective bargaining agreement with the union. This agreement covers an extensive range of issues from redundancy, reward, discipline, promotion, to health and safety. This initiative not only complies with local laws and international human rights conventions, but is also a show of our commitment to protect employees' interests. In addition to the union established by Chunghwa Telecom, employees have also assembled 14 other unions under the organization.
In 2020, 99.26% of employees had attained union membership. A director seat has also been reserved for workers' representative, so that employees can more freely express their opinions.
The Employee Engagement Survey
The 2020 Employee Engagement Survey graded at an average of 90 points out of 100. The result of the 2020 Employee Engagement Survey is as followed: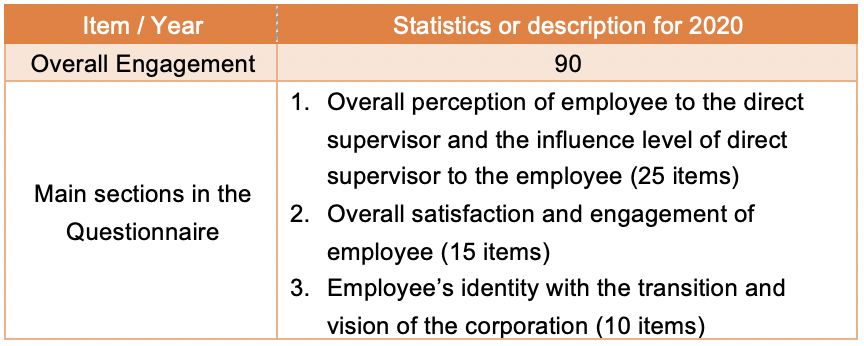 Fair Appraisal Mechanism
Chunghwa Telecom now applies "Employees Performance Evaluation Guidelines" which are utilized in the evaluation of employee performance to develop the corporate culture where employees, customers, shareholders, and the Company will all be winners. Supervision will be provided for underperforming employees who will be guided until the appropriate improvement has been made and they are back on track.
Chunghwa Telecom conducts performance appraisal at three different levels: entry-level staff, entry and mid-level managers, and senior managers. Performance appraisal involves a series of face-to-face discussions between employees and line managers at the beginning of a year to set personal goals, and also at mid-year and years end to evaluate the degree of employee contribution to Company performance. During these sessions, managers also discuss career plans and suggest courses relevant to the future career of each employee. Performance bonuses and employee remuneration are tied to performance.

A Competitive Compensation System
We have a "Compensation Committee" in place to ensure that compensation for the best talent is competitive. In addition, the Company has a transparent system for sharing business performance with its employees. Compensation for executive management has been standardized and details are disclosed publicly in the annual reports. The Company offers equal compensation for all entry-level employees of the same grade. Those who possess relevant skills and work experience may have compensation evaluated based on educational background, career experience, expertise, and professional qualifications. Under no circumstances will compensation ever be determined by gender or racial differences. The median employee compensation of all employees (except for CEO) is NT$ 1,299 thousand in 2020, while the mean employee compensation of all employees (except for CEO) is NT$ 1,270 thousand in 2020. The gender gap between employees are as followed:
Employee Hire and Turnover
New Employee Hires: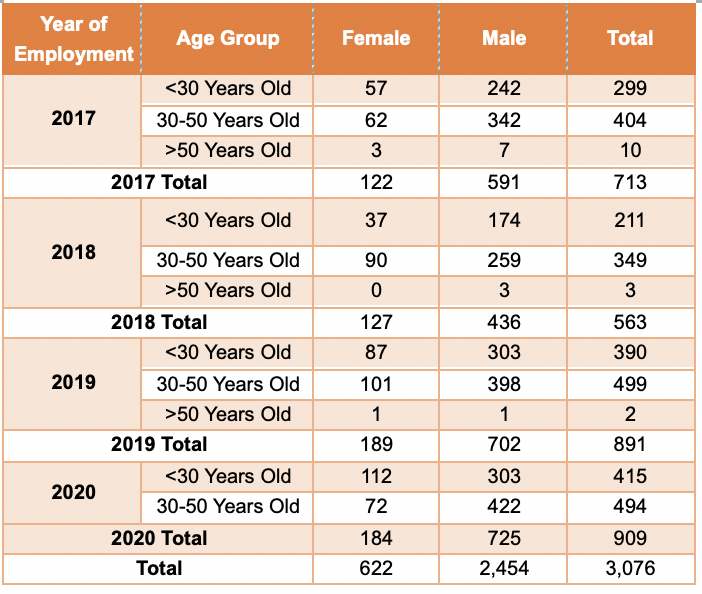 Internal Hires: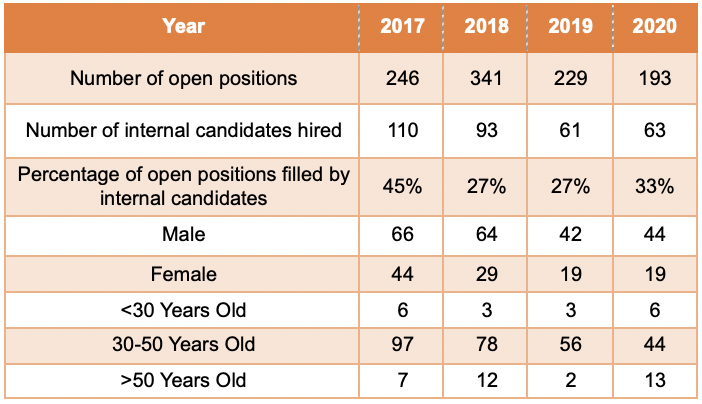 Turnover: