5I SDGs Initiative
Issue Date:2022/06/30
5I SDGs Initiative
On the basis of a comprehensive "digital inclusion" strategy, Chunghwa Telecom taps into its years of experiences in social inclusion. In 2018, it was the first in the telecom industry to propose the "5I SDGs" initiative. The "5I" in the initiative, besides homophonic with "I love" in Chinese, also stands for "achievement of UN SDGs via ICT."

The "5I SDGs" initiative of Chunghwa Telecom is the first initiative in Taiwan that is specifically tied with the UN SDGs as well as the goals of "Digital Nation & Innovative Economy Development Program" (DIGI+) of the Executive Yuan. Through the expansion of partnerships (with NPOs/NGOs), it facilitates sharing of knowledge, technologies, and resources. A virtuous cycle is formed via technology in support of the underprivileged and diversified groups to stay abreast with the digital era for a win-win scenario of digital rights and innovative economy.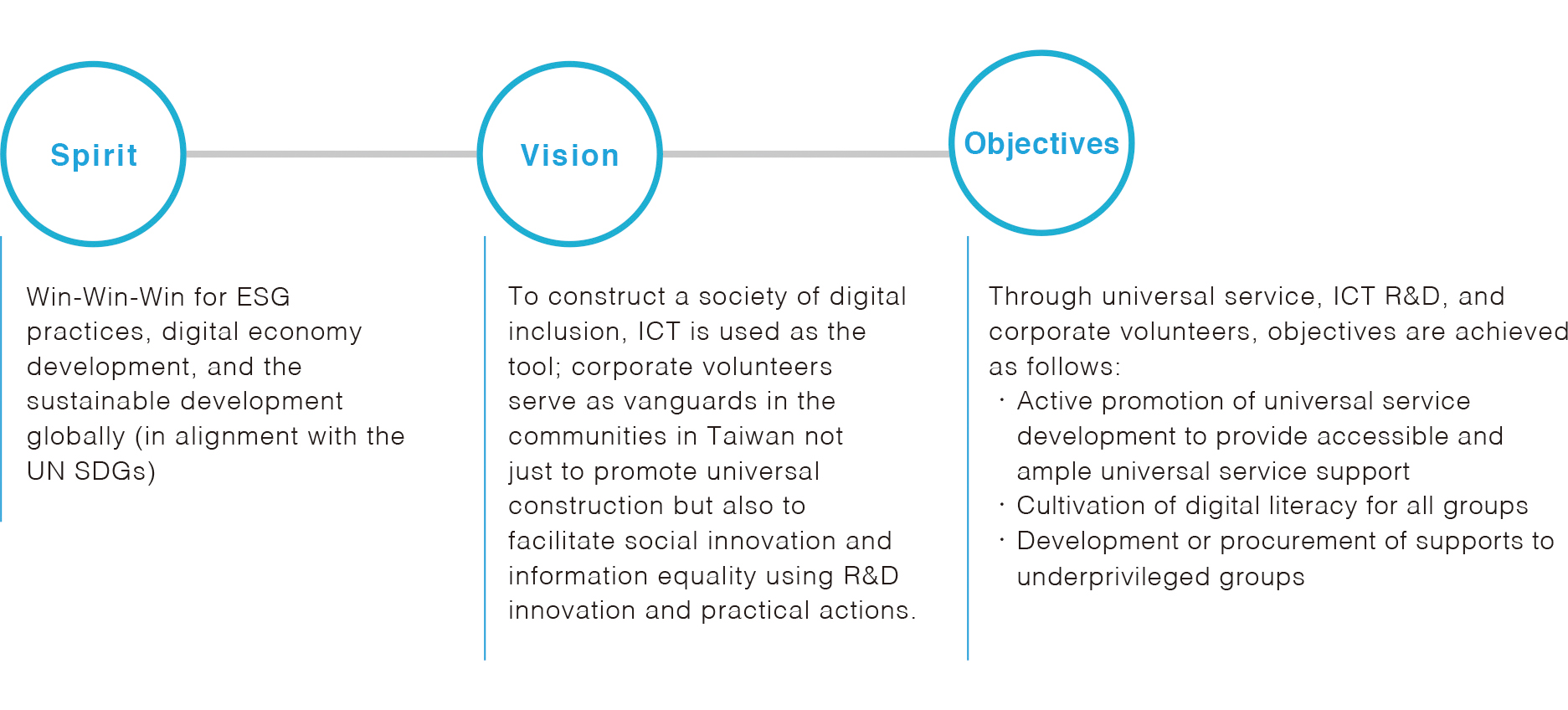 5I-SDGs Initiative Blueprint
5I
Corporate Volunteer
Core Competency
Action Plan
Targets by 2030
SDGs Aligned
I Technology
Technology Education Service
Promotion of digital equality using digital technology
Cellphone expert course at service centers

2,000 volunteers trained for technology education
5 million visits to technology education

I Eco-friendly
Energy Efficiency Environmental Service
Energy saving and carbon reduction; green for Earth protection

Marine debris reduction
Energy-saving Volunteer Service

Removal of marine debris by 100 metric tons
Assistance to communities to save energy and reduce carbon by 1 million

t-CO₂e

I Helping
Vision Accessibility Service
Assistance to the visually impaired in accessing digital technology and services

Beacon Project
Vision Aid Course (1988-present)

60,000 visually impaired in Taiwan benefited
200,000 accesses to visually impaired life entertainment

I Learning
I-Learning Service
Bridging the urban-rural divide and flipping the education in the rural areas

Read with You (2009-present)
Foundation projects (2006-present)

Cumulative 8,000 companionship by Big Learning Buddies
Cumulative 180,000 hours of Little Learning Buddies assisted

I Sharing
Local Sharing Service
Promotion of local services as a Big Neighbor
Guided tour to the digital collection of telecommunications in Taiwan

50,000 services by corporate volunteers
3 million stakeholders in communities benefited
I Technology + I Sharing – the Stronghold for the National Critical Infrastructure Protection
In 2021, in the exercise at the Level-1 national security level, "National CIP Designated Exercise for Critical Infrastructure," supervised by the Executive Yuan, Chunghwa Telecom was designated as an exercise unit for seven years in a row. With the multi-faceted network resources and seamless coping capacity for disasters, CHT was awarded as the Outstanding Entity in the National CIP Designated Exercise for Critical Infrastructure.

Chunghwa Telecom fully demonstrated its resiliency and coping capacity for disasters in the exercise. By pulling off the response exercise that is the most comprehensive in terms of types of disasters included, most extensive in terms of units connected, and most people mobilized over the years, it received the highest recognition by the state. In light of the proper commanding and coordinating performance of our President Shui-Yi Kuo, which were highly recognized by the assessors, President Kuo was presented with the honor of "Best Commander." CHT works closely with the public and private sectors to form joint defenses to ensure the business continuity of enterprises and a smooth communication and management of the country.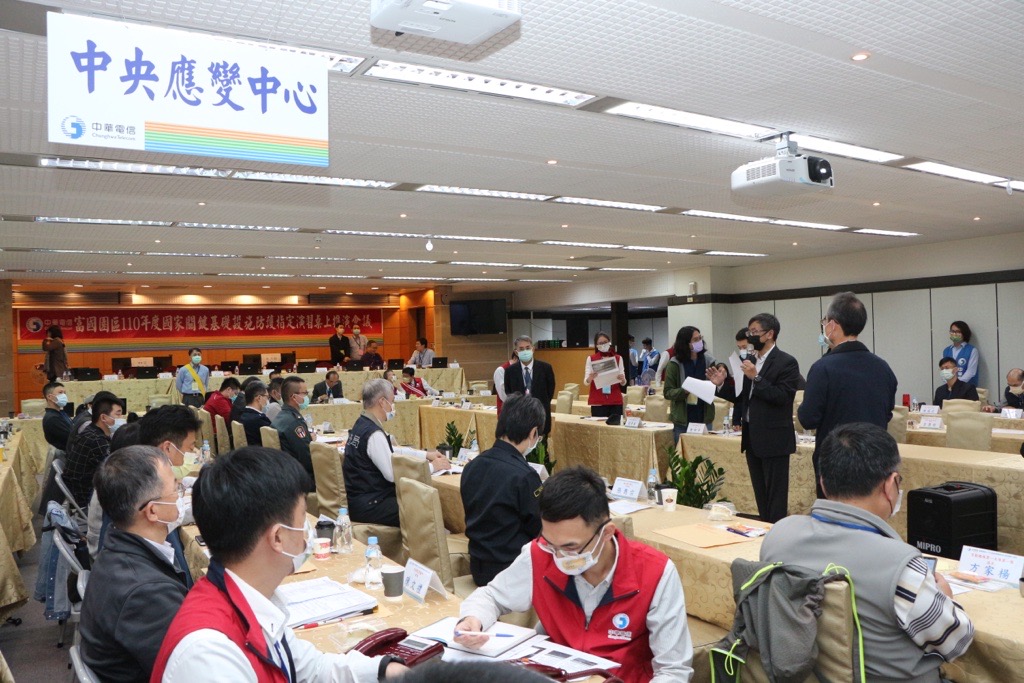 I Technology + I Sharing – NSTM Telecom@Taiwan for Holiday Scavenger Hunt Game
To promote conservation of cultural heritage of the telecom services in Taiwan, CHT has been working with the National Science and Technology Museum (NSTM) since 2004, organizing a variety of events, including cultural relics digitalization, special exhibitions, and educational outreach programs. In 2011, the permanent exhibition "Telecom@Taiwan" was set up. The exhibition is kept in good quality with careful maintenance year after year. In addition, Digital Telecom Museum is created online, featuring collection, cataloging and conservation, digitalization after photographing and scanning, and search functions of telecom relics and literature. The oral history project through interviews with telecom veterans was further set in motion in 2018.

In 2021, CHT organized the holiday scavenger hunt game "Love of Telecom Lives on with the Helping Hand of NSTM" at the NSTM for the first time. There were 18 sessions in total with 1,697 participants cumulatively. This event further elevated the public's willingness to pay a visit to Telecom@Taiwan for them to have the chance to learn and explore better the telecom service history in Taiwan.
I Eco-Friendly + I Sharing – 5G Plastic Free for Carefree
In 2021, CHT launched its first sustainable action campaign in tetralogy "5G Plastic Free Day." With the high-speed capability of 5G networks in transmission and our corporate influence, we aimed to help the employees and the public to implement life philosophy of eco-friendly plastic reduction to give rise to a carefree and plastic free life!
Chapter I: Employees produced the environmental education materials, which can be accessed for e-learning via the internal education system, along with a series of posts for environmental advocacy released on social media such as CHT's CSR Facebook Fan Page and Instagram.
Chapter II: Employees were encouraged to invite their friends and families as well as the general public to go to the web game Plastic Challenge to improve their knowledge and understanding with plastic waste.
Chapter III: "5G Plastic Free Family Day" was organized to invite employees and the public to bring their friends and families to watch the environmental drama play produced by Paperwindmill Theatre and participate in the eco-friendly interactive game.
Chapter IV: All employees were called upon to carry out mountain/beach/river cleanup efforts at 26 locations across the country. A total of 2,200 participants were involved with 20.7 metric tons of wastes removed.
Through the series of activities mentioned above, we embedded the awareness of environmental protection deep at the hearts of the participants. Looking forward, we shall join hands with partners on the supply chain to march toward the sustainable management goal of plastic reduction and carbon neutrality, dedicating ourselves to the practice of "Green Enterprise."