Environmental Sustainability
Environmental Sustainability Strategies and Goal
Issue Date:2023/06/28
Environmental Sustainability Strategies and Goal
While the telecom service is an industry of low pollution, Chunghwa Telecom recognizes that the energy and resources, wastes, maintenance, and procurement in the operation will lead to certain level of impacts to the environment.

We have stipulated "Chunghwa Telecom Energy Saving Policy for a Sustainable Environment" as the highest guidelines for the development of environmental sustainability. Aiming to achieve net-zero emissions, we proactively carry out various environmental sustainability efforts.
Development Strategies for Environmental Sustainability
To attain the sustainability goal of "green enterprise," we set up the dedicated "Environmental Sustainability Task Force" under the Sustainable Development Committee to formulate the short-, mid-, and long-term development goals for environmental sustainability. Also, net-zero emissions, energy saving and carbon reduction, as well as issues of environmental sustainability are incorporated in the operational plan. We have stipulated the internal environmental code of conduct and set the targets for green energy development and GHG emissions reduction.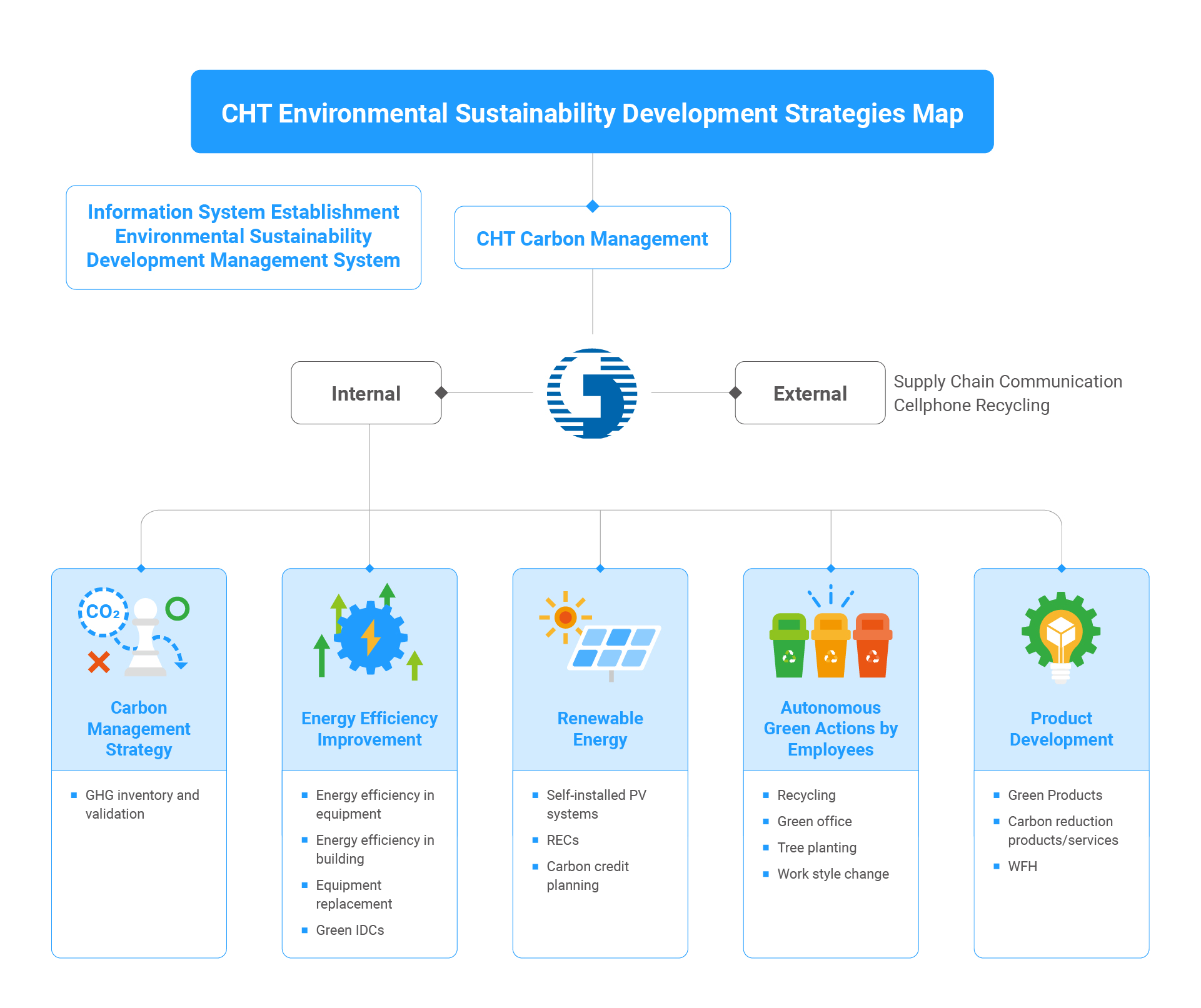 To live up to the commitment to environmental sustainability, Chunghwa Telecom set the goal of "Green Enterprise, Green Sustainability, and Green Innovation," to deploy its 5G Green Campaign: "Green Operation; Green Energy; Green Store; Green Supply Chain, and Green Procurement" to fulfill the spirit of triple surpluses in economic benefits, environmental sustainability, and social inclusion, realizing the environmental vision of sustainable development.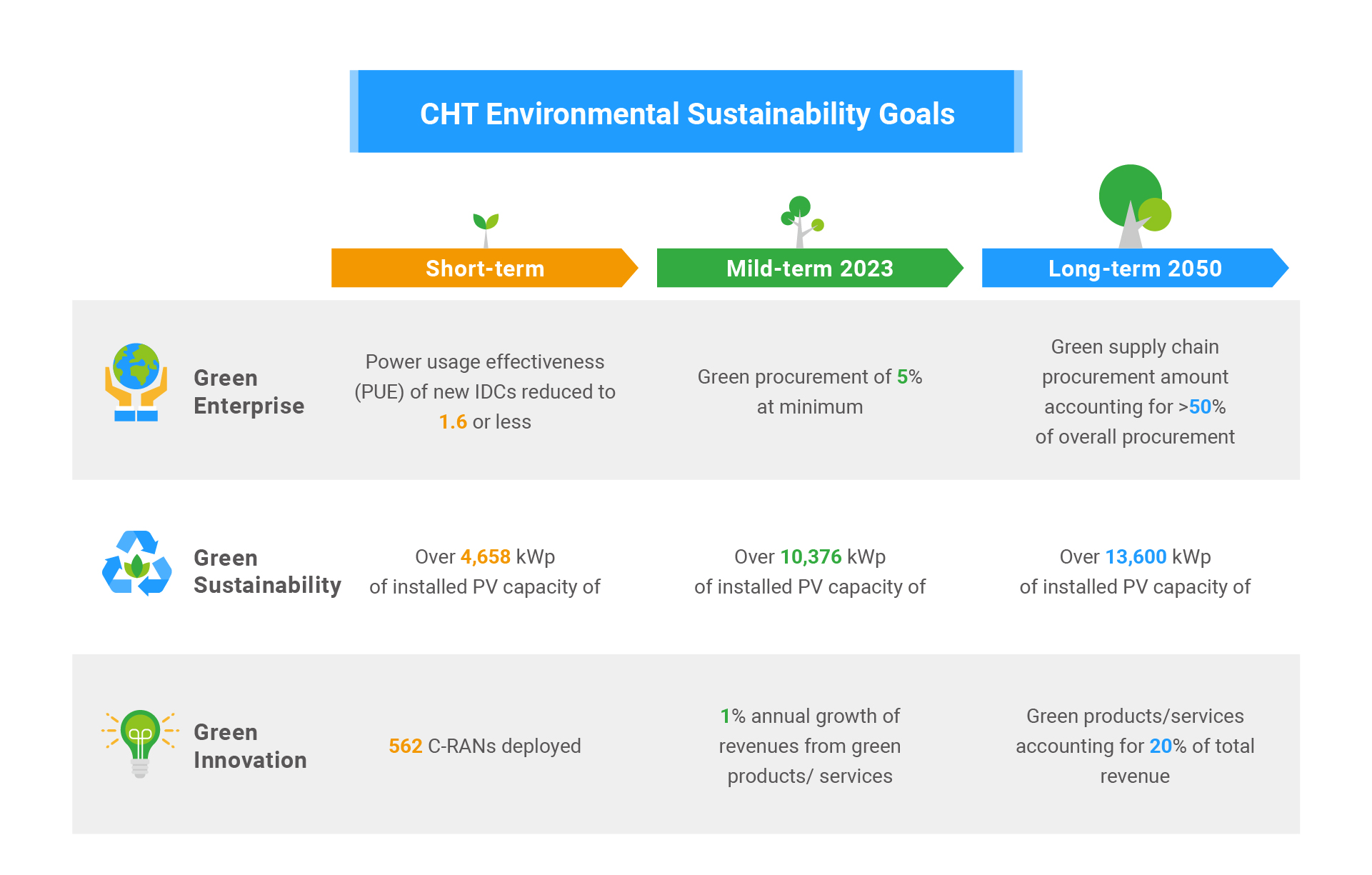 Environmental Sustainability Management Systems
In addition to compliance with relevant environmental laws and regulations, Chunghwa Telecom also keeps a tab on the international trend of environmental sustainability development as well as introduces and institutes relevant environmental sustainability management systems as appropriate and appoints dedicated personnel for environmental sustainability. Pursuant to the spirit of ongoing improvement of the PDCA management system, it improves the environmental sustainability management system and action plans via planning, executing, improving and elevating strategies in order to attain the goals of environmental sustainability and the vision of Green Enterprise.
| Year for Introduction | System |
| --- | --- |
| 2009 | ISO 14001 Environmental Management |
| 2011 | ISO 50001 Energy Management |
| 2008 | ISO 14064-1 Greenhouse Gases |
| 2021 | BS 8001 Circular Economy |
| 2023 | ISO 14067 Carbon footprint of products |
Environmental Sustainability Initiatives
As the global environmental sustainability development has marked a new milestone, Chunghwa Telecom proactively focuses on and responds to sustainability initiatives and actions at home and abroad. Through participation and comprehension of the visions and goals of initiatives as well as the engagement and communication with internal/external stakeholders, it drives the Company's sustainability transformation with action.
| Year of Signing/Response | Initiative |
| --- | --- |
| 2010 | Taiwan Energy saving patrol |
| 2018 | Taiwan Energy saving patrol |
| 2021 | Net Zero 2030/2050 Initiative |
| 2023 | Taiwan Nature Positive Initiative, TNPI |
| 2023 | RE100 |