Environmental Sustainability
Climate Strategy
Issue Date:2023/06/30
Carbon Management Strategies
Chunghwa Telecom believes that climate change will bring impacts and challenges to the telecom industry. Nevertheless, it will also give rise to sustainable low-carbon business opportunities. As such, we keep a tab on the development of climate change issues worldwide. With the internal and external carbon management strategies combined, we proactively develop low-carbon, sustainable products and services using innovative thinking and our core competencies in hopes of securing the advantages in the low-carbon and smart economy. Therefore, we may achieve the win-win scenario of corporate revenue boosting and environmental sustainability.
With both internal and external strategies, Chunghwa Telecom endeavors to implement the low-carbon sustainable transportation and seize green business opportunities.
Internal: Stipulate the corporate "environmental sustainability development strategies and net-zero emissions targets" by means of organization and information system; improve the efficiencies of environmental information management in carbon emissions, resource utilization, etc. using the self-developed environmental information management system.
External: Develop renewable energy; utilize ICT core competencies; develop "low-carbon sustainable products"; and provide professional technologies and services in energy saving and carbon reduction for enterprises.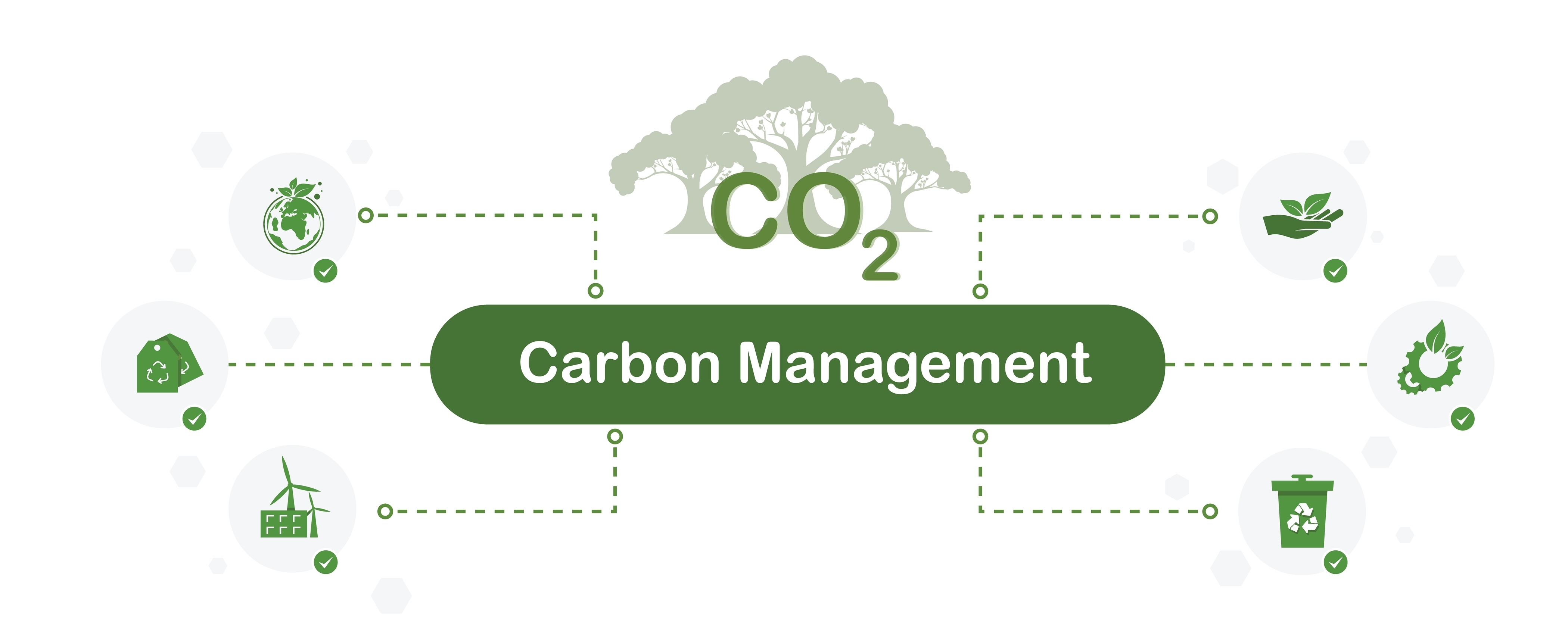 Low-carbon Sustainable Strategies and Actions
1. Focus on environmental sustainability issues and regulatory progresses in the world
Keep tabs on changes of environmental laws and regulations at home and abroad; active align ourselves with international management systems and environmental sustainability initiatives; engage with key stakeholders; actively promote environmental sustainability action plans.Climate change adaptation strategies
2. Climate change adaptation strategies
The Environment (E) group of Chunghwa Telecom, managed by the Executive Vice President of Technology, is responsible for overseeing the company's climate change mitigation and adaptation issues. The E group develops the company's climate change strategy and initiatives in accordance with the resolutions of the Sustainable Development Committee and the instructions of the Chairman. The E group manages the company's climate change risk and opportunities with regular meetings and reports progress to the Executive Vice President monthly. The E group delivers the achievement of climate change goals, implementation results, future plans to the Sustainable Development Committee. The Sustainable Development Committee reports the overall achievement of the company's ESG goal to the Board of Directors. Additionally, the Sustainable Development Committee also reports the ESG/climate-related issues to the Strategy Committee annually for the purpose of executive oversight.

Continuously introduce TCFD assessment; plan and execute "Action Plans/Programs for Adaptation of communication Networks to Climate Change in the Next 20 Years" to deploy the climate change adaptation actions.
With mitigation and adaptation at the core, strengthen the carbon management capabilities of CHT and the supply chain, and improve the climate resilience of telecommunications infrastructure and communication equipment to ensure business continuity
Aiming to achieve net-zero emissions as the top priority, motivate partners in the upstream and downstream to jointly attain the 1.5°C goal laid out in the Paris Agreement
3. Construction of low-carbon sustainable supply chain
As the first domestic telecom operator to join the CDP Supply Chain Program that officially initiated the supply chain carbon management action in 2018, Chunghwa Telecom encourages supplier partners to disclose complete GHG information and plan for carbon reduction actions.
Promote "Sustainability Partner Rating" system in partnership with the Sustainable Alliance for Low-carbon Economy (SALcE)
Organize "Sustainable Partner Rating – Sustainable Products and Services"
4. Development of low-carbon sustainable products and services
Leverage its strengths in ICT businesses and assisting the public to reduce carbon with its technology competencies, CHT develops innovative applications of 5G, IoT, and big data via green, innovative thinking, assists Taiwan in building smart cities, offers low-carbon solutions, and cuts down carbon footprints materially.
Developing "green products and services" and providing professional energy-saving technologies and services
Reducing carbon footprint through green innovative services and cloud-based products and technologies
5. Carbon neutral telecom store
In 2019, CHT Syntrend Service Center was certified to ISO 14067 and PAS 2060 and became the first store that obtained EPA's Carbon Label for Services and the first "carbon neutral telecom store" in Taiwan that takes the lead in the trend for carbon neutral services.
Actively promote "paperless customer receipt and application (EMAIL)," "paperless QR-CODE number taking," "electronification for accounting services application," and "electronification for application in external distribution channels," saving 2.23 million pieces of paper and reducing carbon footprints in customer services.
In addition to developing eco-friendly products, we actively promote green stores: 447 regular stores in Taiwan transformed into "green stores." As the first telecom operator in Taiwan with its service centers fully transformed into green stores, Chunghwa Telecom encourages consumers to purchase green products first via "Chunghwa Telecom Green Stores."
Carbon Management Targets
Through TCFD introduction, regular response to CDP questionnaires, and setting of science-based targets via the SBTi mechanism, as well as RE100 by 2040, Chunghwa Telecom has lay out its short-, mid-, and long-term carbon management targets to march toward the goal of 2050 net-zero emissions.
Strategies and Targets by 2030
Progresses in 2022
Improve energy efficiency and develop renewable energy.
Targets:


A 50% reduction of carbon emissions compared with 2020 levels
100% IDCs on renewable energy
RE100 by 2040

Carbon emissions reduced by 76,000 metric tons (9.64%) compared with 2020 levels
The total usage of renewable energy in the company amounted to 24.05 million kWh
18.90 million kWh (12.7%) of renewable energy used by IDCs