Corporate Citizenship / Philanthropy Strategies
Issue Date:2023/11/29
Corporate Citizenship and Philanthropy Strategies
Chunghwa Telecom incorporated the "corporate citizenship and philanthropy" into the overall business plan. Prior to actions of corporate citizenship and philanthropy, the community benefits and business benefits potentially generated will be evaluated and set. Then, the contributions and results (SROI) of the corporate citizenship and philanthropy will be quantified for a proper allocation of social engagement resources to deepen the social engagement values and impacts.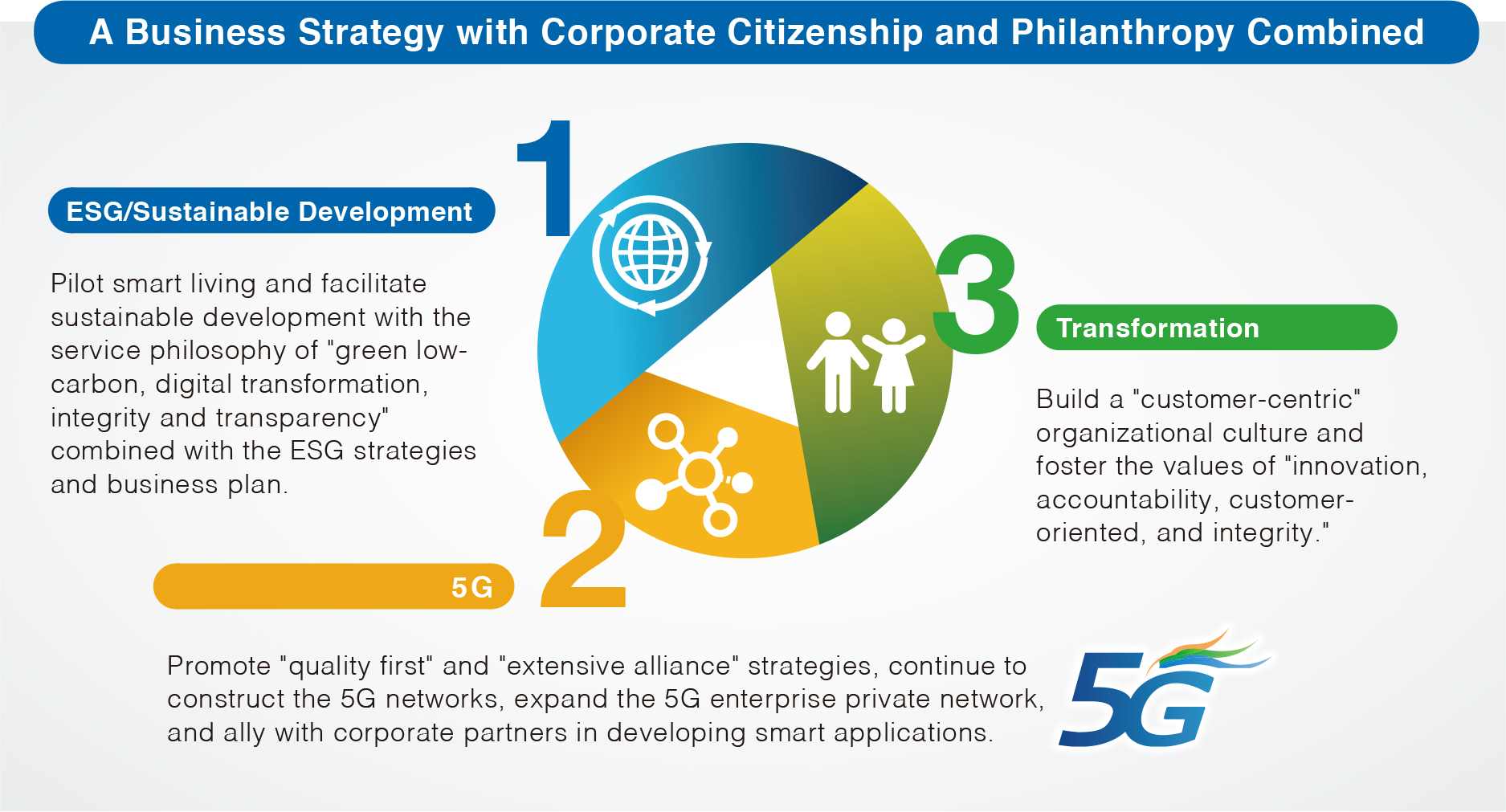 Philanthropic Strategies with Operational Benefits
Priority
SDG Aligned
Relation with the Corporate Operational Benefits
Universal Service Construction

Industry, Innovation and Infrastructure

CHT is the largest telecom operator in Taiwan. Hence, building sufficient telecom infrastructure and maintain broadband network's service quality are closely associated with the corporate revenue and image.
Over NT$400 million is allocated per year in universal service to continue to construct networks in the rural areas to fulfill the vision of information equality in Taiwan

Promotion of 5G Commercialization and Innovative Applications

Decent Work and Economic Growth

5G commercialization and innovative applications are actively promoted to created job opportunities and encourage creativity and innovation with industrial development at the core.
CHT is the first operator to engage 5G commercialization in Taiwan. Through innovative smart living applications and services as well as universal service, the general public can access affordable telecom infrastructure and services.
With the Form Alliances strategy, we join hands with partners across sectors for active deployment and development of new forms of digital living applications.

Promotion of Supply Chain Carbon Management Action

Climate Action

CHT improves the productivity as well as energy/resource efficiencies of enterprises in Taiwan via the 5G, IoT, and Big Data applications.
CHT joined the "CDP Supply Chain Program" in 2018. Through carbon management education, mentorship, and inventory, hundreds of suppliers are guided from understanding risks and opportunities in climate change to instituting effective carbon management and mechanisms step by step.
Results of the Year
Unit: NT$
| Category | 2022 |
| --- | --- |
| Contribution in cash | 211,261,141 |
| Contribution in products/services | 602,830,663 |
| Management Costs | 22,265,835 |
| Corporate volunteering costs | 3,320,456 |
| Total | 839,678,095 |
| Corporate volunteering service hours | 48,797 |
| Percentage in revenue (%) | 0.039% |
COVID-19 Prevention Measures
As COVID-19 rampaged on worldwide in 2022, either enterprises or individuals had suffered severe impact. As a local leading enterprise, we "deployed preemptively" and "improved on a rolling basis" comprehensively. Internally, the national team of epidemic prevention of CHT, according to CHT Preparedness and Contingency Plan in Response to COVID-19, supported vulnerable groups, ensured the operation of critical infrastructure networks, information computer rooms, and important information systems, and ensured the health protection of employees; externally, improved customer service quality. We also actively supported the government's various epidemic prevention work and measures and implemented the overall epidemic prevention solution to jointly protect the health of the people.

Chunghwa Telecom Epidemic Prevention Highlight Measures
Set up the epidemic prevention command center in accordance with the CHT Preparedness and Contingency Plan in Response to COVID-19, establish an Business Continuity Plans, and conduct continuous exercises.
We provided the free customer service hotline 24/7, developed multiple online service and self-help channels. Customers could conduct business at home without worries.
We Self-developed "Epidemic Monitor and Management System" to promote various technological epidemic prevention measures:
• Paperless night market transaction: Cashless transaction services were introduced for contact-free payment for local shops, SMEs, microenterprises, and night market vendors.
• Offsite working/Work from Home: Epidemic prevention plans with cybersecurity at the core were offered for enterprises with needs of offsite working; broadband Internet environment of "triple networks" with fixed line, mobile network, and Wi-Fi services.
• Prepaid cards were provided to the Ministry of Education for the disadvantaged students in the rural areas.
Discounts for telecom service fees: The telecom rates of the businesses and schools impacted by the epidemic were lowered moderately to reduce the burdens thereto, while Prepaid SIM Cards were provided to especially economically-disadvantaged students, free of charge.
Support to Taiwan CDC Toll-free Hotline 1922: The total number of Taiwan CDC toll-free hotline 1922 is up to 7.53 million in 2022 with an average answer rate of 68.3%.(Excluding the April-May period, when the Central Epidemic Command Center launched the Self-Reporting systems for confirmed cases, a large number of people came in to inquire about the resettlement of confirmed cases, with an average response rate of 85%.)
• 352,432 calls to the NIA's Foreigners In Taiwan Hotline with an average answer rate of 79.06%.
• 22,311 calls to the customer service hotline of the SMS Real Name Registration System with an average answer rate of 90.36%. (exited since 4/28)
ICT epidemic prevention (SMS Real Name Registration System): The SMS Real Name Registration System was established for the MOHW to significantly reduce difficulties in the outbreak investigation. (completed phased tasks and exited in April)