Telecom Industry Value Chain
Issue Date:2023/06/29
Value Chain of Telecom Industry
The value chain of the telecom industry is an interdependent and interlocking ecosystem. Construction of infrastructure offers a quality fundamental security; communication services provide basic communication functions; and value-added services supply more diverse and innovative application services. The above-mentioned upstream and downstream elements jointly foster the value chain of the telecom industry. Mobilized by digital convergence, content providers/integrators, application service providers, network equipment and terminal device suppliers, etc. are even more important value chain partners for telecom service providers.

Chunghwa Telecom adopts the strategy of "extensive alliance" to, ongoingly better itself in services of fixed network, mobile, data, and eICT as well as strengthen the partnership with its suppliers throughout the supply chain to form a closer industrial ecosphere, introduce more quality services, and facilitate the digital upgrade and transformation of the industries in Taiwan together.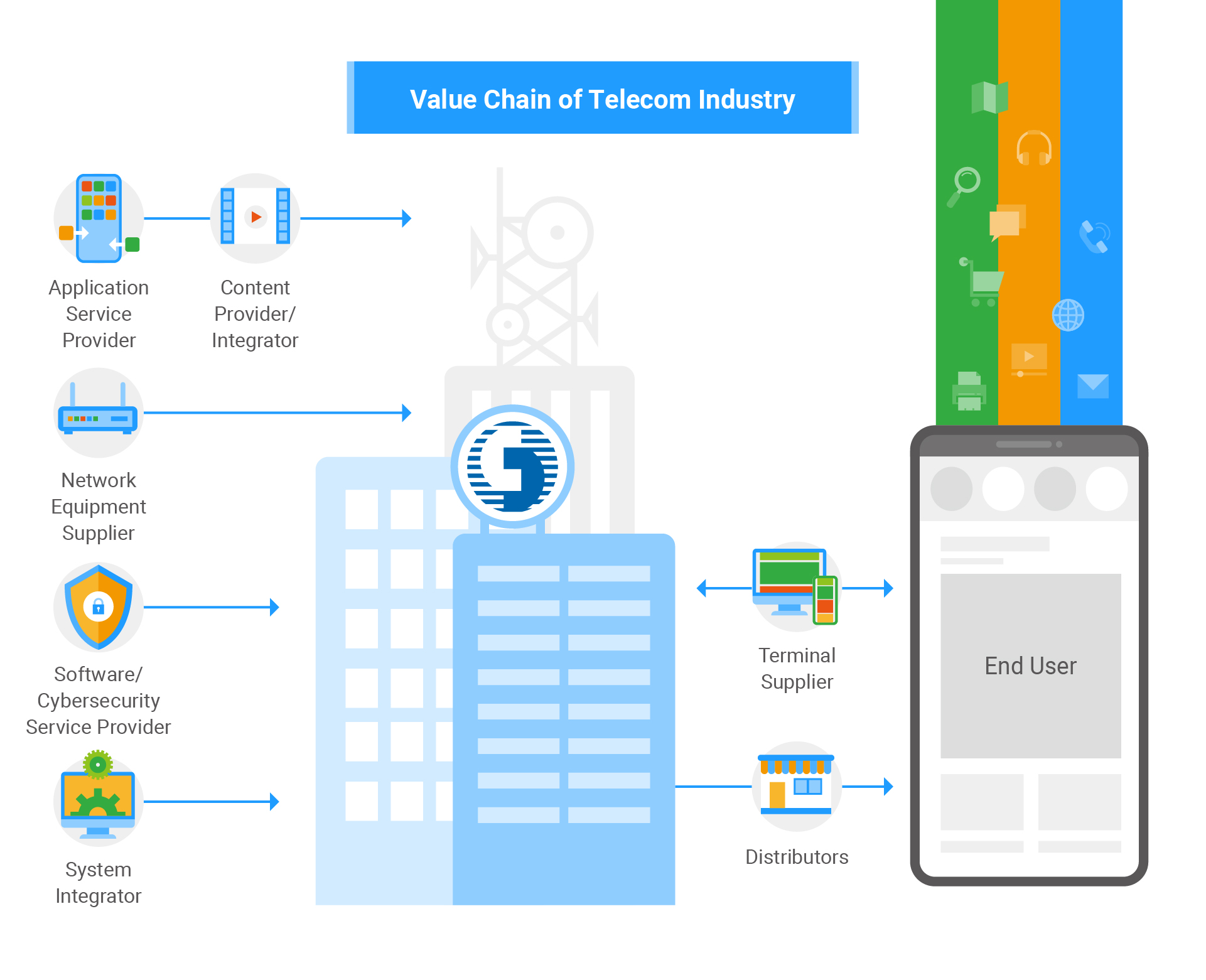 CHT Supply Chain
The CHT supplier partners can be divided into types of property (50%), service (13%), and construction (16%), projects and tenders (14%), repair (2%), and other (5%). Now that its scope of operation is mainly of Taiwan, aside from professional network communication equipment to be procured internationally, we substantially put the philosophy of "local procurement" into action to facilitate the development of local economy. The ratio of local procurement at Chunghwa Telecom was 97% in 2022, increased by 8% compared to last year. The total procurement amounted over NT$70 billion.

Category
Spend Value (% of total spend)
Number of Suppliers

Engineering

Total
27.54%
691
Domestic
27.49%
690
Foreign
0.05%
1

Marketing/consulting services/general affair

Total
15.62%
2,380
Domestic
15.56%
2,369
Foreign
0.06%
11

Consumer Electronics

Total
25.46%
70
Domestic
25.46%
70

Furnishing

Total
1.86%
677
Domestic
1.86%
677

Information Services and Equipment

Total
3.73%
332
Domestic
2.42%
312
Foreign
1.31%
20

Telecommunication Equipment

Total
25.80%
1,171
Domestic
20.07%
1,158
Foreign
5.73%
13

Total

100.00%
4,351
Note:
When a supplier has transactions with Chunghwa Telecom in different transaction categories (for example, Supplier A has transactions in both engineering and decoration), the number of suppliers will be counted repeatedly according to the type of suppliers, but the total number of suppliers is based on different Repeat suppliers for statistics.