CHT Cloud Service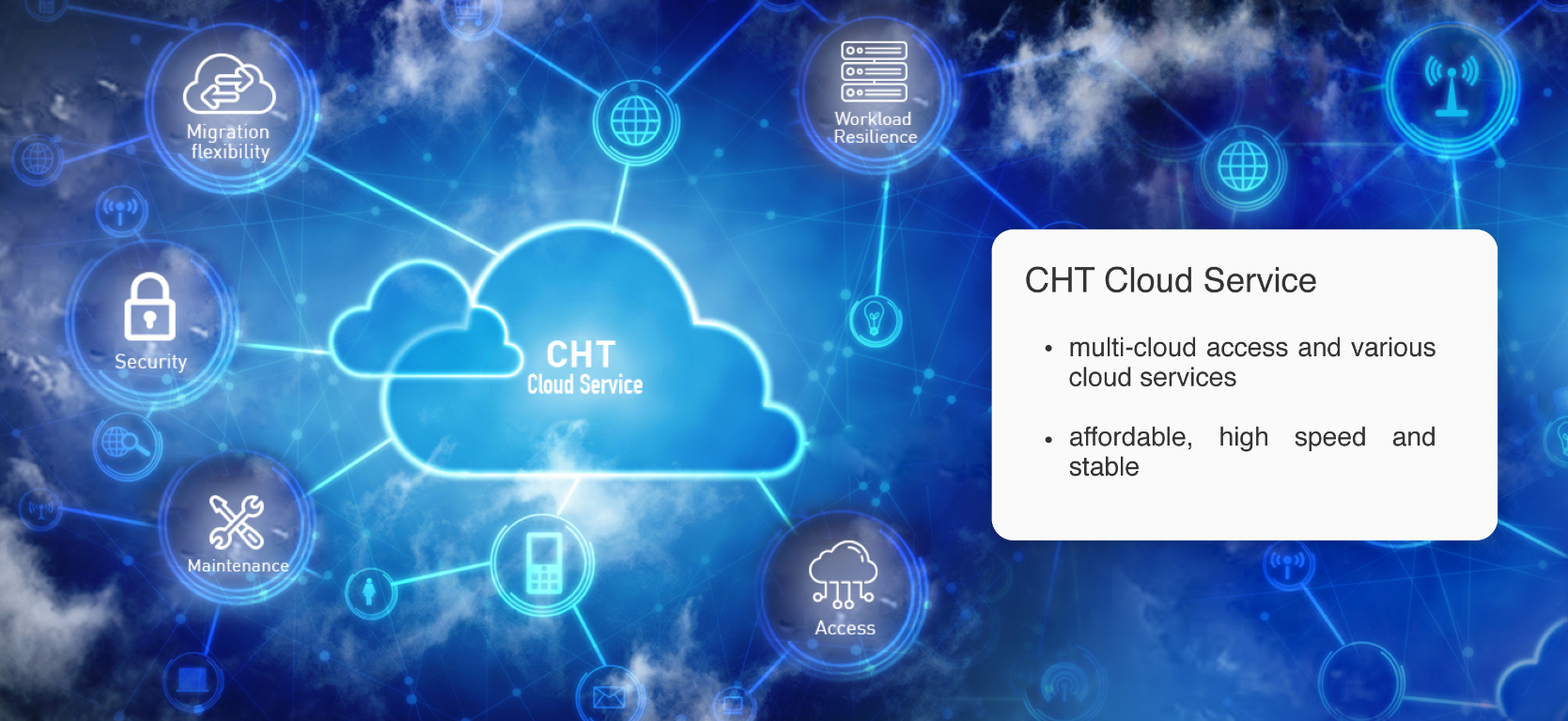 Service Profile
CHT Cloud service is a Multi-Cloud Network Convergence service. With a high-quality global network as the basis for all kinds of cloud services, it integrates CHT hicloud and other public cloud services include in AWS, Azure, GCP. And, through an integrated platform CHT GXC (Global eXpress Center), various services such as Network, IP, Cloud, IOT, and Business can be smoothly exchanged on this platform.
Service Features
CHT Cloud Services is closely integrated with CHT IDC and CaaS services and has a complete hybrid cloud ecosystem.
CHT Cloud Services works with hicloud and market-leading public cloud service providers to provide complete public cloud solutions.
One-stop service. CHT Cloud Services provides private cloud and hybrid cloud solutions to meet the needs of various cloud applications and assist enterprises in digital transformation.
International cloud integration services. CHT Global eXpress Center (CHT GXC) provides direct connectivity to public cloud services such as AWS Direct Connect, Azure ExpressRoute and Google Cloud Interconnect, etc.
Service Strengths
Chunghwa Telecom's international ICT (Information and Communication Technology) service, based on reliable and trustworthy network connections, reaches 60 nodes in Europe, America, Asia Pacific and the world through 27 submarine lines.
Integrates Chunghwa Telecom's network advantage to provide a secure, high-speed, low-latency cloud connection experience.
Linking to public cloud service providers who comply with local laws and regulations, and provides localized services to meet the needs of various industries and enterprises.
CHT Cloud Services combines the integration and resiliency of public, private, and hybrid clouds to help companies fully utilize cloud services such as AI, IoT, and Big Data.
CHT GXC can provide customers with direct access to public clouds outside of Taiwan.
Supporting Layer 2 Ethernet leased line or Layer 3 MPLS VPN network to access the public cloud.
Supporting Active-Active backup circuits to public cloud.
CHT Cloud service is affordable, high speed and stable.
CHT provides 24x7 customer service.
Target Customers
Technology, manufacturing, information industry
Government, school
Multinational corporations
Success Story