Social Inclusion
Issue Date:2020/08/20
Social Inclusion Strategy
CHT actively expands our company's resources to achieve a more equal and more friendly society, hoping to create a barrier free of technology and information. The environment enables cultural heritage, extension of education, promotion of industry, and promotion of humanities and arts all through technological linkages. Therefore, people of diverse ages, physical and mental states, backgrounds for growth, geographical factors, and education levels can all benefit from science and technology and create unlimited hope. With the aim of fulfilling the responsibility of corporate citizenship, CHT upholds the spirit of "value is where the responsibility lies," and effectively integrates the core competence of company with corporate volunteerism. We have dedicated to donations, product or service and volunteer services. The two major axes of "minimizing the digital divide" and "creating digital opportunities" have continued to penetrate into Taiwan's communities and rural areas and islands.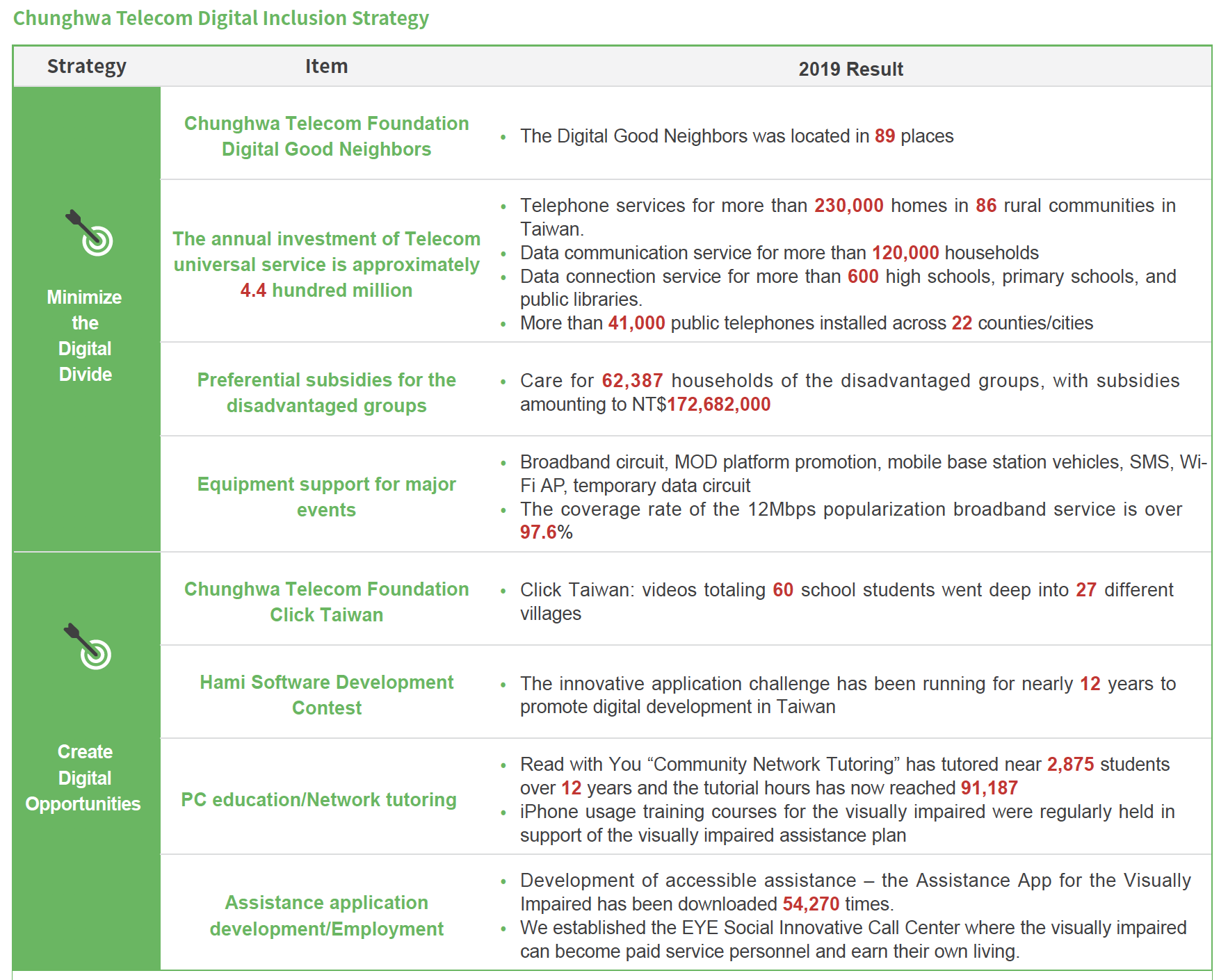 Social Contributions
The Mission of Social Contribution:
1. Assist the education and learning of the future generations of remote communities and disadvantaged groups.
2. Provide digitization services and marketing assistances to foster long-term development of local industries of remote communities and disadvantaged groups.
3. Participate actively in the global disaster relief programs and help those in need to overcome the impacts in the aftermath of the disasters.
4. Provide necessary products and services required of the rapidly growing emerging markets by establishing collaborative partnerships with local enterprises or NPOs.

CHT has divided its social contributions into 5 main areas:
• "Hardware Infrastructure" provides the foundation for modern day telecommunications.
• "Products/services Donations" enables ICT to fully express its value.
• "R&D and Innovation" focuses on providing convenience to the handicapped people.
• "Corporate Volunteering" enables employees to share their talents with the community.
• "Chunghwa Telecom Foundation" captures the pioneering opportunity in digital creation.

Contributions and Spending to Support National Policies
Pursuant to the Company's "Principles for Ethical Management" Article 7, the Company shall not donate political contribution or offer, promise any facilitating payment. As a result, our contributions to create or influence public policy mainly are made for trade associations, and supporting policies and events held by both national and local governmental entities.

Contributions and Expenditures
Issue 1: Universal network construction and narrowing digital divide
Telecom service has become essential service for the general public and industries. To improve broadband infrastructure coverage in rural areas, balance the urban-rural gap, and protect the rural and vulnerable groups, so that people can access telecom services of certain quality at reasonable prices while allowing people to have equal opportunities in digital innovative developments, which is a vital key to national and social advancement and industrial development.
To promote information equality, the government and telecom operators in Taiwan put emphasis on the telecommunication right for the people in rural areas. We actively introduce mobile communication services to rural broadband construction and optimize the network coverage in these areas to realize a balanced urban-rural development and protect the right to access information.

CHT's contributions and engagement:
1. As the largest telecom service provider in Taiwan, Chunghwa Telecom (CHT) fulfills its CSR visions and allocates resources to support the network construction promoted by the government while enforcing policy of narrowing digital divide and fulfilling the SDG1 by ensuring access to economic resources equally and to basic services for all, particularly the poor and the vulnerable. A budget over NT$800 million is allocated to network construction in this endeavor.
2. To eliminate digital divide and foster information equality, CHT engages local governments across 368 villages/towns/districts across 22 cities/counties in Taiwan to construct cell sites effectively.
3. We venture into mountains and offshore island for cell site construction. Throughout the 747 communities in rural areas in Taiwan, a 99% 4G coverage is reached to realize our visions of "Fostering social innovation and information equality" and "Realizing the win-win of digital human rights and innovative economy".

Issue 2: Participation in sports games at home and abroad and development of sports industry
There are approximately 23 million people in Taiwan. Hence, the number of talents in sports are relative smaller than other countries. Also, now that the society and the majority of parents focus more on areas other than sports, the resources allocated in sports are thus limited as a result. The education system in Taiwan focus primarily on academic performance while ignore benefits of sport. Therefore, sport events and the industry receive less attention here, which has negative impacts on the national reputation and the citizen's health and well-being.
Participation in sports and development of sports industry demand huge funding and resources. As the government has limited budgets, in recent years it has been encouraging businesses to invest resources to incubate brilliant athletes and teams with potential, improve sports venues and facilities, and add excitement to sports events to expand the arsenal for the sports development in Taiwan.

CHT's contributions and engagement:
1. Chunghwa Telecom responds to the government's national sport policy, supporting and sponsoring sports domestically, including basketball, baseball, golf, tennis, badminton, and esports, to facilitate promotion and development of sports industry in Taiwan.
2. Apart from supporting important sport events in Taiwan, Chunghwa Telecom also established and funds Chunghwa Telecom Women's Basketball Team for 45 consecutive years, incubating brilliant champions and elevating the overall strength in sport for Taiwan.
3. We engage and cooperate with sports groups in Taiwan. Take the 2019 Taiwan Swinging Skirts LPGA for example, apart from huge sum of funding, Chunghwa Telecom also made use of its ICT expertise and set up network equipment and communication facilities needed for game broadcast. While elevating the corporate image, it also presents opportunities for product promotion and marketing.
4. The means for Chunghwa Telecom to partake in sports activities and event sponsorship are diverse. In addition to funding and resources, it also develops various sponsorship resources, like offering multifaceted training courses to athletes to enhance their abilities to secure jobs in other lines of work or hiring retired athletes as corporate employees to expand their employment opportunities.
5. The sponsorship amount in sports by Chunghwa Telecom in 2019 includes:
(1) Sponsorship for Chunghwa Telecom Women's Basketball Team
(2) Sponsorship amount to various sports activities
(3) Market values of sponsored equipment to various sports activities
(4) Membership fees of various sports organizations

Issue 3: Expenditures in Organizations

1. General Association of Chinese Culture (GACC)
Established in 1967, the General Association of Chinese Culture (GACC) serves as the NGO that connects the culture of Taiwan. Its mandate is to promote and spread Chinese cultural tradition and the Taiwan culture to the world while elevating and cultivating the cultural strength of Taiwan and the international exchanges of Taiwanese culture.
In 2001, the GACC established "Presidential Cultural Awards". It is the most significant comprehensive awards in Taiwan regarding charity, humanism, creativity, environmental protection as well as literature and arts.

2. TTIDA
The mission of TTIDA is to promote quality management, R&D, and innovation in telecom industry in Taiwan. Through improvement of legislation and industrial environment of telecom industry, together with telecom talents, it fosters opportunities for global telecom industries' cooperation. Other mission of TTIDA include:
(1) Advisory and consulting services to the telecom industry;
(2) Platform for the right protection, settlement, negotiation and disputes mediation among telecom consumers and operators thereof;
(3) Assistance in communication, networking, exchanges, and cooperation among actors in the telecom industry, globally and regionally; and
(4) Assistance in the information gathering, exchanges, and cooperation of telecom industries in the region and globally.
Through participation in TTIDA, CHT communicates with fellow players in the industry, offers professional advices, and sponsors activities, forums, and tours organized thereby for the advancement of telecom industry in Taiwan.

3. Groupe Special Mobile Association, GSMA
Pursuant to the GSM mobile network development, CHT partakes in the meetings and groups pertaining to GSMA for CHT to plan for the mobile communication networks and grasp the knowledge on the trend, operation, and technology of the mobile communication development, so as to facilitate the overall development of telecom industry.
The GSMA represents the interests of mobile operators worldwide, uniting more than 750 operators with almost 400 companies in the broader mobile ecosystem, including handset and device makers, software companies, equipment providers and internet companies, as well as organizations in adjacent industry sectors. The GSMA also produces the industry-leading MWC events held annually in Barcelona, Los Angeles and Shanghai, as well as the Mobile 360 Series of regional conferences.

Social Investment Management
Chunghwa Telecom believes "taking from the society and contributing back to the society." Being the largest telecom carrier in Taiwan, our provided network and services throughout Taiwan and remote islands have shaped our self-demanding of contributing to the society. Over the years, by exerting our core competence, we continue to create value for society and help society overall to improve quality of life.

Chunghwa Telecom refers to the community investment evaluation mechanism of the LBG (London Benchmark Group), to conduct evaluations on the possible community social benefits and business opportunities before an investment is made. The quantification of the contribution of social investment allows us to make reasonable resources allocation, while avoiding repetition. It helps the decision-making and promotion of charities as well as future sponsorship.

Information Equality (Aligned with SDGs 4: Quality Education)
Chunghwa Telecom is creating a free and open information sharing environment without technological boundaries that can be shared by everyone. Such a system inherits culture, extends education, promotes industry, and upgrading art with a connection to the universe of the Internet. Digital technology can be beneficial to everyone irrespective of age, social standing, wealth, geographical location, or education. We base our approach on the characteristics of the ICT industry and the spirit of "value is where the responsibility lies," in our work with the communities in Taiwan. Our main objective is to "minimize the digital divide and create digital opportunities," Chunghwa Telecom watches the trends of this digital divide and offers solutions that facilitate social innovation and digital inclusion.

CHT's professional core competencies are information and communications, but having taken heed of local demand and needs, we have invested in providing a more diverse range of resources. In addition to deploying and making the best uses of digital technologies, we have also emphasized the cultivation of other abilities. In particular, we have devoted ourselves to helping local communities build more complete educational resources and facilities. These efforts also demonstrate more clearly to local residents and business customers CHT's dedication and actual work to serve local communities.

CHT has supported education and shown its concern for rural villages ever since 2009. We extended our services to the permanent settlements and newly developed communities in the disaster zones. Using visual Internet technology, we delivered educational resources in the form of private tutorship in rural villages. We hope to give the children of the next generation a learning environment which is "safe, dignified, and hopeful." To enhance learning and provide equal learning opportunities, university students helped the cause with one-on-one tutoring to take care of the school children in the rural villages and disaster zones. Eleven years of effort by e-Tutor partners has helped several dozen students gain admission to national and private universities, including the National Yang Ming University and Taipei Medical University. Assistance to remote villages has really reduced the divide between the cities and counties and radically improved the opportunities available to the children.