Social Inclusion
Issue Date:2019/06/16
Social Inclusion Strategy
CHT actively expands our company's resources to achieve a more equal and more friendly society, hoping to create a barrier free of technology and information. The environment enables cultural heritage, extension of education, promotion of industry, and promotion of humanities and arts all through technological linkages. Therefore, people of diverse ages, physical and mental states, backgrounds for growth, geographical factors, and education levels can all benefit from science and technology and create unlimited hope. With the aim of fulfilling the responsibility of corporate citizenship, CHT upholds the spirit of "value is where the responsibility lies," and effectively integrates the core competence of company with corporate volunteerism. We have dedicated to donations, product or service and volunteer services. The two major axes of "minimizing the digital divide" and "creating digital opportunities" have continued to penetrate into Taiwan's communities and rural areas and islands.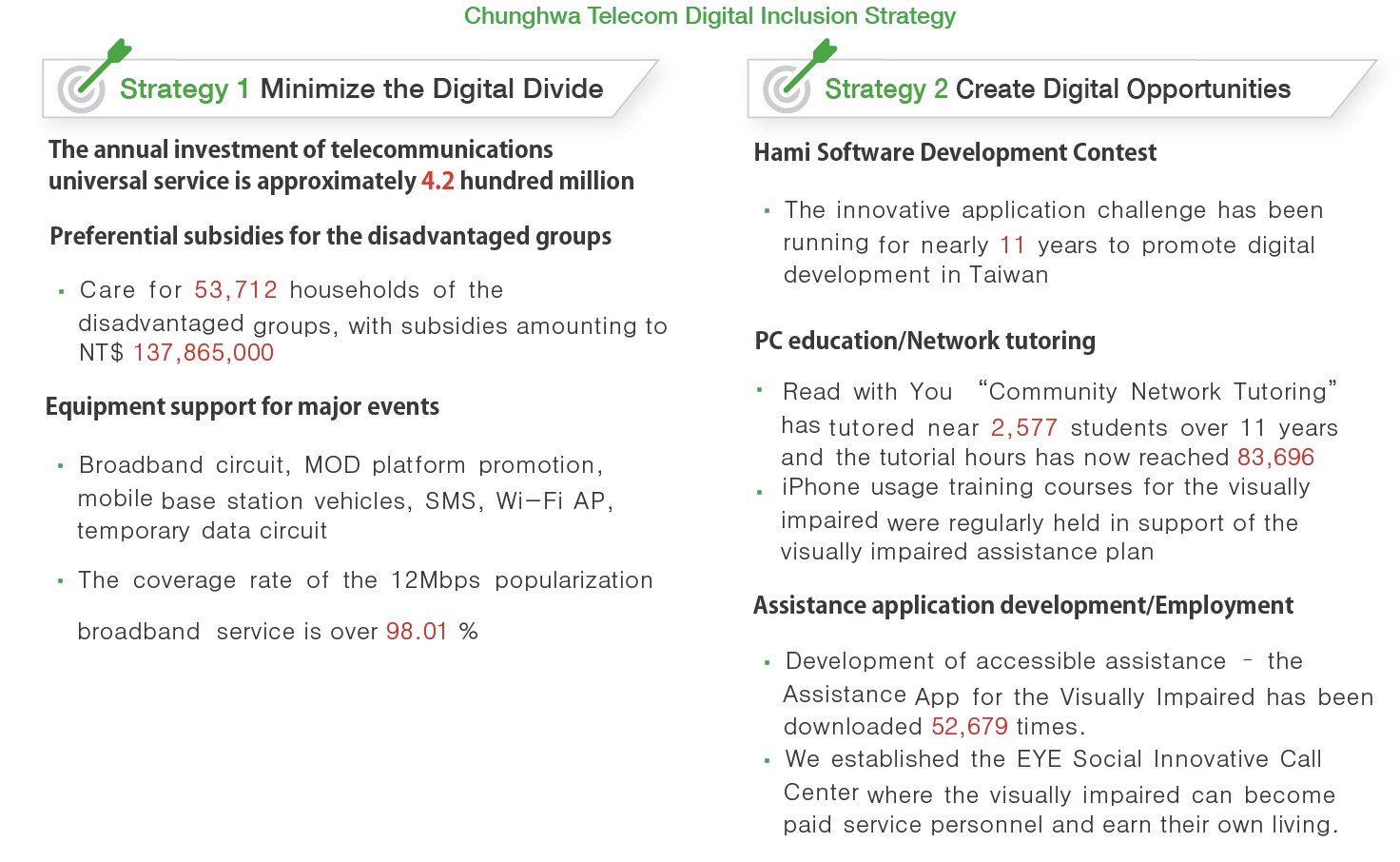 Social Contributions
The Mission of Social Contribution:
1. Assist the education and learning of the future generations of remote communities and disadvantaged groups.
2. Provide digitization services and marketing assistances to foster long-term development of local industries of remote communities and disadvantaged groups.
3. Participate actively in the global disaster relief programs and help those in need to overcome the impacts in the aftermath of the disasters.
4. Provide necessary products and services required of the rapidly growing emerging markets by establishing collaborative partnerships with local enterprises or NPOs.

CHT has divided its social contributions into 5 main areas:
• "Hardware Infrastructure" provides the foundation for modern day telecommunications.
• "Products/services Donations" enables ICT to fully express its value.
• "R&D and Innovation" focuses on providing convenience to the handicapped people.
• "Corporate Volunteering" enables employees to share their talents with the community.
• "Chunghwa Telecom Foundation" captures the pioneering opportunity in digital creation.

Contributions and Spending to Support National Policies
Pursuant to the Company's "Principles for Ethical Management" Article 7, the Company shall not donate political contribution or offer, promise any facilitating payment. As a result, our contributions to create or influence public policy mainly are made for trade associations, and supporting policies and events held by both national and local governmental entities.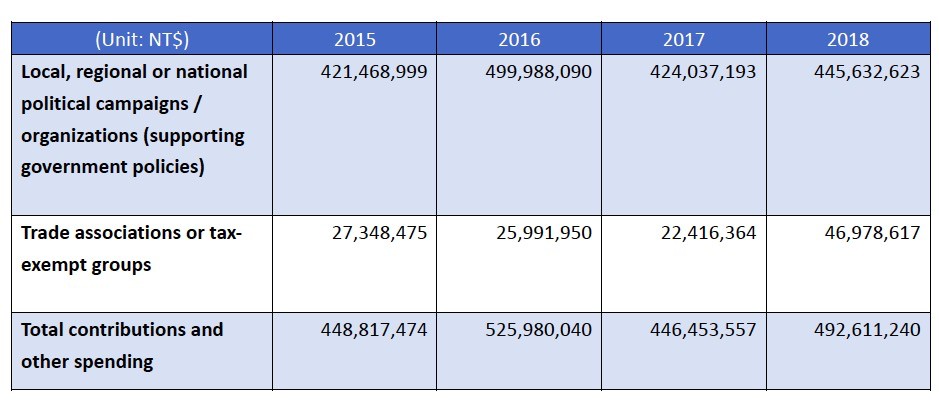 Contributions and Expenditures
(sorted by the total amount in descending order)
Topic 1: Universal Telecommunications Services
Under the Telecommunications Act, Type I service provider may be required by the NCC to provide universal telecommunications services in remote or unprofitable areas. These services include voice communication services and data communication services. All Type I service providers and certain Type II service providers designated by the NCC, will be required to contribute a fixed portion of their annual revenues to the universal services fund used to compensate for any losses, bad debts and management fees incurred by the relevant Type I service provider.
Chunghwa Telecom as the largest service provider in Taiwan, willingly supports the act, and has been contributing more than required in the past years. By utilizing our core competence in telecom technology, we hope that everyone shares the advantage of technology despite his or her wealth, social status or geographical location, thereby achieving the goal of minimizing digital divide and creating digital opportunities. Besides, we also contributed resources to developing products and services to meet the needs of the disabled to realize their rights of enjoying digital technologies. In 2018, we have spent NT$ 425,632,623 to support universal telecommunications service.
Topic 2: Supporting Taiwan's E-sports Industry
Nowadays, E-sports has boomed and become a new industrial pattern. The government not only actively promotes related industry development, the International Olympic Association has also included it in the 2022 competition. As a leader in the communications industry, Chunghwa Telecom has fully supported the development of the E-sports industry with its core ability, sponsoring several E-sport events in the past years. In 2018, Chunghwa Telecom continued to sponsor Esports. In addition to TLC, it included Holyland Esports, Taichung E-sports, IESF World E-sports, and WirForce.
In IESF World Esports, there were participants from 38 countries at a grand scale. Chunghwa Telecom is the only one in the telecommunications industry cooperating with IESF to establish a fast and stable network environment. Meanwhile, the MOD and Hami Video platform live broadcast of our Company have provided the audience with real-time experience of the intense air; at the same time, they can also learn about E-sport and further to promote E-sport development in Taiwan.
Topic 3: Support Mega Events Organized by the Central and Local Governments
Since 2002, Chunghwa Telecom has sponsored the main lantern of the "Taiwan Lantern Festival" for 20 years to promote traditional activities and Taiwan's spirit. In 2018, our Company sponsored and supported the "Taiwan Lantern Festival" in 12 shows in every county and city, and expanded on-site mobile communications and fixed network equipment with monitoring throughout process, to ensure that calls and Internet connections were smooth, resulting in the visitors being able to enjoy taking photos, checking-in at places visited, and sharing with friends. At the same time, people who could not visit were also able to enjoy the gorgeous light and sound feast through the mobile App and the MOD platform of the Company.
Topic 4: Joining ICT trade associations
CHT is a member of most of the international and domestic trade associations for its long-term operation. These associations include Taiwan Telecommunication Industry Development Association (TTIDA), Plug&Play Accelerator, Taiwan Network Information Center (TWNIC), Taiwan IOT Technology and Industry Association, Pacific Telecommunication Council (PTC), the Chinese Institute of Electrical Engineering, etc. To present opinions on the telecommunication policies of the government through the telecommunication symposium held by the institutes, and sponsor the activities of the institute to perform the responsibilities of supporting the industry, these platforms serve the interchange among the industry peers. With collective consultation and discussion on important issues, these associations play the roles as the bridge between the industry and the competent authority. The annual membership fees for associations were around 25.6 thousand in 2018.
Topic 5: Supporting the "Digital Nation and Innovative Economy" Development Program (DIGI+)
The Executive Yuan actively promoted the "Digital Nation and Innovative Economy" Development Program (DIGI+) to plan the direction of the country's economy. In response to this policy, CHT has invested resources in the organization of a large forum to explore Digital Transformation and business opportunities with. In 2018, CHT sponsored the "2018 Digital Technology Forum", hosted by APEC. This forum invited 30 worldwide well-known industry magnates to hold 19 topic speeches or talks from 3 dimensions such as "Interpreting the Business Changes Brought from Digital Barriers", "Exploring the Transformation Issues with Global Digitalization", and "Revealing the Innovation Opportunities Brought by Scientific and Technological Changes." CHT responded to other forums including "2018 Science and Technology Forum" and "2018 World Economic Forum" with President Mr. Chi-Mau Sheih being the keynote speaker at 2 events addressing the key role of telecom operators in the digital technology era towards a more sustainable path. In 2018, CHT has spent NT$ 5,858,715 in support of the national development program.
Social Investment Management
Chunghwa Telecom believes "taking from the society and contributing back to the society." Being the largest telecom carrier in Taiwan, our provided network and services throughout Taiwan and remote islands have shaped our self-demanding of contributing to the society. Over the years, by exerting our core competence, we continue to create value for society and help society overall to improve quality of life.

Chunghwa Telecom refers to the community investment evaluation mechanism of the LBG (London Benchmark Group), to conduct evaluations on the possible community social benefits and business opportunities before an investment is made. The quantification of the contribution of social investment allows us to make reasonable resources allocation, while avoiding repetition. It helps the decision-making and promotion of charities as well as future sponsorship.

Information Equality (Aligned with SDGs 4: Quality Education)
Chunghwa Telecom is creating a free and open information sharing environment without technological boundaries that can be shared by everyone. Such a system inherits culture, extends education, promotes industry, and upgrading art with a connection to the universe of the Internet. Digital technology can be beneficial to everyone irrespective of age, social standing, wealth, geographical location, or education. We base our approach on the characteristics of the ICT industry and the spirit of "value is where the responsibility lies," in our work with the communities in Taiwan. Our main objective is to "minimize the digital divide and create digital opportunities," Chunghwa Telecom watches the trends of this digital divide and offers solutions that facilitate social innovation and digital inclusion.

CHT's professional core competencies are information and communications, but having taken heed of local demand and needs, we have invested in providing a more diverse range of resources. In addition to deploying and making the best uses of digital technologies, we have also emphasized the cultivation of other abilities. In particular, we have devoted ourselves to helping local communities build more complete educational resources and facilities. These efforts also demonstrate more clearly to local residents and business customers CHT's dedication and actual work to serve local communities.

CHT has supported education and shown its concern for rural villages ever since 2009. We extended our services to the permanent settlements and newly developed communities in the disaster zones. Using visual Internet technology, we delivered educational resources in the form of private tutorship in rural villages. We hope to give the children of the next generation a learning environment which is "safe, dignified, and hopeful." To enhance learning and provide equal learning opportunities, university students helped the cause with one-on-one tutoring to take care of the school children in the rural villages and disaster zones. Ten years of effort by e-Tutor partners has helped several dozen students gain admission to national and private universities, including the National Yang Ming University and Taipei Medical University. Assistance to remote villages has really reduced the divide between the cities and counties and radically improved the opportunities available to the children.