Employees' Safety, Health and Wellbeing
Issue Date:2020/08/20
Chunghwa Telecom was the first telecom service provider in Taiwan to adopt the ISO 45001 Occupational Health and Safety Management System. By the end of 2019, 15 Company business groups and branches had already passed international certification. We use careful systematic management to ensure the health and safety of our employees. In addition to identifying hazards and assessing the risks associated with telecom operations, the Company has also applied restrictions and enhanced risk control for high-risk tasks, while taking effective precautions to reduce occupational hazards. In addition to complying with safety and health regulations, the Company has also been active in the improvement of the current work environment and takes regular action with regard to safety and health facilities and measures.
We have a dedicated "Labor Safety and Health Department" responsible for the planning and implementation of labor safety and health matters. A "Labor Safety and Health Committee" has also been created that meets every quarter to deliberate, coordinate and make suggestions on labor safety and health issues. The "Labor Safety and Health Committee" has 29 members, including representatives from each department unit and the labor union as well as several technicians and medical personnel. Among these, ten members are from the labor union, accounting for 34%. Four meetings were held in 2019 and 8 proposals were presented by the labor representatives. One of these were related to the improvement of health and safety facilities, three to the refinement of safety and health management, and four was related to employee benefits. All proposals have been solved after deliberation. deliberation.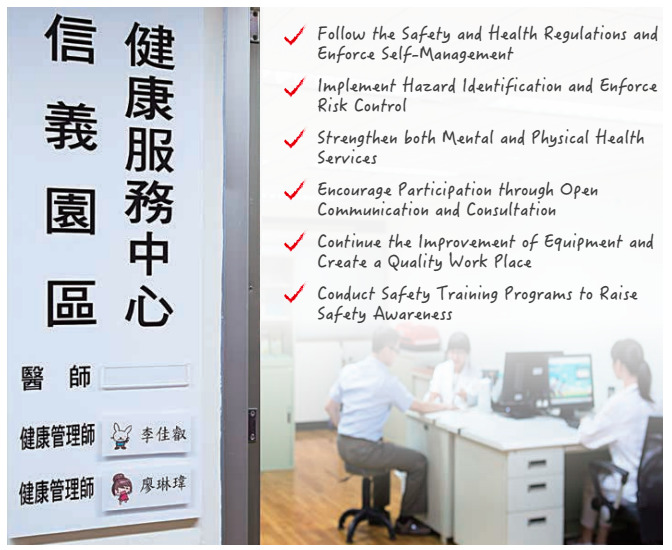 Chunghwa Telecom believes employees' health as company's fortune. Providing a safe and healthy workplace is the basic requirement of corporate social responsibility. CHT offers employees flexible working hour mechanism. Different from the conventional fixed working hours, on the basis of same working hours per day, employees can choose to come to office in 8:00-9:00 and flexibly adjust their working schedule (move up or postpone) catered to their needs as long as employees finish the jobs allocated.
Full-Time Physicians and Nurses to Improve Employee's Health Management
To better provide immediate medical assistance and attend to worker health, we engaged 23 full-time nurses and contracted 22 physicians in 2019 for this specific purpose.
They were assigned to locations at Xinyi, Aiguo, the Da'an Industrial Park, New Taipei City, Taoyuan, Hsinchu, Miaoli, Central Taiwan, Chiayi, Tainan, Kaohsiung and Pingtung.
The Company has deployed six i-med Systems at local customer centers for employees involved in high-risk activities. Blood pressure is measured and employees are given careful health checks before they engage in any high-risk work. This reduces the risk of accidents in high-risk situations.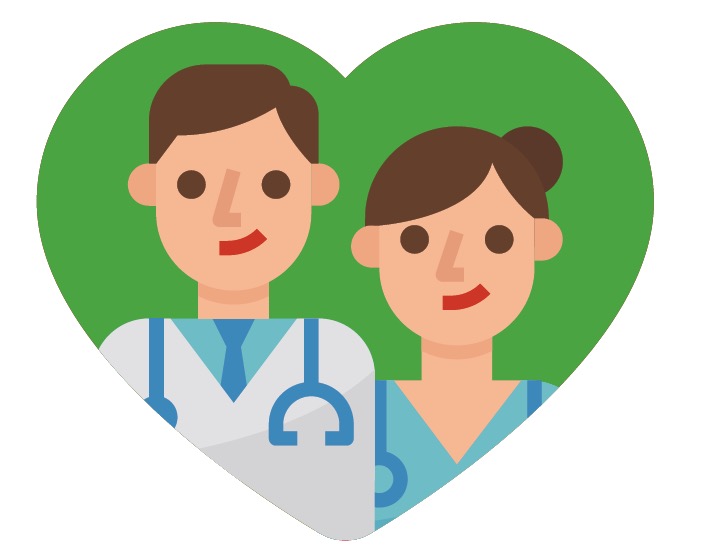 Health Promotions for Senior Employees
A significant portion of Chunghwa Telecom employees are 50 years old or older. This is one reason why we consider health care an important issue, especially for senior employees. We launched a series of health checkups and health management programs for senior employees. In addition to helping them develop physical capabilities, it was also part of our intention to create support systems among friends.
1. Health checkups: The Company provided checkup services specifically targeted at senior employees, including carotid duplex and echocardiography for the risk of ischemic stroke, coronary artery narrowing and incomplete heart valve closure, as well as fundus photography for checking macular degeneration, retinal vessels and glaucoma.
2. Others: As a countermeasure to influenza outbreaks, Chunghwa Telecom subsidized influenza vaccinations for 1,821 employees.
Work from Home Arrangements
In response to employees' work requirement in the digital era, CHT established the system environment and mechanism for Work from Home, created a mobile operating environment, and utilized digital tools to help its employees to work remotely. Any employee that fits the criteria for WFH can submit application in line with their business needs before accessing the CHTNet corporate network for working remotely.
The internal corporate network created by CHT is protected by high-level information security mechanism that allows safe access of internal resources. In addition to WFH employees, employees of mobile operation and corporate managers on business trip can access to the corporate internal network for document viewing and approval as well as emergency handling.

Work-family Balance
CHT has launch sound initiatives to assist our employees juggle between work and family, including:
1. Maternity leave:
We have been implementing an unpaid childcare leave system since 2006 to help employees juggle their attention between work and family. Chunghwa Telecom is required, under the Employment Insurance Act, to pay a six months maternity allowance to employees who give birth. Female employees who have taken this leave are further entitled, upon the end of parental allowance subsidized by the government, CHT will provide parental allowance, offering 50% of insured salary amount of employee in the Labor Insurance (with a period longer than the 1.5 year stipulated by the government) until the end of the parental leave as the parental allowance. Upon the end of parental allowance subsidized by the government, CHT will provide parental allowance, offering 50% of insured salary amount of employee in the Labor Insurance (with a period longer than the 1.5 year stipulated by the government) until the end of the parental leave as the parental allowance.
In 2019, NT$ 17,069 thousand was paid out as child care leave allowances, an increase of NT$ 2,085 thousand over 2018; 129 employees applied for child care leave allowances; 88 employees applied for unpaid child care leave.

2. Paternity leave:
CHT provides five-days paternity leave for employees due to their spouse's childbirth, and can apply for a sub-division.

3. Childcare facilities and contributions:
To care for employees and alleviate the issue of low birthrate in Taiwan, CHT offers well-rounded care mechanism to employees from single to family and having baby with matchmaking before marriage, group wedding, and maternity allowance.
1. For unwed employees, men and women, matchmaking events are organized regularly. Also, CHT funds regularly large group weeding activities. 7 group weddings were organized in 10 years for 473 couples while CHT provided wedding gifts of NT$20,000 worth.
2. Regarding leaves for employee's maternity, "unpaid parental leave", "family care leave", "paternity leave", etc. are available. Also, "breastfeeding rooms" are established in the working environment. Hence, employees are embraced by CHT's care from pregnancy, labor, and maternity leave to children's care, nursery, and education.
3. Starting from 2018, employees in service with children at 0-6 year(s) old is provided with a NT$5,000 childcare allowance per year. Also, we actively help employees in the application of subsidy for corporate childcare from the local competent authority.
4. Contract with quality local childcare facilities offers employees discounts on the childcare service fees. Among the 31 such facilities nationwide, 29 are contracted with CHT.
5. Children of CHT employees are supported with 4 to 12 times of education expense subsidies from pre-school to higher education, totally NT$35,800.
CHT offers a complete employee childcare subsidy mechanism. Dedicated 35 individuals with a total budget of NT$145 million were allocated for the childcare benefit in 2019, benefiting a total of 25,224 usages by employees.