Business and Human Rights
Issue Date:2019/06/10
Gender Equality and Diversity
Chunghwa Telecom places great value on human rights and gender equality. In 2018, there are two female directors on Board and female staff accounted for 28.51% of total staff. Among them, female managers accounted for 26.32%, female junior managers accounted for 28.44%, female top managers accounted for 16.09% and female managers in sales department accounted for 51.06%.
To conform to the essence of the "gender equality" in the Employment Act, the Company has outlined its sexual harassment prevention policy and established a "Complaint Investigation Committee" that specializes in the handling of employee complaints about work-related discrimination and improper behavior. The investigation committee has five members, three of whom are female. Our effective control has resulted in no incident of discrimination being reported in 2018.
Union Establishment
Chunghwa Telecom is the only telecommunication carrier in Taiwan with union establishment; it has also signed a collective bargaining agreement with the union. This agreement covers an extensive range of issues from redundancy, reward, discipline, promotion, to health and safety. This initiative not only complies with local laws and international human rights conventions, but is also a show of our commitment to protect employees' interests. In addition to the union established by Chunghwa Telecom, employees have also assembled 11 other unions under the organization.
In 2018, 99.86% of employees had attained union membership. A director seat has also been reserved for workers' representative, so that employees can more freely express their opinions
Human Rights Policy
Chunghwa Telecom supports and voluntarily abides by internationally recognized human rights conventions, including "Universal Declaration of Human Rights", United Nations Global Compact", "United Nations Guiding Principles on Business and Human Rights", human rights framework and spirit of "International Labor Organization guiding principles,' human rights promotion assessment and other due diligence work, thereby strengthening the human rights awareness of internal colleagues and stakeholders.
Chunghwa Telecom's Human Rights Policy is applicable for the Chunghwa Telecom and its affiliated organizations. In addition, the same standard shall apply for Chunghwa Telecom's suppliers and partners to meet expectations in line with the policy spirit and basic principles.
Process of Human Rights Due Diligence
In order to identify potential human rights violations cases, Chunghwa Telecom conducts human rights impact assessments of value chains every year and provide subsequent remedial measures to mitigate the adverse effects of risks. Following is the due diligence process.
Step 1. Organizing Issues:
Assess issues relevant to company operation, based on internal and external human rights indicators
Step 2. Identifying scopes and issues:
Identifying scopes and issues
Step 3. Assessing impacts:
Based on different material issues, responsible units are designated to conduct further assessments and confirm relevant impacts, also record results of review and extent of impact on "Record sheet of human rights policy self-inspection" at length
Step 4. Mitigating and monitoring:
Summarize the result of assessments for mapping human rights risks, responsible units are also designated to review risky issues and develop improvement plans
Step 5. Reporting:
Disclose the implementation of human rights policy and due diligence process on corporate CSR report and website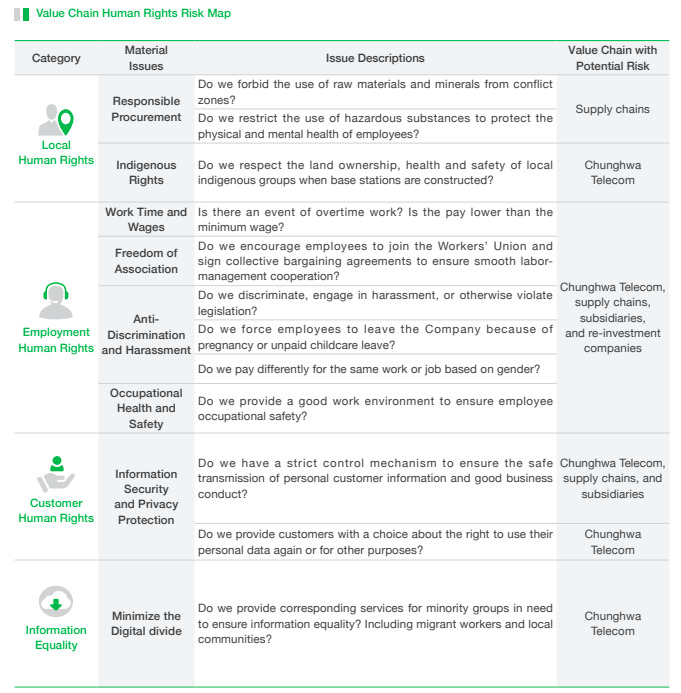 For more information, please refer to Chunghwa Telecom 2018 Human Rights Due Diligence Report.