TCFD
Issue Date:2020/09/01
To fulfill our green commitment and embrace the world's green challenge, Chunghwa Telecom has adopted a "Green Enterprise, Sustainability and Innovation Strategy" with the introduction of 5G (Green) that aim to address financial success, sustainability and social responsibility.
1G: Green Operations
EARTH System
We developed the Environment ARtificer THeurgy (EARTH) system in 2008 to manage resources and protect the environment more efficiently as well as to reduce spending on energy consumption. EARTH system features include: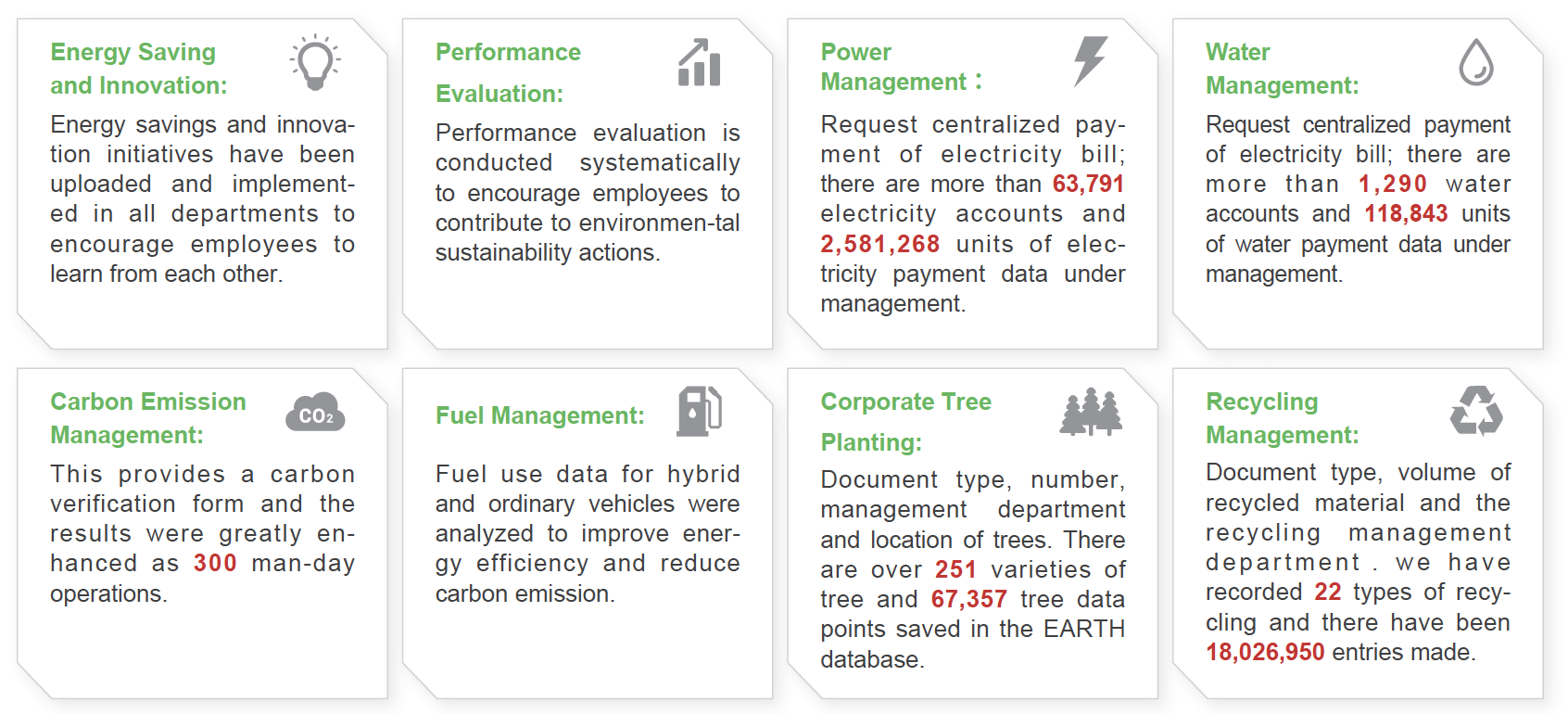 2G: Green Energy
Chunghwa Telecom has been positively supporting the government policy and applying its extensive ICT background knowledge in the construction of solar power stations. By the end of 2019, the Company had 62 solar power stations around Taiwan with a total capacity of 600.745 kWp.

3G: Green Stores
Chunghwa Telecom is a highly-localized telecom carrier, a generous contributor to community development, and one of the most important partners to other telecom carriers around the world. As technologies progressed and improved, we began some operations that were outside the conventional telecom boundaries, "corporate social responsibility" concepts were introduced into products and services research, development, applications, and into the Company management strategies.
Green Revenue
In addition to developing products that are friendly to the environment, we have been promoting Green Stores and were the first telecom carrier in Taiwan to fully turn service centers into Green Stores. Customers are encouraged to purchase green products from our "Chunghwa Telecom Green Stores." In 2019, green revenue was NT$ 106.61 million, which was 5.4% of the total revenue.
Paperless Receipt Service
We have been promoting the use of electronic billing since 2001 to conserve energy, and reduce carbon emission by eliminating the use of paper for bills. In 2017, we offered the "paperless receipt service" to satisfy customer need and also contribute to a reduction of global warming. As of the end of 2019, the percentage of paperless receipts exceeded 70%. The service saved 580 million sheets of paper and an estimated 52,722 trees; it had also reduced carbon emission by 10,439 metric tons by the end of 2019.


4G: Green Supply Chain
The responsibilities and mission of Chunghwa Telecom, as the leader of the telecom industry are "Green of ICT and Green by ICT." This implies facilitation of the greenness of the ICT industry (Green of ICT) and overall greenness of society through ICT (Green by ICT). From 2008 onwards, Chunghwa Telecom developed measures year by year to improve the sustainability of the supply chain, and we accomplished two pioneering achievements:
1. We were the first telecom company to propose the "Sustainable Supply Chain Initiative,"effectively connecting with internationally prominent sustainability organizations and partners, also connecting the supply chain to respond to the United Nations Sustainable Development Goals (SDGs).
2. We were first in the industry to join the "CDP Supply Chain Project"to strengthen, integrate and analyze greenhouse gas emission by suppliers using the CDP platform to ensure carbon management information transparency in the Chunghwa Telecom supply chain. We invited 100 suppliers to participate in an international platform to submit carbon management information and improve their ability in managing carbon emissions with scientific and quantification mechanisms.

Download
Chunghwa Telecom Environmental Protection and Energy Saving Policy
5G: Green Procurement
Chunghwa Telecom supports government policy and prepares annual budgets for the purchase of green products that are either environmental-certified (less polluting, recyclable, resource-saving or green building material) or self-declared to be of less environmental impact throughout the product lifecycle (from raw material to disposal). The Company also actively participates in green procurement programs and activities to inspire green purchases amongst others in the industry and the public.
Our goals and policies concerning green procurement have been explained in detail in the five-year plan mentioned above. We hope to maintain green purchases at more than 5% of the total purchases per year over the mid-term, and increase this percentage to more than 50% over the long term. To achieve this goal, we incorporated the ISO 20400 Sustainable Procurement Standard at the end of 2018. The implementation of the ISO management system helped reinforce the idea of green procurement.