Environmental Sustainability Strategy
Issue Date:2020/07/15
EARTH System
To manage resources and environmental protection more efficiently, we developed Environment ARtificer THeurgy (EARTH) system in 2008 to save the spending on energy consumption and enhance environmental management efficiency.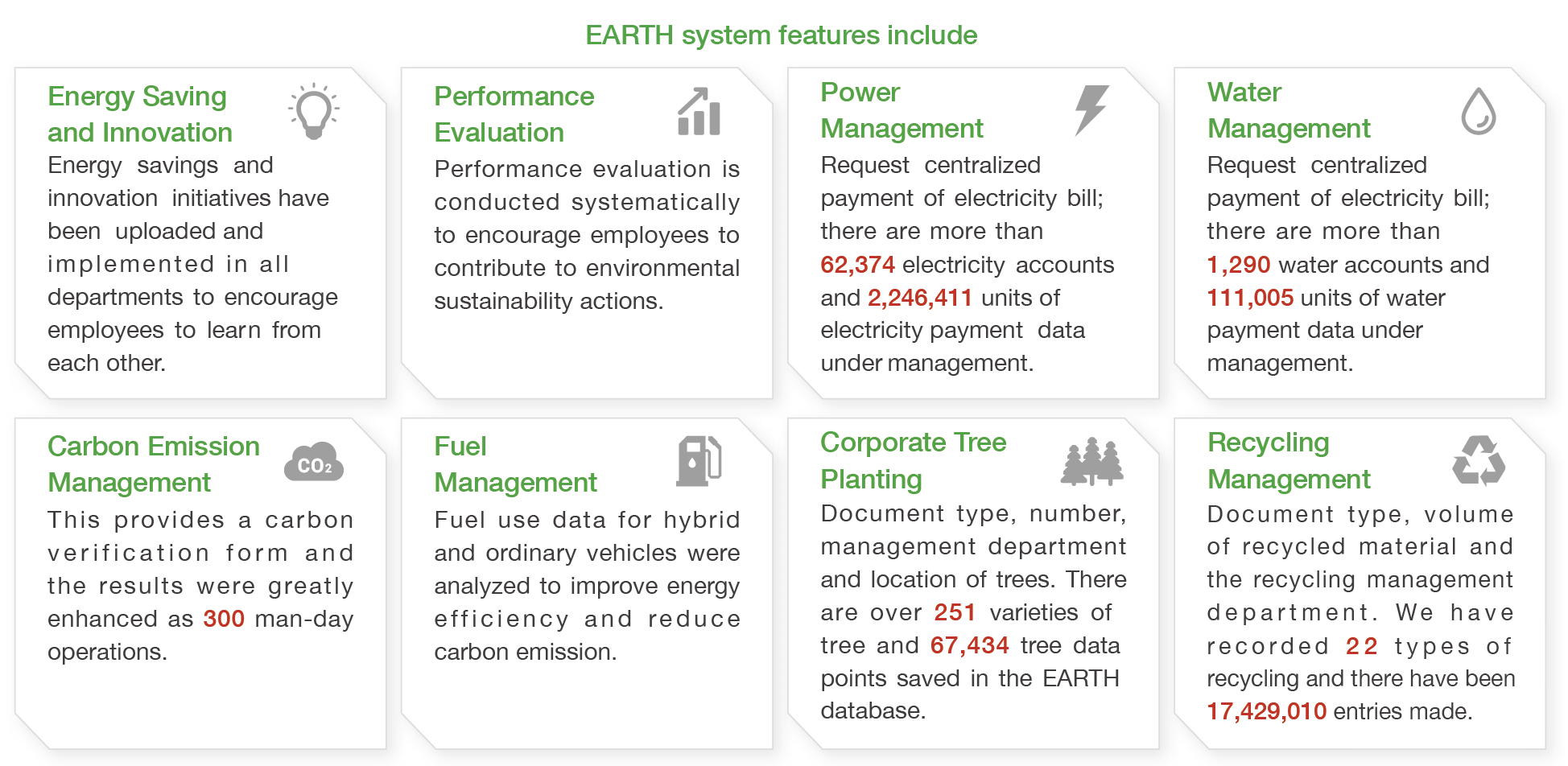 100% ISO 14001/50001 Certification in All Service Locations
All of Chunghwa Telecom's business locations have been certified for environmental management system. In other words, Chunghwa Telecom generates 100% of its revenues from environmental management system certified service locations.
In terms of energy management, we are the first telecommunication company among local peers to fully implement ISO 50001-Energy Management System.
The Data Communications Business Group, Chunghwa Telecom Laboratories, Mobile Business Group (including offices, data centers and base stations located in Taipei, Taichung and Kaohsiung), International Business Group, Northern Taiwan Business Group (Taoyuan Office) and Southern Taiwan Business Group (Kaohsiung Office) have all been certified as of the end of 2016 and maintain 100% certified in 2018.
Green Energy
Being the largest telecommunication carrier in Taiwan, Chunghwa Telecom recognizes its duty to support government policies with strategies and goals set up to guide our actions. We are also taking count of proprietary buildings that would be suitable for the construction of solar power system; furthermore, new IDC servers are being constructed preferably using renewable energy.
Chunghwa Telecom has been applying its long-accumulated ICT background into the construction of solar power stations for many years. By the end of 2018, the Company had 70 solar power stations throughout Taiwan with a total rated capacity of 672 kWp. We also aim to assist government agencies and private businesses in the coordination of photovoltaic projects.
Moreover, driven by our care towards environmental sustainability, we actively support the government's Green Power Purchasing System by purchasing 6 million kWh of green electricity in 2017.
Energy Consumption

Greenhouse Gas Emissions
The total greenhouse gas emission is 829,252.08 t-CO2e in 2018, including CO2, CH4, N2O, HFCs, PFCs, and SF6. As an integrated telecom carrier, most energy source consumed by Chunghwa Telecom is electricity, which is classified as Scope 2 (purchased electricity) gas emission and accounted for 96.34% of total gas emission. Scope 1 gas emission is normally sourced from greenhouse gas emissions such as offices and accounted for 3.66% of total gas emissions.

Water Resource Management
Water usage at Chunghwa Telecom is mostly for domestic purpose. Apart from bathroom use, air conditioner cooling accounts for another major water use. Given the ongoing increase in business activities and manpower, there is limited room for water reduction besides recovery of rainwater and cooling water. We have identified water resources as part of our management focus, and introduced many initiatives to improve water efficiencies, such as water conservation measures, centralized water bill management, and water saving goals. Apart from adding a new water leakage detection feature, we have also incorporated water usage monitoring into our environmental sustainability system. Data collected from these two functions are analyzed and managed. Other conservation measures such as recycling and reuse of rainwater and domestic effluents are also being implemented on an on-going basis.

Waste Management
Understanding the importance of resources reduction, recycle and reuse, Chunghwa Telecom combined our five-year environmental sustainability development plan and EARTH system to manage the use of resources and control energy efficiency, while conducting systematic management on recycled and waste treatment. Chunghwa Telecom designated professional waste treatment company to transport our daily waste to landfills or incinerator for necessary treatment. For recyclable waste, the contracting cleaning company is designated for the classification and disposal treatment.
Industrial Waste
The scrapped lead-acid battery is a recyclable industrial waste regulated by the EPA. To reduce pollution, toxic substance and waste disposal is joint responsibility for the business organizations. In this regard, the recycling and disposal operations are outsourced by joint contract based public auction. The contractor must be a qualified service provider listed on the website of the Recycling Fund Management Board of the EPA to ensure legitimate management and disposal.
All the lead-acid batteries scrapped by each business unit are auctioned on site, and proper documents for their disposal are filed for audit tracking. There were 50,963 scrapped lead-acid batteries, sold for NT$ 58,816,458 thousand with a total weight of 3,294,691 kg disposed in 2018. The public and private waste clearance and disposal organizations recognized by environmental institutions are designated to handle the treatment of other industrial waste such as cable and hardware miscellaneous.