5G Green Enterprise
Issue Date:2020/07/20
Chunghwa Telecom has set our goal to become a sustainable "Green enterprise," and thus incorporates environmental issues as part of business operation and management. We hope to play a more proactive role in issues such as energy and climate change. By improving energy efficiency and exploring environmental friendly products and services, we are confident of our potential to inspire a new generation of low-carbon industries.
Environmental Sustainability Management
Although telecommunication is regarded as a low-polluting industry, Chunghwa Telecom is well aware of the environmental impacts associated with energy, resources, waste, maintenance, purchasing and other aspects of our operation. We have devised a new set of "Environmental Sustainability 5-year Plan (2016~2020)" that outlines our overall strategy and roadmap for sustainable development in 2017. In addition, budgets will be provided in each year to support action plans.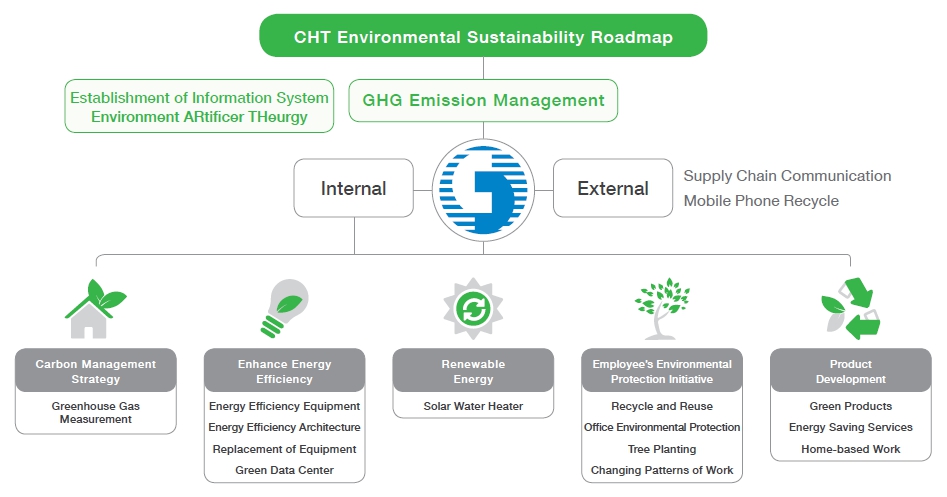 Environmental Sustainability Strategy
Chunghwa Telecom's environmental sustainability strategies in the next five years will incorporate three main focuses: "Green enterprise," "Green sustainability," and "Green innovation."
In the environment section and CSR report, you may find most of green actions and reporting that we have executed in recent years. Our company's environmental indicators cover 100% of business operations.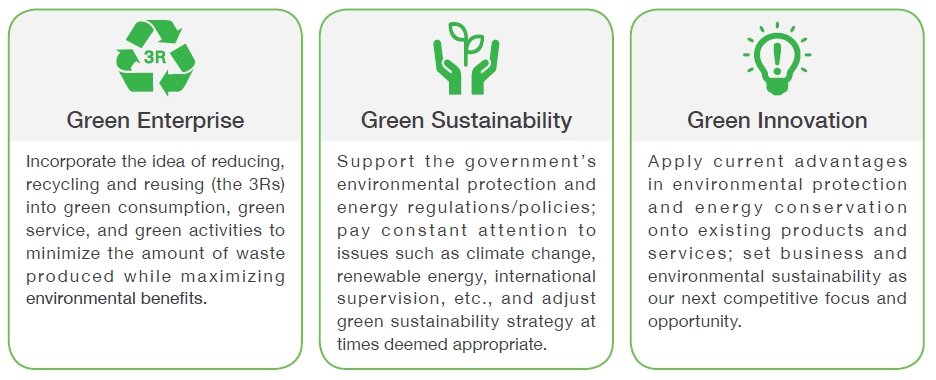 Chunghwa Telecom Environmental Protection and Energy Saving Policy
As the leading telecommunication services provider in Taiwan, Chunghwa Telecom pursues sustainable operations coupled with business growth while providing both environmentally friendly and more energy-efficient telecommunication services to consumers. To further address issues regarding environmental sustainability, the Company has developed and integrated environmental protection, energy savings, carbon reductions, ecological concerns, green buildings and other related issues into its corporate culture. With the launch of environmental protection and energy saving action plans and the implementation of the sustainability management system, the Company hopes to achieve higher performance on environmental protection indicators and improve environment quality, thus developing a sustainable environmental direction for the Company.
In effort to fulfill the aforementioned commitments, Chunghwa Telecom will pursue environmentally friendly and energy saving policies listed below:
• Comply with environment protection regulations and implement of autonomous environment protection;
• Upgrade energy efficiency and reduce carbon emissions;
• Pursue green energy and implement green procurement;
• Research and develop green products and expand the green economy;
• Strengthen the ecological environment and construct green buildings;
• Reuse and reduce recycled resources and create a sustainable environment;
• Lead suppliers into 5G(Green) Initiatives.
Green Innovation
Green Stores
Chunghwa Telecom prides itself as a highly-localized telecommunications carrier, a contributor to community development, and one of the most important partners to telecommunication carriers around the world. As technologies progress, we began to operate outside the conventional telecommunication boundaries and gradually incorporated corporate social responsibility concepts into product/service research, development, and application, and into the Company's management strategies.
In addition to developing products that are friendly to the environment, we have actively been promoting Green Stores and was the first company in Taiwan to turn service outlets into Green Stores. We expect to convert all 469 service centers into Green Stores by 2018, and sell more than 3 environmental/energy certified products. Information on future service outlets can be found at the "Green Stores" section of the website of the Environmental Protection Administration, Executive Yuan.
Cross-industry Alliance and Low-carbon Transportation
Chunghwa Telecom actively expands product diversity by utilizing its distribution advantage and forming alliances with partners from different industries. In view of rising environmental awareness and green energy trends, the Company has worked with China Motors since 2016 to sell e-Moving, a two-wheel vehicle, at all direct branches throughout Taiwan (excluding offshore islands). It shows our dedication to supporting lowcarbon vehicles with actions.
One of the most significant features about e-Moving is the simple charging solution. The biggest advantage it offers is energy efficiency, which has been well-recognized by the Chiayi Forest Bureau and courier companies. Due to the simplicity of its parts and design, e-Moving only requires changing of gear lubricants and costs only one-fifth the amount required to maintain a gasoline-powered motorcycle. In 2018, Chunghwa Telecom sold 1,371 e-Moving. Through its sales and service system, We hope to promote the use of green transportation and build a sustainable environment with the assistance of allied business partners.
Merger of Electronic Bills
Since 2001, we have been combining customers' bills and mailing multiple bills from the same address in one envelope, which not only makes billing easier for customers but also helps protect the environment. The Company introduced electronic bills in 2005, saving 560 million sheets of paper each year and was estimated to have saved 50,973 trees, as 10,093 tons of carbon by the end of 2018. It was a good example of how the Company had satisfied customers' needs while at the same time contributed to the mitigation of global warming.
Cloud-based E-invoice
Chunghwa Telecom's cloud-based e-invoice service allows corporate customers to store invoices permanently in digital form on a cloud server for ease of filing. Meanwhile, printed copy of the digital invoice has been downsized to no larger than 5*8 cm, and only one sheet of paper is printed regardless of the number of items purchased. As a result, the amount of pulp used has been reduced to somewhere between 1/3 and 1/4, which effectively reduces costs for businesses.
A business that prints 3.8 million sheets of digital invoice per month would be able to save 4,600 trees a year, and given the average carbon absorption capacity of 10-20 kg per tree, the solution may reduce carbon by 90,000 kg a year.
Download
Chunghwa Telecom Environmental Protection and Energy Saving Policy