Tax Governance
Issue Date:2020/08/19
Tax Governance and Strategy
Chunghwa Telecom (CHT) attaches importance to tax liability and commits itself to being an honest taxpayer. Quality tax compliance is our core value. The tax policy has enacted with Chunghwa Telecom. We implement the arm's length principle. Related party transactions are conducted in line with the pertaining regulations of transfer pricing. Also, illegal means of tax evasion or tax haven are avoided for a better management of the tax operation of CHT and the subsidiaries thereof. In addition, CHT implements tax governance while supporting the government in promoting innovative R&D activities as well as the major operational activities like smart technology.

Chunghwa Telecom puts tax management into practice and has established internal tax management mechanism, hiring professional consultants to provide timely information on changes in tax laws and regulations, so as to maintain an absolute tax compliance. Under the leadership of the Chairperson and CEO of Chunghwa Telecom, major decisions concerning compliance with tax laws and regulations by Chunghwa Telecom are made pursuant to the resolutions of the Board of Directors.

Supervised by the Board of Directors and with efforts of all employees, Chunghwa Telecom enjoys decent fruits of operation from year to year. In 2019, the taxes paid by the Headquarters of Chunghwa Telecom to the Government of Republic of China amounts to NT$16,994 million. The variety of taxes paid by Chunghwa Telecom have contributed much to the support to the government's finance and the elevation of the people's well-being, including the income taxes, business tax, taxes arising from dividends and other withholding taxes, property tax, and others. The income taxes include mainly Profit-seeking Enterprise Income Tax and foreign tax credit; property tax encompasses the land value tax and house tax; others involve stamp tax and environmental taxes. Environmental taxes are taxes and expenses incurred from environmental impacts, including fuel tax and environmental protection tax, levied in line with the levels of resource used and impacts to the environment for the purpose of environmental protection improvement.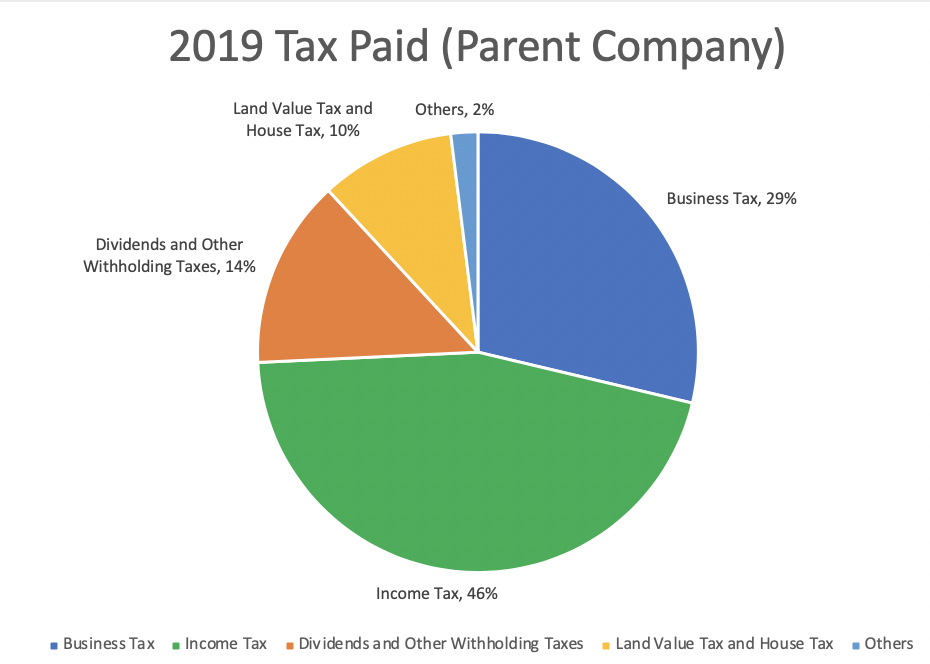 In 2019, the consolidated revenue of Chunghwa Telecom is NT$207,520 million, in which the net income attributed to the Parent Company is NT$32,789 million with an EPS of NT$4.23. Over 95% of the revenue of Chunghwa Telecom comes from its operation in Taiwan while 99% of the paid income tax is to the Government of the Republic of China. The paid tax incurred from the operation of Chunghwa Telecom has a direct, positive influence on the support of the local government's finance as well as the well-being of the people