Tax Governance
Issue Date:2020/07/15
Corporate Governance
Chunghwa Telecom (CHT) has implemented a solid corporate governance system including the "Chunghwa Telecom Corporate Governance Standards" in accordance to the "Corporate Governance Best-Practice Principles for Taiwan Stock Exchange Corporation/ GreTai Securities Market Listed Companies" to ensure best practices. In order to improve and perfect the management of corporate social responsibility, we adopted the "Corporate Social Responsibility Best-Practice Principles for Chunghwa Telecom Co., Ltd." on the 7th session of the 8th Board of Directors on August 8, 2017 and will continue to follow this code in the future to ensure all the implementation and actions of sustainability.


According to our Articles of Incorporation, the remuneration and compensation of the CEO shall be determined by the board of directors based on his/her participation and contribution in the business operation of the Company and referencing the regular standards of other corporations in the similar industry. The CEO may receive a fixed monthly income of NT$353,376 and a non-fixed income, including but not limited to performance-related bonuses or other rewards, which may not exceed his fixed income. Based on relevant remuneration regulation by MOTC, it depends on the scale of the enterprise (total assets, owner's equity, etc.) and the degree of business performance (Return On Equity, etc.) to determine the variable compensation of the CEO.

In an effort to be the most reliable entity, CHT has consistently appointed experts from the various fields to be independent directors of the Company. These independent directors are expected to further enhance CHT's existing corporate governance practices, including risk management and ethical practices on behalf of the public. CHT maintains political-neutral policies and will not use any of its resources, including financial, manpower, and facilities for any political agenda. Pursuant to the Company's "Principles for Ethical Management" Article 7, the Company shall not donate political contribution or offer, promise any facilitating payment.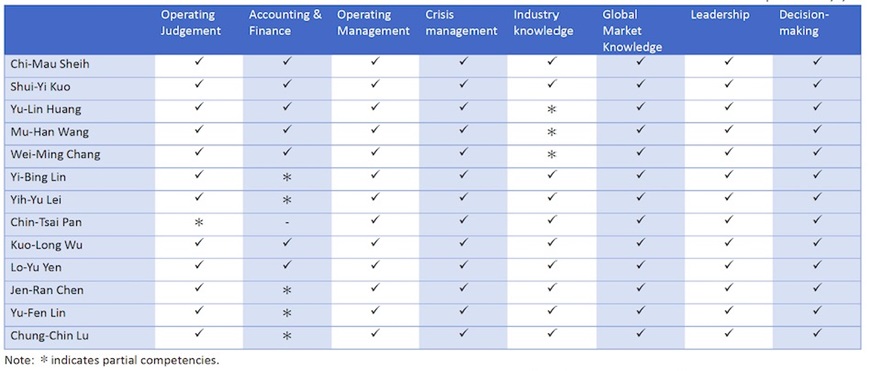 The Highest Moral Standard
We have set up the "Code of Ethics of Chunghwa Telecom Co Ltd," "Ethical Corporate Management Best Practice Principle," and "Procedures for Ethical Management and Guidelines for Conduct." These are formulated as a basic ethical guideline to ensure that all employees engage in all activities with the highest standard. In addition to these codes being included in the training program for new hires, all employees are required to log into the web, review the material and take a test annually. A hotline was set to encourage employees to voice opinions safely and confidentially. All employees participated in the test in 2018 except for those who were not available for a legitimate reason at the time of the test.
There was a total of 14 cases associated with violation of the codes of conduct in 2018. All cases were investigated and handled according to company internal policies and principles, and taught as case studies to strengthen employee esteem for the rules, discipline, corporate image, and shareholders' interests.
Internal Audit
Internal audit is the core of a company's internal control systems and corporate governance. In an effort to improve the quality of internal audit and to ensure that the internal auditing department is capable of obeying the rules governing internal audit practices and defined internal audit operational standards, we have formulated the sound internal audit regulations and rules as below:
Internal audit charter of Chunghwa Telecom Co., Ltd.: clearly define to observe international standards for the professional practice of internal auditing while conducting audits, and specify the internal audit organization and duties, qualifying requirements for internal auditors, professional ethics and professionalism, etc.

Internal audit implementation rules of Chunghwa Telecom Co., Ltd.: specify internal auditors' normative duties and matters for attention while conducting audits, making internal auditing plans, executing internal auditing operation, disposing internal auditing results, etc.
Internal audit operational manual of Chunghwa Telecom Co., Ltd.: including the detailed procedures and content of internal auditing operation, various application forms, and working methods, as the reference while auditors conducting their audits.

Moreover, we have established "the management information system of internal audit", which includes annual audit plan, auditing jobs assignment, auditing notification, the data to prepare, auditing inquiry form and inquiry form reply, audit working papers, audit reports, auditing follow-up form and follow-up form reply, auditing follow-up report, the implementation of annual audit plan, etc. The system also possesses a number of statistical analysis functions.
We have an internal audit unit that reports directly to the board of directors. The audit unit conducts internal audits strictly in accordance with policies in the utmost objectivity. It assists the board of directors and managers by constantly reviewing the effectiveness of internal control systems and operating efficiency.
Tax Governance and Strategy
Chunghwa Telecom commits to be a responsible taxpayer and take high-quality compliance as our tax principle, instead of taking any aggressive tax strategies to improve our tax efficiency.
Chunghwa Telecom generated consolidated revenues totaling NT$ 215.5 billion in 2018, decreased 5.3% from 2017 and represented a 92.5%~93.1% accomplishment rate given the current year's financial forecast. Due to intense market competition and VoIP substitution, Mobile communication revenue declined. The Company experienced growing revenues from Sales of mobile handset and tablets, Broadband access and MOD that covered the decline of ICT project revenue. Net income attributable to parent company amounted to NT$ 35.5 billion while EPS reached NT$ 4.58 and a full-year accomplishment rate of 88.1%~95.3%.
In 2018, Chunghwa Telecom's tax expenses were equivalent to an effective tax rate of 18.95%; the difference from the 20% statutory tax rate in Taiwan (ROC) was mainly attributed to the following: according to Article 4 of Income Tax Act, net dividends or net earnings recognized from local invested businesses are exempted from income tax; and Article 10 of Statute for Industrial Innovation, tax credits of research and development expenses.
Since more than 90% of our revenues are derived from operations in Taiwan, and the domestic tax rate in Taiwan is also considered to be relatively low, thus, Chunghwa Telecom's average reported tax rate and cash tax rate were lower than the industry's.

*Due to the new International Financial Reporting Standard (IFRS 15), adopted by the International Accounting Standards Board (IASB), Chunghwa Telecom was required to retroactively adjust non-recurring income tax in response to the increase in retained earnings. Therefore, the cash tax rate in 2018 was slightly higher than before.