Supply Chain Management
Issue Date:2021/06/21
We value our relationship with suppliers for offering quality products and services to consumers. Chunghwa Telecom's suppliers can be divided into three categories: material, labor and engineering. We make enormous purchases from an extensive number of suppliers, from networking equipment, data equipment, cables, marketing design, to waste disposal services. This means that we possess great influence to convince suppliers into supporting our social responsibilities. Chunghwa Telecom utilizes four approaches, namely: contractual terms, questionnaire surveys, Supplier CSR Interchange Meeting, and on-site audits, to raise suppliers' awareness and understanding towards CSR, as well as the commitments we have made in supply chain management. For suppliers that have just begun to familiarize with the CSR concept, we choose to encourage their participation while at the same time provide them with the proper education and assistance; over time, we hope to engage all suppliers in a win-win relationship.
Supplier Code of Conduct
"Code of Corporate Social Responsibility for Suppliers of Chunghwa Telecom Co., Ltd." clearly outlines the Company's expectations in terms of "Business, Ethics, Labor, Environment, Safety and Health."
The guidelines apply to all suppliers that provide products or services to Chunghwa Telecom or its subsidiaries or joint ventures, and extends to other participants of the supply chain that the supplier is directly or indirectly related to. We hope that suppliers may commit to our values and take more proactive steps toward maintaining a sustainable business relationship. Please refer to Code of Corporate Social Responsibility for Suppliers of Chunghwa Telecom.pdf
Supply Chain Spend Analysis
The Chunghwa Telecom suppliers fall into three categories: property, labor and engineering. Apart from professional network communications equipment which is mainly purchased overseas, we buy as much from local suppliers as possible to promote local economic development. The domestic procurement percentage was 80% in 2020. Our target is to reach 96% by 2023. With the continuous development of business, our annual purchase amount has also continued to increase, reaching NTD 83.53 billion in 2020, The number of suppliers of CHT in 2020 is 4,660.

Determining Critical Suppliers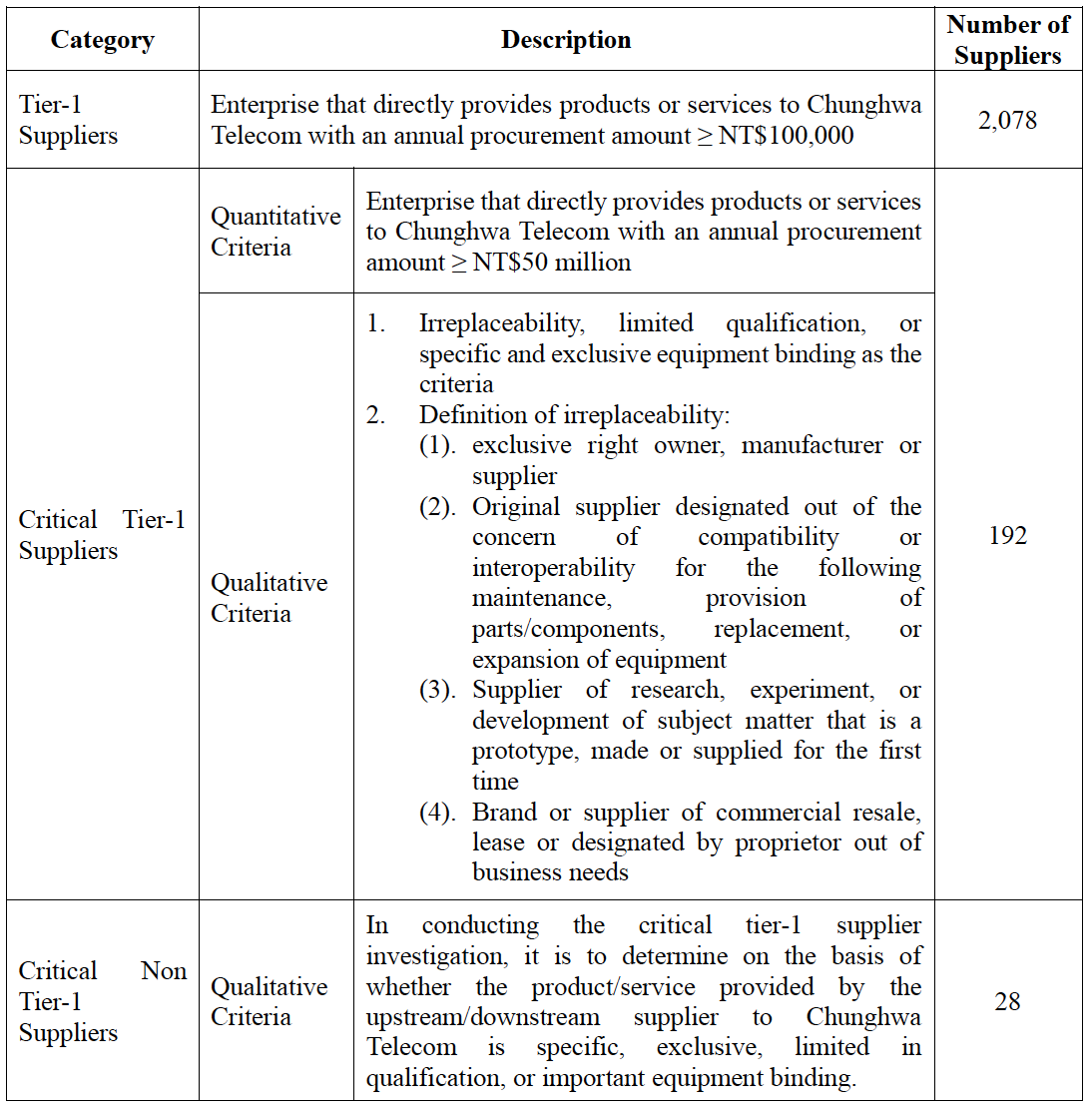 Supply Chain Management Strategy
CHT stipulated Directions of the Supplier Management of Chunghwa Telecom for the overall supply chain management. Four priorities in the Directions include:
1. Compliance with national/local regulations: Suppliers are required not to violate national/local regulations, especially the regulations pertaining to labor rights, environmental safety and health, environmental protection (energy saving and carbon reduction), and ESG. Items for compliance check of supplier include performance record, experience, user evaluation, project planning compliance, compliance cost management record, and records of employment relationship or man-made accident.
2. Product technology/energy efficiency: High energy efficiency, carbon reduction equipment or services, professional technical workforce, technical innovation and viability, as well as the stable reliability, durability, and service life of product, etc.
3. Supplier management: Corporate structure, professional qualifications of employees and workforce composition, supplier's abilities in production and quality control, testing and testing methods, error detection rate, environmental safety and health management, financial status, project management capability, and subcontracting plan, etc.
4. Performance and price: Contract management ability, maintenance and service capability, after-sale service, warranty period, reasonability of price, and others.
Formal risk identification process
With 5 steps, CHT identifies the sustainability risk in the supply chain. Also, the sustainability performance of the suppliers is hooked with procurement contracts, and incentives are offered.
1. Policy: "Code of Corporate Social Responsibility for Suppliers of CHT" stipulates the CSR guidelines for suppliers to follow.
2. CSR Survey and Letter of Undertaking: The CSR Survey has been filled out by tier 1 suppliers 100% to describe the ESG practices at present.
3. Online Risk Assessment Questionnaire: Suppliers must to fill out "CSR Online Survey" for the rating of ESG risk of suppliers.
4. Second Party On-site Audit: SGS-Taiwan will be commissioned to carry out on-site audit at the office of suppliers at risk in ESG, followed by corrective actions and review.
5. Sustainability Rating: Based on the results of the online assessment and on-site auditing, suppliers' ESG performance will be rated and awarded with sustainability certificates (Gold, Silver, Bronze, Participant).
Supplier CSR Status Survey and Second-Party Audit
We have initiated a sustainability rating system of suppliers, which divide into four levels of supplier certifications such as "Gold, Silver, Bronze and Participation" base on their sustainability performance. Incorporating the existing procedure of Safety and health on-site inspections, we aim to achieve a 100% assessment rate of critical tier 1 suppliers in the near future. Through the practical implementation of second-party audits by SGS-Taiwan, we encourage our suppliers to strike a balance between economic benefits, environmental protection, and social welfare. We hope that CHT, together with its suppliers, can build a sustainable supply chain system from which all parties involved can benefit.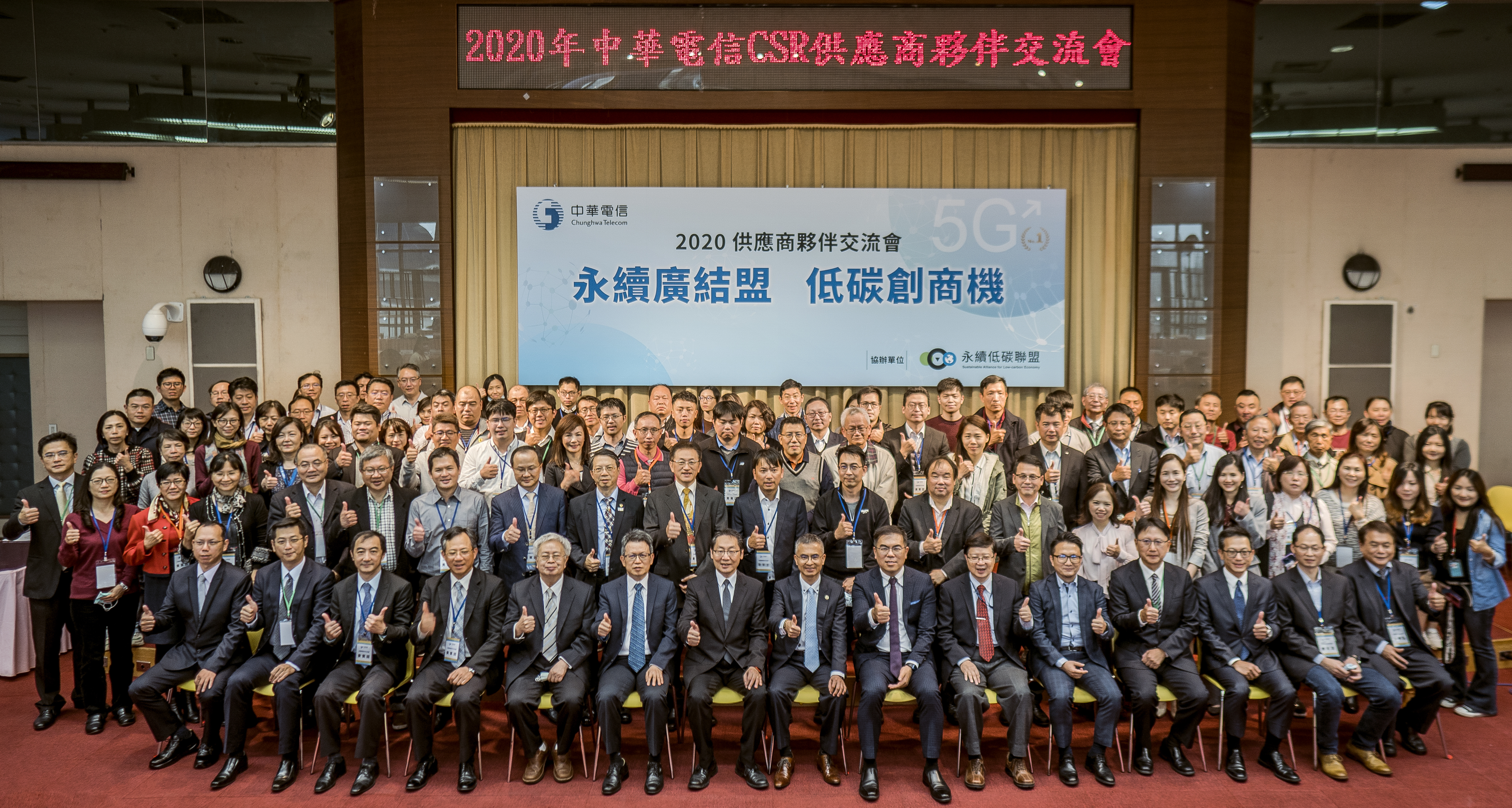 ESG Integration
To raise suppliers' knowledge and compliance with ESG, we commissioned SGS-Taiwan to conduct on-site ESG audits of critical tier-1 suppliers annually pursuant to Chunghwa Telecom Supply Chain ESG Guidelines.
KPI 1:
(1) We set 100% completion of "ESG compliance audit" of the critical tier-1 suppliers (approximately 200 suppliers) by 2025 to ensure that our supply chain partners comprehend and improve the ESG compliance.
(2) Working with SALcE (https://www.sale-greenlabel.com/en/), we aim to complete the ESG ratings for 140 suppliers by 2025 and award ESG Labels.
Target:
(1) 100% completion of "ESG compliance audit" of the critical tier-1 suppliers (approx. 200 suppliers)
(2) Completion of ESG ratings for 140 suppliers by 2025 and awarding ESG Labels
(3) Notification to suppliers to take corrective actions regarding any inconformity spotted in the on-site audit, ensuring no material ESG risk with our suppliers as well as an understanding and improvement of ESG management results of the supply chain partners
(4) In cooperation with SALcE, assigning suppliers their ESG ratings in four levels, i.e. Gold, Silver, Bronze, and Participatory based on the respective ESG competencies
(5) Awarding of ESG rating certificate (of gold, silver, bronze, and participatory) according to the outcomes of the supplier ESG audits, by which suppliers enjoy the right to bonus points or priority in our procurement mechanism
Target Year: 2025
KPI 2:
Except the professional ICT equipment are mainly engaged in foreign procurement, Chunghwa Telecom suppliers tries its best to support the development of commercially viable local businesses by optimizing the value of in-country spend and gradually increase the ratio of domestic procurements.
Target:
96% of local procurement amount reached by 2025 to promote the economic development of the countries where we operate

Target Year: 2025
KPI 3:
CHT became the first telecom operator in Taiwan joining the CDP in 2018, implementing the supply chain carbon information training, inventory, and management.
(1) 100% completion of education on CDP questionnaire fill-out for "critical tier-1 suppliers" (at least 100 suppliers per year)
(2) Collection of the suppliers' climate change and carbon emission information at least once a year
(3) A total of 400 suppliers responding to the CDP supply chain questionnaire by 2025
Target:
(1) A total of 400 suppliers responding to the CDP supply chain questionnaire by 2025
(2) 100% completion of education on CDP questionnaire fill-out for "critical tier-1 suppliers"
(3) Collection of the suppliers' climate change and carbon emission information at least once a year
Target Year: 2025

Chunghwa Telecom Supplier Management Website