Risk Management
Issue Date:2019/06/12
Risk Governance and Culture
Chunghwa Telecom places great emphasis on business risk management as a means of ensuring stability against impacts from the external environment and internal operations. It has the "Risk Management Policy" in place to guide employees' actions. The board of directors outlines the Company's risk management policies, framework, and culture. The secretariat assists the board in the implementation of risk management practices throughout the Company.
The Audit Division audits risk practices and reports findings back to the board. In 2016, the Company established its Risk Management Committee consisting of the President as the convener and senior managers as members of the committee. The committee supervises risk management throughout the organization and is responsible for prioritizing the identified risks, formulating response strategies to key risk issues, and reporting to the board of directors at times deemed necessary.
Chunghwa Telecom's risk management practices involve ongoing analysis of operational goals, the accuracy of financial reports, and impacts of high-risk events. These findings are constantly reviewed to ensure that all business risks can be identified and controlled, and thereby maintain business operations while protecting stakeholders' interests.
We also have an enterprise risk management (ERM) system in place to control risks associated with our businesses. Risk managers have been assigned to all departments to monitor risk targets and risk events, and report findings on a monthly basis. Risk managers are also involved in the review and adjustment of risk measures, assessment of risk impacts, and execution of systematic records, management, and follow-up tracking.
We use a "risk map" for assessing regulatory risks, network maintenance risks, market competition risks, and financial risks. For every major concern identified in our operations, we conduct intensive sensitivity analysis and stress-testing to decide whether we should take steps to accept, transfer, mitigate or avoid the associated risks, thereby minimize our possible losses.
Climate Change Risk
Climate risk and opportunity management is an integral part of our business and decision-making processes and is embedded into Chunghwa Telecom entire organizational structure and business processes. The scope of evaluation includes all business groups of the Company.

CHT has incorporated the climate change factor into the evaluation system for corporate performance and risk management. Significant risks are listed in the annual corporate operating plan. Target management and performance evaluation are then conducted along with continuing certification and feedback activities. The key components of our risk management system include our CSR Policy, guidelines and reporting systems, strategy, planning, and controlling processes; Internal audit activities; the establishment of CSR committees and the requirement for Environmental Management Systems within all of our operations with significant risks.

CHT Climate Risk Management Procedures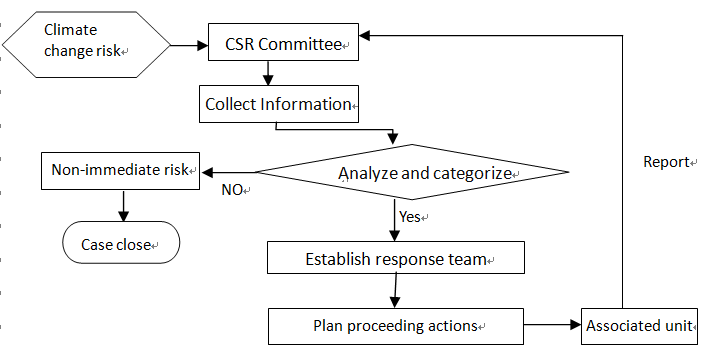 ● Evaluation conducted frequency depends on the business needs of individual group/department

●Criteria for determining materiality/priorities: Climate change risks and opportunities are determined with reference to probability of occurrence and severity and are measured against threshold values stipulated in the CHT's Policy for Opportunity and Risk Reporting.

●To whom are the results reported: Risk reporting is fully integrated into our standardized budgeting and controlling processes. The asset level Risk Owner reports into their department manager. The Manager reports into CSR Committee member. Significant Risks at a company level are reported quarterly into the CSR Committee and the Board of Management. The information is also publicly communicated on CDP questionnaire and CHT CSR Report.
The Potential Operational Risks Caused by Climate
1. The impact of the greenhouse effect, rising global temperatures and the aggravation of extreme climate, have caused some areas of Taiwan to experience more severe typhoons and flooding while other parts face serious water shortage. Such crises affect both industrial and domestic water use and effort has to be made to reduce the severity and avoid disastrous outcomes.
Resources need to be made available for action in cases of natural disaster, and the equipment used must be properly maintained and be available for further use after disasters and operational energy must also be easy to acquire.
2. We will establish greenhouse gas emission control and also allow carbon rights transactions in accordance with the "Greenhouse Emission Reduction and Management Act" of Taiwan. The CHT Internet and the operation of the generator room depend on a huge amount of energy and the relative input has a direct effect on company finances.

We have adopted the following strategies to cope with potential regulations and international environmental and climate initiatives in a timely manner:
For more information about Climate Change and Environmental Risk Management, please refer to
Emerging Risks
Human Resource Risks
Chunghwa Telecom is facing a high peak of personnel retirement. In 2019, there are over 1,000 estimated retirements with YoY >20%. In the next 3 years, there will be over 1,000 retirements every year. From 2018 to 2022, a total of over 5,000 retirements are expected. While we depend on the continued service of our executive officers and skilled technical and other personnel, this retirement issue could have adverse effects on our company operation.

Our business could suffer if we cannot supplement those retirements in time. In particular, we are not insured against the loss of any of our personnel. We may not be able to retain our present personnel or attract additional qualified personnel as and when needed, as there is intense competition for experienced personnel in Taiwan. This might disrupt our business and operations with materially and adversely affect the quality of our services and harming our reputation.

CHT had begun reserving manpower (including base level) since the second half of 2018. As for experienced professionals, based on the needs for future business development, they will be the first to be hired for emerging businesses which includes security, big data, IoT, AI, and mobile payment, etc. Meanwhile, we need to raise the employee compensation levels as the incentives to attract and retain more talented personnel. Our Manpower supplement strategy:

(1) Plan early for the manpower supplements of our core business

(2) Layout of the manpower for R&D, network, information and marketing in key emerging business

(3) Recruit experienced personnel and concentrate on the selection of basic level practitioners

(4) Nurturing more professional: train frontline service staff to acquire more bidding projects with professional skills required, such as IoT, SDN/NFV, information security, Big Data, AI, smart home, etc.
Regulatory Risks
As the major telecommunications service provider in Taiwan, we are subject to extensive regulation. Any changes in the regulatory environment applicable to us may adversely affect our business, financial condition and results of operations. If we do not immediately respond to the climate change issues and relevant regulations and systems, there may be risks of legal penalties and the possibility of losing our industry leading edge.

In response, CHT has been closely monitoring relevant regulations both domestic and foreign, proposing amendments to the draft contents, and actively communicating with stakeholders and relevant authorities by discussions, and taking appropriate response measures to protect the rights and interests of the company. We have been actively promoting the innovative emerging business and expanded market opportunities to reduce the impact of regulatory changes on the company.

For example, the newly drafted digital convergence laws will reduce the entry barrier to the telecommunications industry hence intensifying the competition level. Also, it is likely that CHT will be classified by the competent authority as the dominant player in some specific telecommunication service markets and subjected to special obligations impeding our competitiveness. In addition, the opening up of the domestic roaming and flexible usage of frequencies will enable operators to share relevant resources, hence increasing the market dynamics and making our operation more difficult.

As for the environmental regulations, following the implementation of the "GHG Emission Reduction and Management Act", our country will conduct greenhouse gas emissions control and open carbon rights and carbon trading in the future. Since the daily operations, both the networks and engine rooms, are highly dependent on a high amount of energy support, this will increase our operating costs and affect CHT's financial performance. It is necessary to invest more in natural disaster prevention, post disaster facilities maintenance, operational energy access, etc. With self-developed "Environmental Sustainability Development Management Services System", we can effectively increase the efficiency in our environmental resources and energy usage with costs reduced. We use ICT technology to create green innovation services such as smart city and continue to explore more low carbon emission solutions with customers. We had established "Energy Office" focused on the business development in three areas, namely, solar energy, wind power and LED.