Material ESG Topics
Issue Date:2020/08/18
We intend to provide all stakeholders concerning the future of Chunghwa Telecom as well as the telecom industry with a more comprehensive understanding of how Chunghwa Telecom has exerted its industry influence on CSR topics. This purpose has improved the quality of our actions and disclosures.

CHT is an integrated telecom service provider. Except for the use of electricity at business locations, generator rooms, and data centers, our other service processes and mechanisms have no major negative impact on the environment and society. However, with over 20 thousand employees, the capabilities of value chain procurement and supply and business locations all over Taiwan, we understand that our ICT services and products can bring positive transforming and business opportunities to the industry, economic development and people's life in Taiwan. Therefore, we seize opportunities and endeavor to decrease the potential risks from material CSR topics.
Process for Determining Material Topics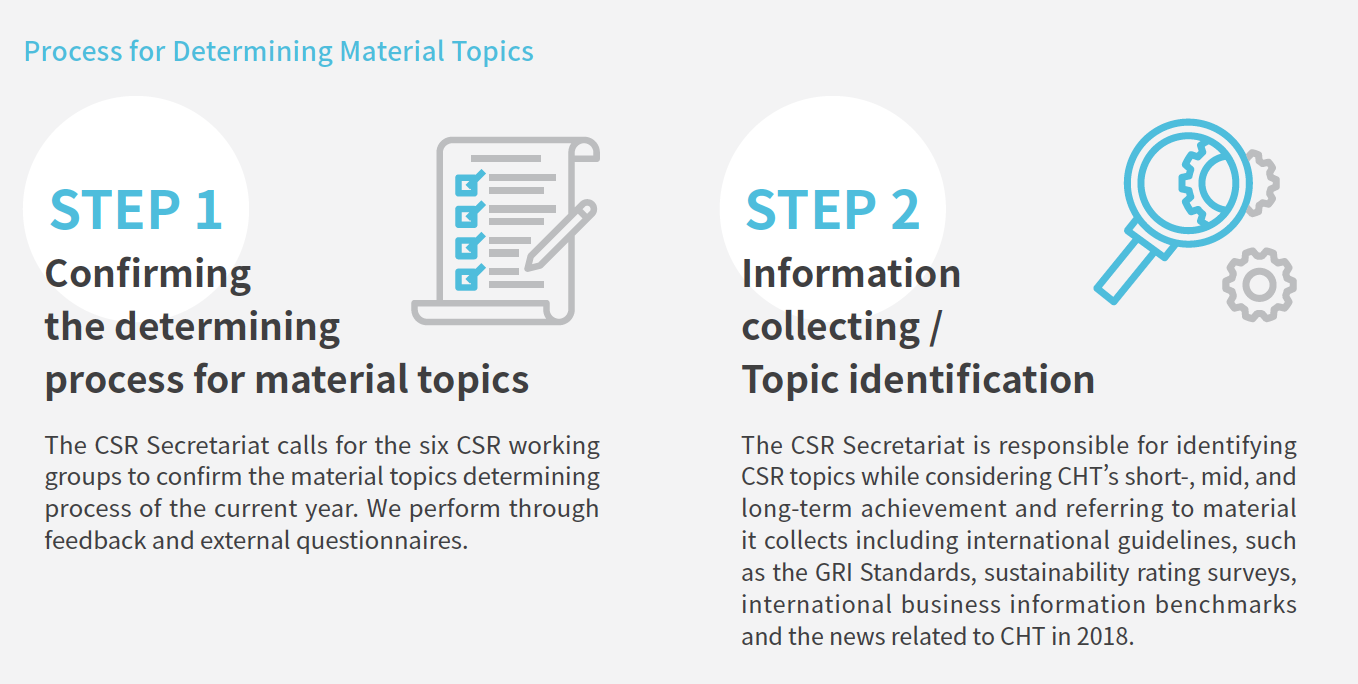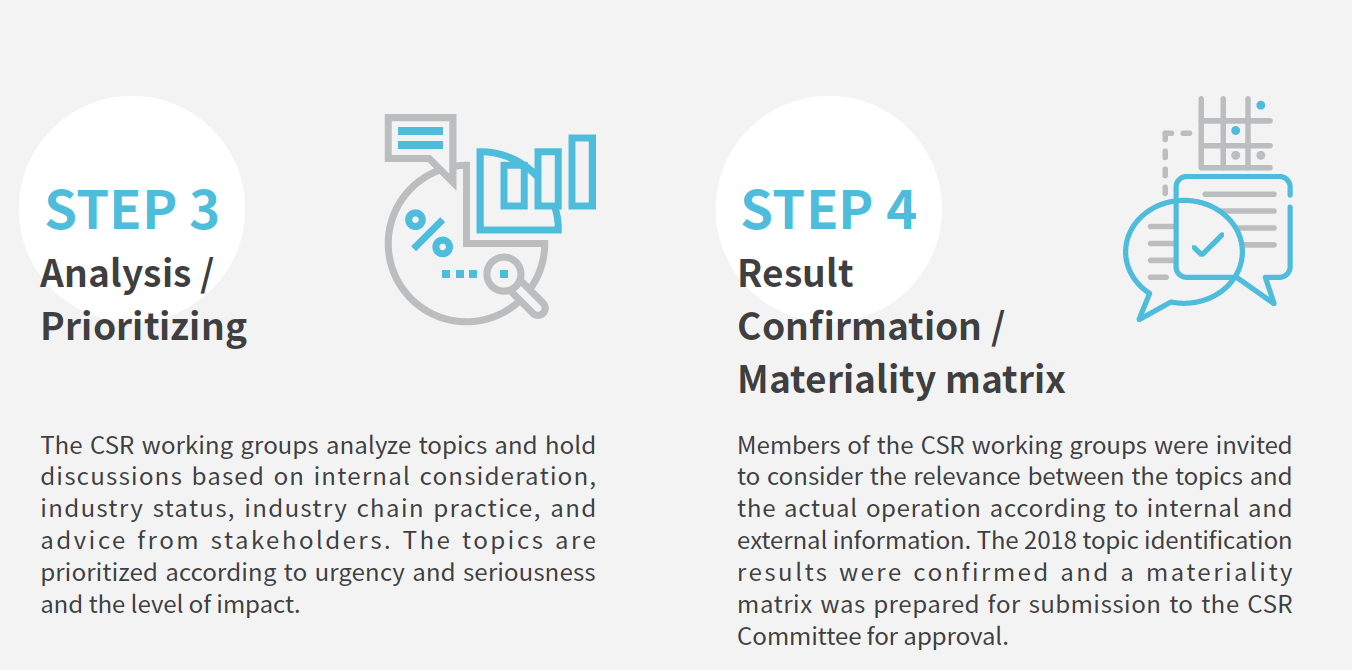 Materiality Matrix and Impact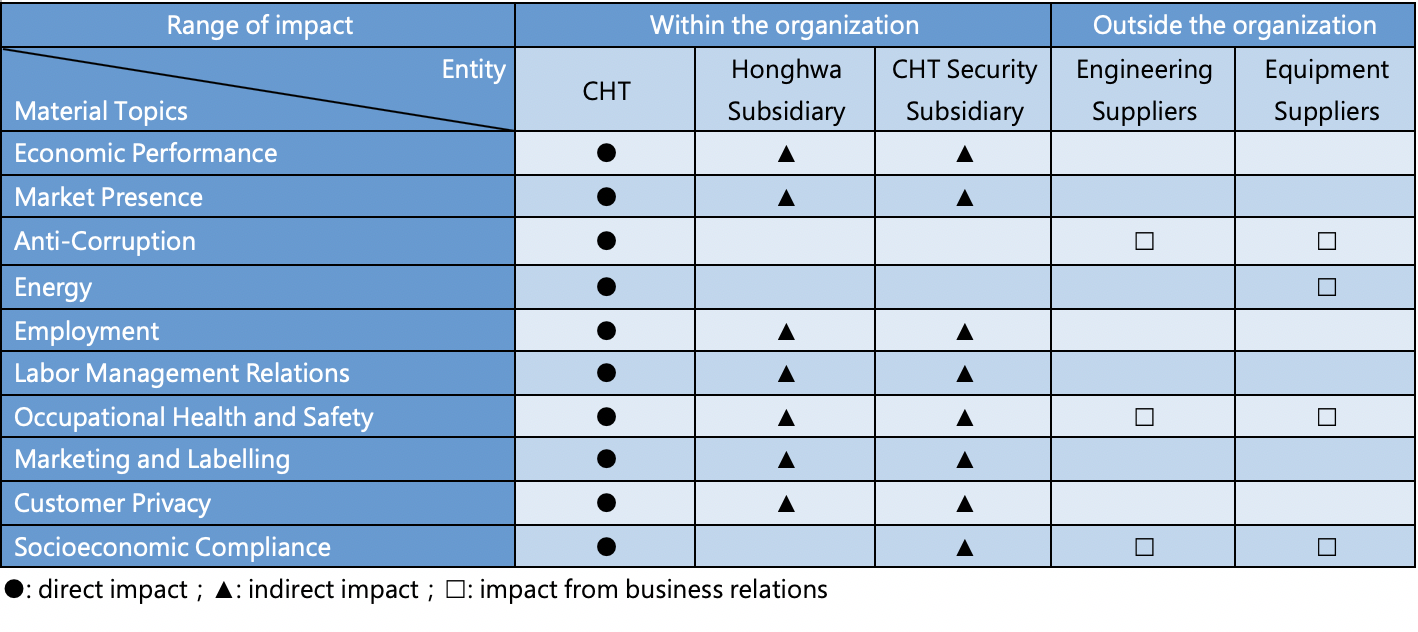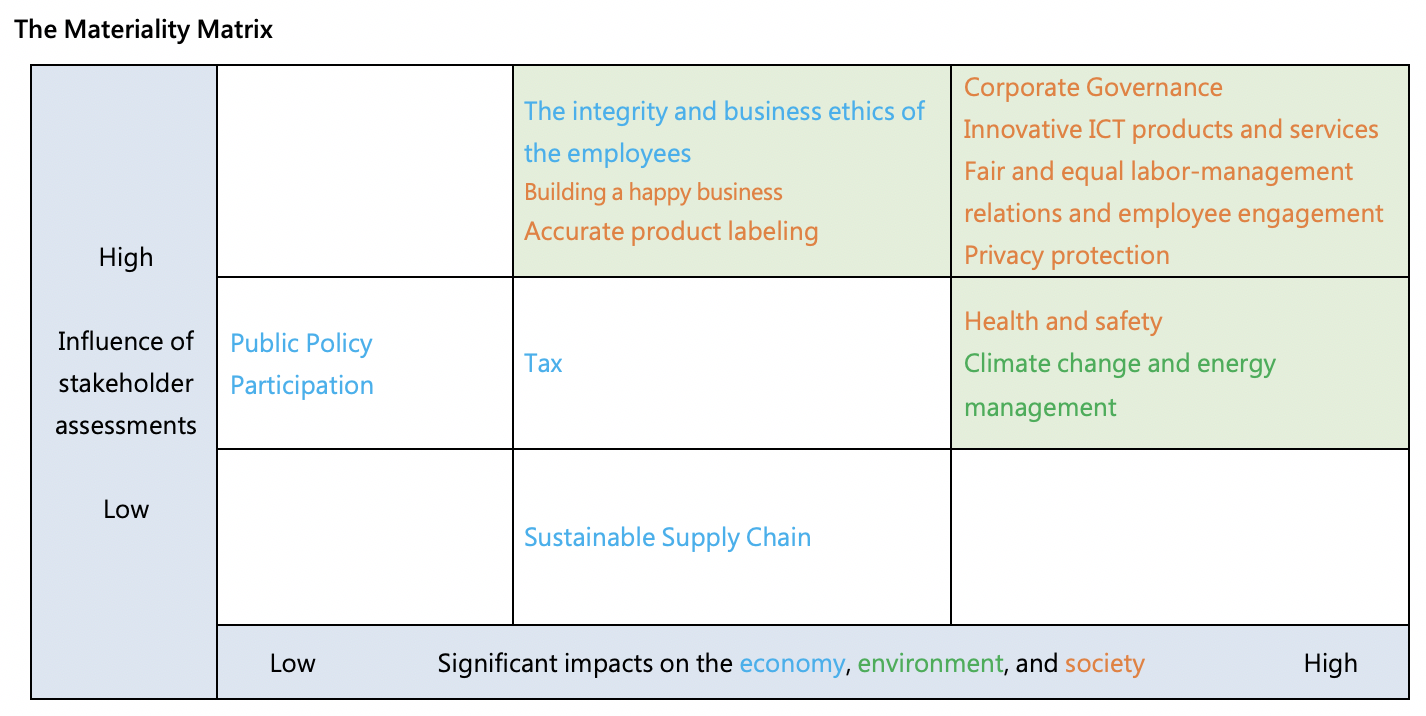 To ensure that all employees understand the spirit of CSR, we have established a diversity of channels for communications and education about related topics. The initiative is integrated with a performance evaluation that helps to translate the concept of CSR into actions and is practiced in routine operations.

In order to promote senior managers to achieve the company's vision and short-, medium- and long-term strategic goals, and to assess their core competence, strengthen the responsibility, implement the performance-oriented culture, retain and attract high-order key talents, the "High-level Manager Performance Management Measures" was implemented at the end of 2018. These measures set the following categories:"Company Performance" links the company's annual important strategic objectives. Covering items such as material Issues, Code of Conduct, information security, risk management and climate strategy. These categories evaluation results will be directly linked to the senior level manager's variable compensation.

Subordinate Unit Performance is the KPI performance target of the supervisory unit. These covers items which will also be included in the senior managers ' performance indicator guideline consideration items.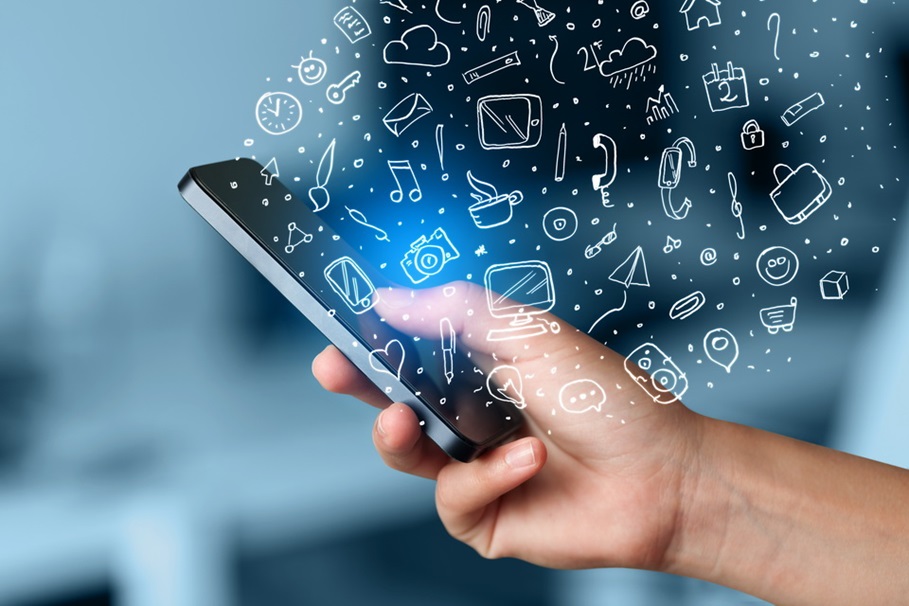 Material ESG Topic 1: Innovative ICT Products and Services
As the traditional core service market of the telecommunications industry becomes increasingly saturated and with the gradual rise in prevalence of OTT, over-the-top (Internet content provider), voice services continue to decline. Concerning the industry value output is expected to further decline, CHT hopes to use innovative ICT product services as an opportunity to undergo transformation, take the lead in integrating cross-domain industries and upstream and downstream industries, and construct a sound ecosystem for development. The emerging businesses include: Internet of Things; IoT, artificial intelligence; AI, augmented reality; AR, MOD, OTT, and other products, which are potential development directions. We believe that IoT and AI will be the driving force for overall revenue growth. In addition, CHT also actively responds to the "DIGI+Plan" promoted by the Executive Yuan, in the hope of extending its industry technology and developing an innovative economy.

Chunghwa Telecom has started a "Rise on, Together 2021" transformation plan that will take operational performance growth as well as medium and long-term basic capabilities into account. 5G planning, pure online banking investment, IoT, big data, AI and Smart Home will be included. The company will also enter the digital service field by mergers and joint ventures to enhance overall capacity. For example, after Chunghwa Telecom has obtained an online banking license as a major shareholder, Hami Pay, Hami Point and online banking will be integrated. We hope to exert leverage on information security, big data and IT construction to provide an overall ICT solution for online banking. Also, the company has independently developed an IoT platform featuring five service functions: information security, big data, cloud, AI, and AR. Additionally, the domestic IoT industrial ecology is linked to expand cooperation.

Core businesses in the telecom industry in Taiwan (fixed-line, mobile, and voice services) are close to saturation with fierce market competition, which results in impacts to the revenues of Chunghwa Telecom, including

1. Revenue decrease in voice services
(1) Revenue from mobile communication service decrease continually due to free communication services provided by social media like LINE as well as VoIP communication service.
(2) Price-cutting competition from cable TV carriers in terms of the broadband service.

2. Excessive cost in telecom infrastructure construction

(1) The total bid amount by telecom operators in Taiwan in the 1st phase tender for 5G frequency band is NT$138.081 billion as that for the "golden" frequency band (3.5GHz) is NT$136.433 billion, next to Germany and Italy as the 3rd highest in the world.

(2) Since 5G is of high frequency bands, which is more demanding in the deployed amount of cell sites. Apart from the bid amount to secure the license, additional deployment costs are needed, which impact the revenues and business profits.

3. OTT service:
Impacted by the OTT operators globally, the mobile data in Taiwan is on the rise overall, and yet the business revenue is shrinking year by year.

Chunghwa Telecom has acquired the first 5G license in Taiwan, driving the development of innovative ICT products and services via 5G, including AI, information security, big data, UAV, online banking, AR, VR, smart home, and smart long-term caring, which shall become the vital momentum that propels the revenues of Chunghwa Telecom.

Strategies:
To accelerate development of innovative ICT products and services, Chunghwa Telecom proactively invests in R&D innovation in the fields as follows:

1. IoT, AI, AR, MOD, OTT services
(1) IoT and AIoT shall become the keys to the digital transition for the future telecom industry. We proactively integrate industries upstream and downstream and drive the overall revenues.
(2) CHT utilizes innovative technology to develop IoT application platform (http://iot.cht.com.tw/iot/) that combines services of cybersecurity, big data, cloud, AI, and AR.
(3) The CHT IoT application platform is serving over 500 innovative businesses and SMEs in Taiwan.

2. Strengthening digital convergence in video services:
(1) Chunghwa Telecom is the largest MOD service provider in Taiwan with over 2 million users in total.
(2) Chunghwa Telecom offers the user-centered MOD+OTT multiscreen service with fixed-line, data, and mobile networks combined, which makes it one of the few businesses capable of integrating mobile and cable services.
(3) Chunghwa Telecom, in addition to its Hami Video service, works with international OTT operators, introducing OTT services like Fox+ and KKTV on its MOD platform to enrich the content.

3. Participation in the emerging digital services via M&A and joint ventures
(1) In the field of digital finance, Chunghwa Telecom has obtained the license for online-only banking in Taiwan and is capable of integrating the Hami Pay, Hami Point services to inject more momentum to its revenue.
(2) The subsidiaries of joint venture or of CHT's own utilize the advantages in information security, big data, and IT deployment, offering overall ICT solutions for digital services and creating more revenues.

Target:
(1) NT$15 billion revenue in smart city applications
(2) NT$15 billion revenue in the IoT area
(3) NT$3 billion+ revenue in AI
(4) 2.2 million+ users as the largest MOD service provider
(5) An 85% 5G population coverage

The compensations for the CEO and President of Chunghwa Telecom, apart from the respective expertise, are dispersed in line with the operation and financial conditions of CHT. The revenue of innovative ICT products and services belongs to "development of emerging ICT business", which is listed as CHT's performance indicator in the Directions Governing Performances of Senior Managers of Chunghwa Telecom and is hooked with the variable compensation of the senior managers.
The performance evaluation of the senior managers of Chunghwa Telecom is linked with their variable compensation (i.e. the attainment of cash incentive dispersal).

Material ESG Topic 2:Increase of electricity consumption and carbon emissions from 5G deployment
Chunghwa Telecom has obtained the first 5G license (for 3.5GHz and 28 GHz frequency bands) as the first 5G commercialization telecom enterprise in Taiwan.
The 5G NR radio frequency hardware supports broadband and large-scale antenna technology. The total energy consumption is huge. After addition 5G components in the existing 4G (5CC) cell sites, the energy consumption for the 4G+5G cell sites is expected to be doubled per cell site. (Note: Energy consumption ratio between the 5G 3.5GHz hardware and the 4G 5CC CA hardware is 2.5 KW:2.4 KW, estimated to be as much as 2 folds per cell site. Hence, it shall impact the sustainable management in terms of (1) operation and (2) international standards and regulations.

1. Operation:
(1) The deployment of 5G cell sites will increase Chunghwa Telecom's energy consumption and relevant costs.
(2) The current energy consumption by all the telecom operators in Taiwan accounts for 3% of the total power in Taiwan. Should Taiwan upgrade to 5G entirely (with addition of 5G components to the existing 4G cell sites), it shall account for 5.8% of the total energy consumption with the GHGs emissions of Taiwan doubled, which may affect the target of reducing GHGs emissions to 50% of the 2005 level by 2050 stipulated in the NDCs of Taiwan.

2. International standards and regulations:
Chunghwa Telecom issues ADR in the U.S. and is a listed company in Taiwan. Should it fail to respond to the international carbon management regulations as well as relevant regulations and policies of Taiwan in a timely manner, it may be subject to fines legally as well as risks of damage to the corporate image due to questions raised by the stakeholders thereof.

Strategies:
To mitigate impacts of rising electricity costs and GHGs emissions of Chunghwa Telecom brought by the 5G commercialization, strategies in three aspects are in place:

1. Low-carbon operation strategy:
(1) With "Environment ARtificer Theurgy" (EARTH) of our own device, we gain 100% knowledge of the total energy/resource utilization in the operation, improve the energy management efficiency in buildings, command the energy efficiency results, and control energy expenses.
(2) Energy and air-conditioning solutions of high efficiency, hot and cold aisles, free cooling solutions, and thermal control frequency conversion devices are introduced in the air-conditioning systems.
2. Network facilities of high energy efficiency adopted:
(1) Measures are taken to improve energy efficiency in operation: (1) IDCs and offices combined to effectively utilize spaces; (2) new technologies and products introduced to replace existing, aged, energy-consuming products, like replacing the old PSTN with NGN_CN deployment and introducing ROADM, OXC, PTN, and OTN.
(2) Mobile broadband service implementation is expedited, and aged energy-consuming cell sites are phased out (old, energy-consuming 3G cell sites and GMSC facilities are phased out; VoLTE voice service is promoted to prepare for the phase-out of 3G system).
(3) Over 20 photovoltaic power stations are established with a 607 kWp of installed capacity and 1 MWh of annual energy output, which makes Chunghwa Telecom the telecom operator in Taiwan with the highest green energy output.
3. Becoming a CDP supply chain program member to facilitate the supply chains' energy efficiency improvement in products and services
100 suppliers are mobilized to promote carbon management measures in 2018-2019 with an accumulated carbon reduction of 4.12 million t-CO2e.

Target:
(1) A 15% of cumulative carbon reduction in the energy consumption of buildings nationwide.
(2) A total 300 suppliers responding to CDP questionnaires with a cumulative carbon reduction up to 10 million t-CO2e.
(3) NT$30 billion worth of green bonds issued for constructions and expansion of new facilities and phase-outs of aged ones, and for M&A of other companies or reinvestments.

Pursuant to the provisions of "Directions Governing Performances of Senior Managers of Chunghwa Telecom", the sustainability indicators hooked with the variable compensations of the senior managers are: (1) risk management; (2) code of ethical conduct; (3) information/cyber security; (4) climate change; (5) inventory and engagement of stakeholders; and (6) social participation.

Results of performance appraisal of senior managers are hooked with the variable compensations thereof (i.e. the attainment of annual indicators related to climate change is the attainment of the standard for cash incentive).

Material ESG Topic 3: Impact on human capital from 5000 employees retired in 5 years
It is estimated that 5,000 employees will retire from Chunghwa Telecom in the next 5 years from 2019 to 2024, which account for a quarter of the 22,000 employees at present.

Now that Chunghwa Telecom is the largest telecom enterprise in Taiwan with a long history, employees with service duration up to 30-40 years are many. With these senior employees retired, impacts as follows shall present:

1. Skills and experiences handover
Years of experiences and skills are difficult to be handed over in documents or files in short periods of time.

2. Psychological impact to employees
(1) With a huge number of senior personnel retired, psychological impact may be introduced to those employees that have not reached the age for retirement and yet fit the criteria for voluntary retirement (like age 55 with 15years of service duration) and trigger a chain reaction of retirement application by these employees that have yet reached the retirement age.
(2) The first group of employees having the psychological impact will be the most seasoned and capable employees.

3. Innovative ICT talent acquisition and incubation
In light of the rising needs for talents in 5G commercialization, AI, information security, big data analysis, and IoT, challenges in talent incubation such as competition for acquiring these talents in the relevant industries and how to facilitate the existing personnel to embrace new technology shall emerge.

Strategies:
To mitigate impacts arising from huge number of senior personnel retirements in terms of skills and operation, lest any hinderance to the corporate operation, measures as follows shall be taken:
(1) A total human capital inventory: gaining control of the human capital at present and required in the future
(2) Retirement mode adjustment: concentrating the retirement applications to postpone the retirement of employees and strengthen the handover of skills and knowledge
(3) Human capital outsourcing: outsourcing non-core-businesses like the routine checkup and repair routes
(4) Higher efficiency in human resource utilization: using AI to detect issues of machine in real-time and integrate human resources in the field
(5) Continue recruitment of new talents: new recruits are acquired annually via platforms (e.g. talent acquisition on school campus)
(6) Enhanced in-job training: enhancing core competence trainings based on job descriptions and personal skill requirement

Through implementation of strategies stated above, Chunghwa Telecom is convinced that the corporation can bid farewell to 5,000 employees happy in retirement without any impact to the operation while becoming a more solid, more efficient, and techier team.

Target:
(1) Solicitation and incubation of 1,000 talent minimum each year in 2020-2024
(2) Acquiring talents with packages above the level in the industry of Taiwan with a starting salary up to 48K and a starting salary of 37K for technical talents graduating from college
(3) The yearly salary for non-supervisor employees is NT$1.4 million in average.
Indicators pertaining to talent acquisition have included in the annual indicators pertaining to "human capital" of CHT, linked with the variable compensation of the senior managers.

For senior managers in the relevant businesses, Chunghwa Telecom hooks their results of performance appraisal in human capital replenishment and training with the variable compensation thereof (i.e. the attainment of annual manpower replenishment indicators is the attainment of cash incentive dispersal).
Sustainable Environment Development Strategy and Target
For buildings owned by Chunghwa Telecom, we aim to reach the goal of reducing 10 % of carbon emissions by 2023, with 2017 as the base year. For green operations, CHT keeps practicing energy-saving actions, measuring greenhouse gas emission on a regular basis. To manage resources and environmental protection efficiently and thoroughly, we developed EARTH system to save the spending on energy consumption and enhance environmental management efficiency. To improve energy use efficiency, we take following actions: (1) integrate data centers to exploit spaces properly (2) save cooling energy (3) Install solar water heaters and set up LED bulbs (4) replace old vehicles with environment-friendly ones.

Slowing greenhouse gas emissions is the inevitable direction, Taiwan as a part of the global supply chain, also faces the potential risks of climate change and the pressure of energy saving and carbon reduction. The Taiwan Legislative Yuan has adopted the "GHG Emission Reduction and Management Act" in 2015 and sets out the objective of reducing "Greenhouse gas emissions in 2050 by 50% or more compared to 2005." Since the daily network, data centers operation is dependent on a large number of energy support, followed by increased operating costs, CHT's finances will certainly be affected. If we do not immediately respond to the climate change issues and relevant environmental laws and systems, there may be risks of legal penalties and losing the industry leading edge at the same time. Faced with the challenges of stakeholders and damaging the corporate reputation, therefore, we deeply understand the importance of climate change issues.

CHT is well aware of the environmental impacts associated with energy, resources, waste, maintenance, purchasing and other aspects of our operation. We have adopted a "Green Enterprise, Sustainability and Innovation Strategy" with the introduction of 5G initiatives: "Green Energy, Green Procurement, Green Operations, Green Stores, and Green Supply Chain" that aim to address financial success, sustainability and social responsibility. Chunghwa Telecom has set our goal to become a sustainable "Green enterprise," and thus incorporates environmental issues as part of business operation and management. We hope to play a more proactive role in issues such as energy and climate change. By improving energy efficiency and exploring environmental friendly products and services, we are confident of our potential to inspire a new generation of low-carbon industries.