Customer Relation Management
Issue Date:2020/07/14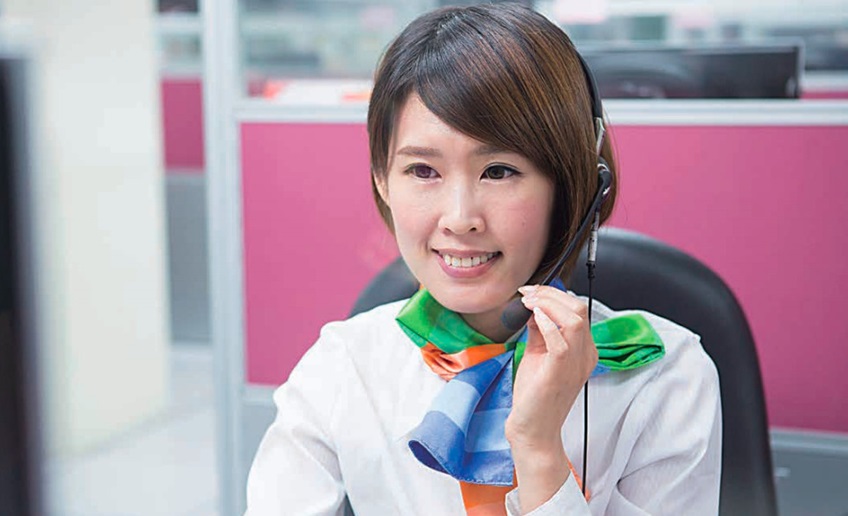 Chunghwa Telecom values consumers' opinion. In addition to conveying technical features of the products and services we offer, we look at the matter from the point of view of the consumer. We provide consumers with the most comprehensive, high quality and efficient services putting a wide and diverse range of service channels at their disposal.

We provide a handbook about products and services for consumers that details product characteristics and applications, consider the negative aspect of overuse, and has friendly reminders provided while marketing. In addition, Chunghwa Telecom has set up the "Channel Sale Support Items Management Guideline" and "Channel Sales Support Items Management Implementation Procedures" to make the display of sales support items and operation management consistent throughout all the service and business locations. This ensures a positive service environment for consumers. These are vital for maintaining a superior and professional image as well as the service quality at Chunghwa Telecom. No violations of health and safety and product labeling was reported in 2018.

In 2011, Chunghwa Telecom became the telecom carrier to have all its centers certified for the "ISO 10002:2004 Customer Complaint Management System." The Company views customer complaints as opportunities to make ongoing improvements. The resolution of customer complaints and dissatisfaction is rule-based and they must be settled within 3 working days. This approach ensures the continuous improvement of service quality.
In addition to the customer service hotline, consumers may also use the corporate website or Representative Line authorized by the President (02-23446789) to raise complaints directly to the assistance of the senior executive.
Refined Customer Service
Chunghwa Telecom provides services which are refined, thoughtful and professional to build the most congenial and warm atmosphere around customer relations. We use big data analysis to learn the true needs of customers so that we can offer thoughtful and customized services and products. This positive approach cultivates both favorable impressions and brand loyalty.
Review of CHT Customer Service Mechanism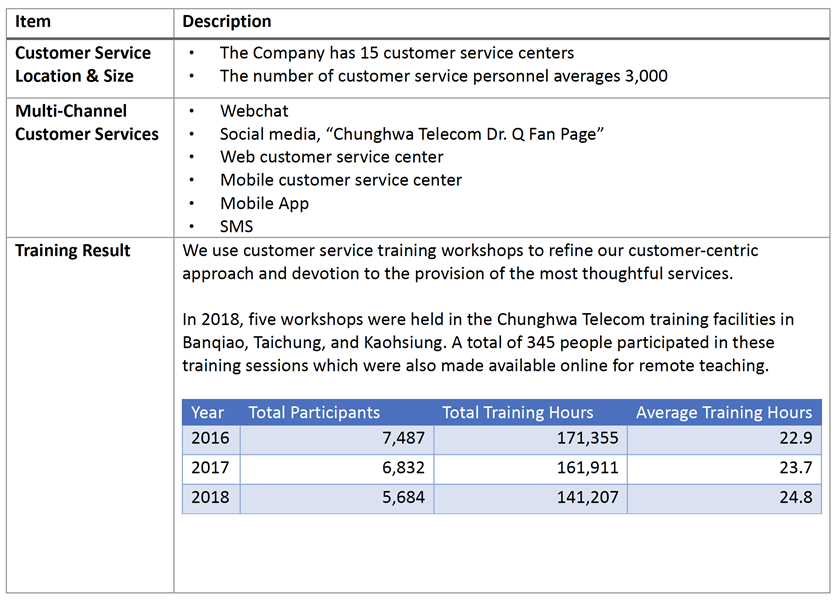 Consumer Satisfaction Survey
In order to find out the satisfaction of diverse services and perceptions of Chunghwa Telecom's corporate image, brand value and quality of service, we have delegated market research companies to design questionnaires using the Taiwan Customer Satisfaction Index(TCSI) based on National Customer Satisfaction Index(NCSI) models, and conduct customer satisfaction survey on a yearly basis. We conduct a broad variety of satisfaction surveys to identify consumers' most concerned issues and expectations, and use these findings to guide our future improvements. According to the results of annual satisfaction survey, we will request relevant units to conduct further analysis in regard to the items belonging to the fourth quadrant (high importance and low performance) and propose concrete improving measures. Also, there will be a follow-up keeping track of the condition of corrective actions next quarter.

For the satisfaction survey of consumers, we adopt a ten-point scale, the higher the score, the higher the degree of satisfaction. Besides, the score of more than 7 points (including 7 points) is viewed as "satisfied." In 2018, the average score was 6.89 points and the percentage of satisfied customers was 70.11%.
Due to the influence of the Mother's Day special plan launched in 2018, the annual satisfaction score decreased compared with last few years.


Service Reliability
Pursuant to relevant business management regulations that National Communications Commission (NCC) announced in 2017, Chunghwa Telecom discloses annual major network interruptions and explains how to handle following repairs and damage management methods.

Major Network Interruptions and Countermeasures
1. A summary of interruptions in 2018
Because of aging equipment and inefficient performance in Taipei area in January, the service was suspended and some users were unable to access the network.

2. Reviews and improvements
A review of causes for the interruptions finds the following problems:
• Aging equipment and components
• Unpredictable interruptions

To strengthen Chunghwa Telecom's overall operation and improve the stability and reliability of network services, we have taken the following measures:
• Adjusted the parameters of 200 devices to lower simultaneous dispatch numbers and prolong Keepalive signal from 10 minutes to 60 minutes.
• In regard to heterogeneous network (mobile phone and local telephone), we completed verifying backup functions, establishing systems and configuring the backup route to avoid interruption to our service.

3. Follow-ups and improvements
• Established a mutual-redundancy mechanism by combining Next Generation Network Switches in Taoyuan and Taichung with carrying capacity of three hundred thousand clients for each. Also reviewed system monitoring tools, log analysis tools and network traffic monitoring to develop indicators for observing system performance and maintenance.
• Set up a task force to review current operation & maintenance mechanism, assignment of responsibilities and develop future infrastructure, in connection with software and hardware revolution and operation& maintenance requirements of Next Generation Network

Because of efforts by network service maintenance units to strengthen the training of repair personnel, the average major interruptions occurred in 2018 was 0.0016 times per customer, which has decreased from 0.013 in 2017. Besides, the average duration of interruptions in 2018 was 0.63 minutes per customer, which was also decreased from 1.55 minutes in 2017.