Sustainable Development Committee
Issue Date:2022/06/09
Sustainable Development Committee
With expansion of core competencies and sustainable benefits as well as implementation of corporate vision of sustainability as the starting point, CHT Sustainable Development Committee promotes various sustainability/ESG action plans to contribute more to the sustainable development of the industry and society.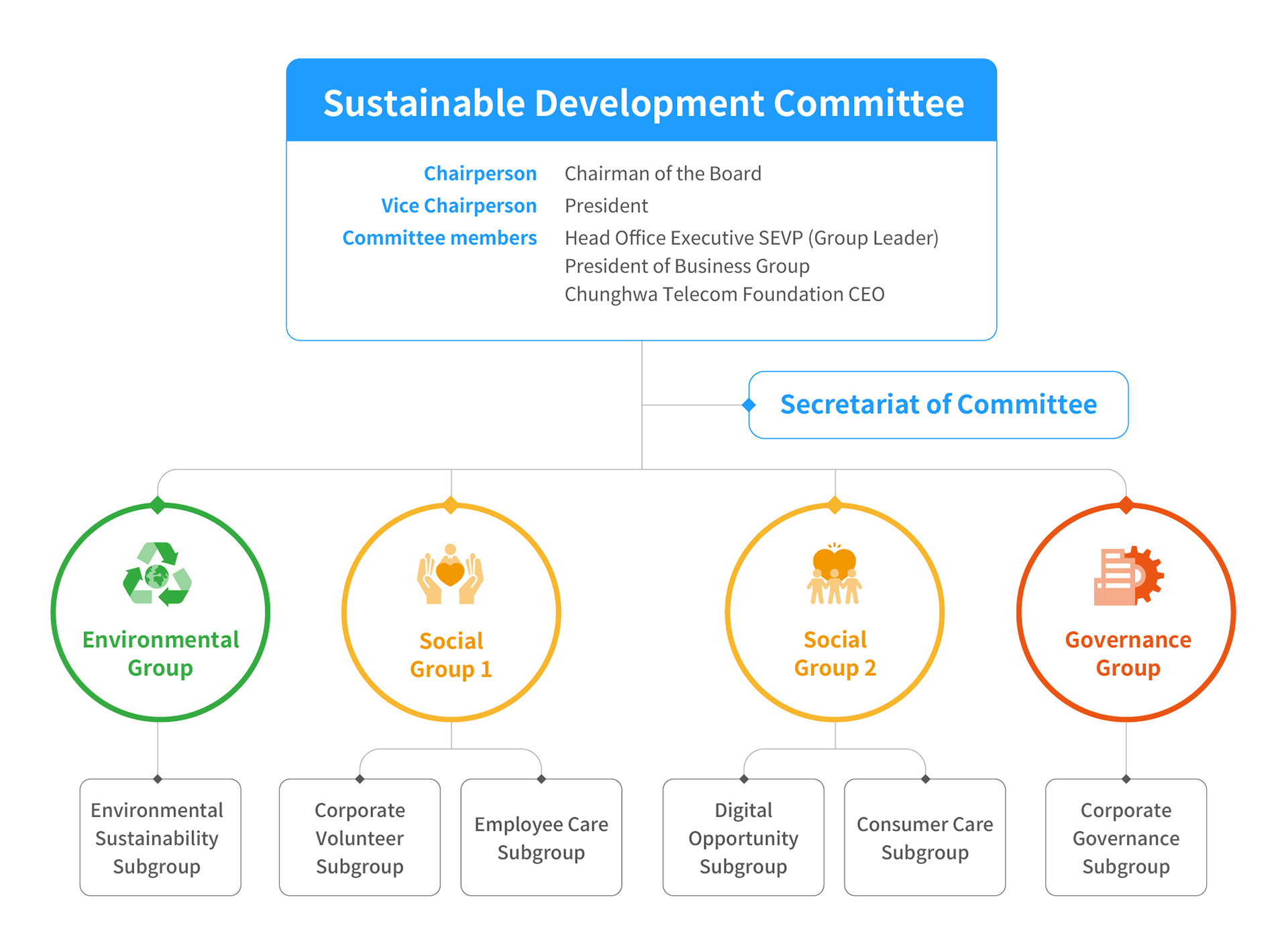 Item
Description
BoD Representative
Chi-Mau Sheih Chairman
Mechanism
Pursuant to the policies approved by the Board of Directors, the Sustainable Development Committee engages coordination and progress oversight for various actions and regularly reports to the Board of Directors on major issues and results of stakeholder communication, of which the year-end performance appraisal is conducted by the Board of Directors.
Execution

The Secretariat comprehensively manages relevant policies and action planning; formulates action plans and budgets; organizes relevant trainings, result presentations; and carry out evaluation, tracking; and awards.
ESG Work Group, Business Groups, and subordinate institutions promote and implement relevant action plans in a coordinated effort.
The stakeholder engagement results are included in the materials for the Board of Directors quarterly.

Meeting Frequency
Every six months
Report Sign-off
Reports are submitted to Chairman for review and approval upon review by the SEVPs at the Headquarters.
Execution Result in 2021
With the reshuffle as "Sustainable Development Committee" adopted, the net-zero emissions by 2050 and the Sustainable Development Goals by 2030 were set and proposed to the 14th Session of the 9th Board of Directors to practice corporate sustainability.
ESG Internalization & Communication
Chunghwa Telecom has employees all across Taiwan. To ensure all employees' understanding of the vision and spirit of corporate sustainability, we established various communication channels. Also, with the performance appraisal mechanism combined, the ESG concepts are put into action and embedded in the everyday business.
Channel
Name
Action
Executive Communication
Senior Management Meeting
The material issues of sustainability are regularly submitted to the senior management meeting for discussion before resolutions adopted to improve directions and goals of development.
Employee Forum
Chunghwa Telecom Online Forum
Internal employee opinion exchange site has been created for employees to express and exchange opinions anonymously, and issues discussed by the majority are communicated and improved in a timely manner.
Employee Training
Environmental Training
At least 4 hours of environmental training as well as various educational eco-tours are provided each year to communicate the ideas of environmental sustainability.

ESG Training

CSR related courses are conducted, and external consultants are invited for education and exchange in line with the international trends every year.

New Recruit Training

Digital training courses are arranged for new recruits regarding the personnel system, work rules, and labor relations to probe into matters concerning the Labor Standards Act, labor negotiation and dispute handling.

e-Learning

Courses, timely information, and announcements are available to the employees anytime on the e-Learning system.
Annual Appraisal
Administrative Sustainability Performance
Reduction targets for various energy uses are incorporated in the annual management performance evaluation as the basis for individual or departmental energy-saving bonuses.

Online Test on CoC

Promotion and tests on the Code of Conduct, Ethical Corporate Management Best Practice Principles, and Insider Trading Prevention are conducted yearly.

Reporting mechanism

Employees in violation of the Code of Conduct and Ethical Corporate Management Best Practice Principles are subject to disciplinary action in accordance with the corporate regulations upon verified as true.
Others
ESG Report Workshop
Internal trainings regarding the latest report preparation trend are conducted from time to time.

Official Website and Social Media

Dedicated "CSR Video" section has been created on the official website, CHT YouTube Channel, along with a Facebook Fan Page established, to accommodate the viewing habits of stakeholders nowadays.