Happy Corporation
Issue Date:2022/06/30
Gender Equality and Diversity
Chunghwa Telecom places great value on human rights and gender equality. In 2020, there are 1 female directors on Board and female staff accounted for 29.29% of total staff. Among them, female managers accounted for 27.84%, female junior managers accounted for 29.59%, female top managers accounted for 17.72%, female managers in sales department accounted for 53%, and female in STEM-related positions accounted for 17.17%. We expect our female in STEM-related positions to reach 20% by 2030.
To conform to the essence of the "gender equality" in the Employment Act, the Company has outlined "Regulations Governing Anti-discrimination and Anti-harassment" and established a "Complaint Investigation Committee" that specializes in the handling of employee complaints about work-related discrimination and improper behavior. The investigation committee has five members, three of whom are female. Our effective control has resulted in no incident of discrimination being reported in 2020. Training Courses are provided to employees, and occasional promotion lectures during business meeting and during new employee onbroading are also held to raise awareness to the issue in the workplace.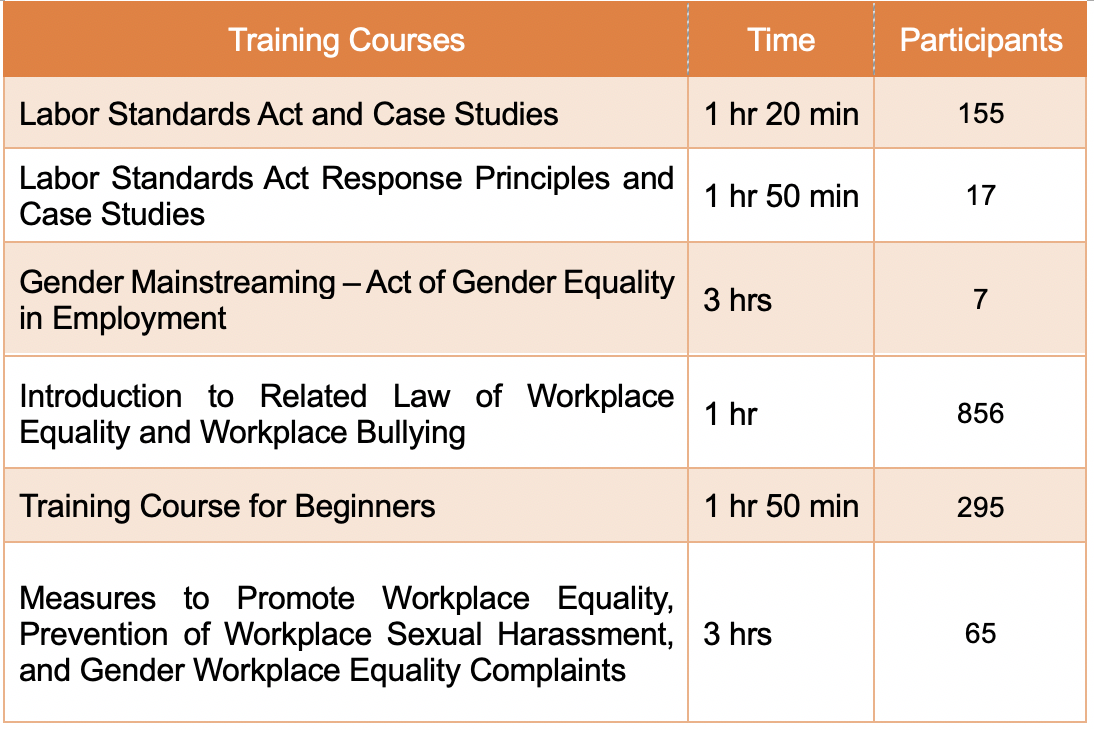 Breakdown of workforce based on ethnicity / nationality:

Breakdown of workforce based on other minority group(s):

Union Establishment
Chunghwa Telecom is the only telecommunication carrier in Taiwan with union establishment; it has also signed a collective bargaining agreement with the union. This agreement covers an extensive range of issues from redundancy, reward, discipline, promotion, to health and safety. This initiative not only complies with local laws and international human rights conventions, but is also a show of our commitment to protect employees' interests. In addition to the union established by Chunghwa Telecom, employees have also assembled 14 other unions under the organization.
In 2020, 99.26% of employees had attained union membership. A director seat has also been reserved for workers' representative, so that employees can more freely express their opinions.
The Employee Engagement Survey
The 2020 Employee Engagement Survey graded at an average of 90 points out of 100. The result of the 2020 Employee Engagement Survey is as followed: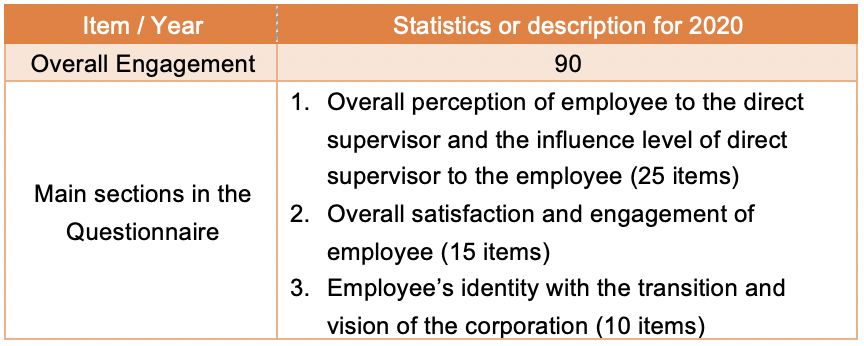 Fair Appraisal Mechanism
Chunghwa Telecom now applies "Employees Performance Evaluation Guidelines" which are utilized in the evaluation of employee performance to develop the corporate culture where employees, customers, shareholders, and the Company will all be winners. Supervision will be provided for underperforming employees who will be guided until the appropriate improvement has been made and they are back on track.
Chunghwa Telecom conducts performance appraisal at three different levels: entry-level staff, entry and mid-level managers, and senior managers. Performance appraisal involves a series of face-to-face discussions between employees and line managers at the beginning of a year to set personal goals, and also at mid-year and years end to evaluate the degree of employee contribution to Company performance. During these sessions, managers also discuss career plans and suggest courses relevant to the future career of each employee. Performance bonuses and employee remuneration are tied to performance.

A Competitive Compensation System
We have a "Compensation Committee" in place to ensure that compensation for the best talent is competitive. In addition, the Company has a transparent system for sharing business performance with its employees. Compensation for executive management has been standardized and details are disclosed publicly in the annual reports. The Company offers equal compensation for all entry-level employees of the same grade. Those who possess relevant skills and work experience may have compensation evaluated based on educational background, career experience, expertise, and professional qualifications. Under no circumstances will compensation ever be determined by gender or racial differences. The median employee compensation of all employees (except for CEO) is NT$ 1,299 thousand in 2020, while the mean employee compensation of all employees (except for CEO) is NT$ 1,270 thousand in 2020. The gender gap between employees are as followed:
Employee Hire and Turnover
New Employee Hires: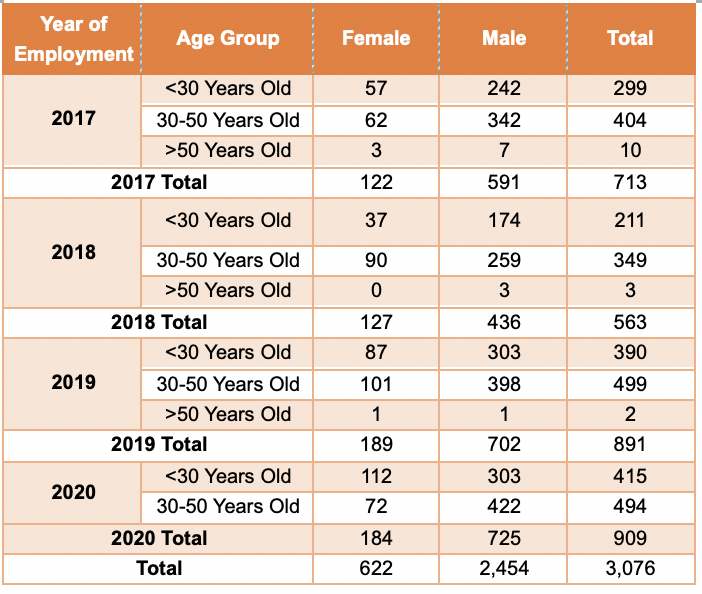 Internal Hires: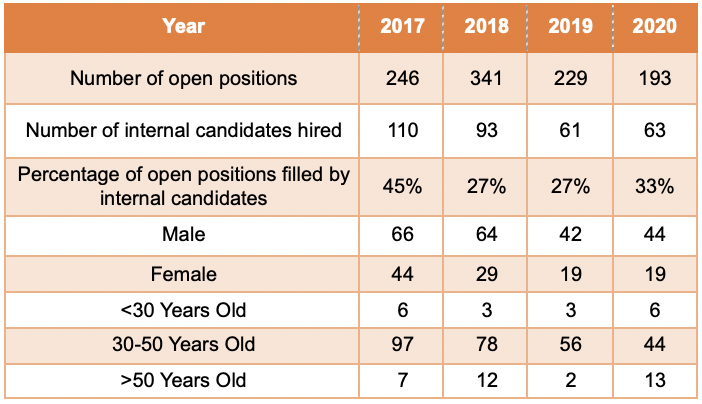 Turnover: