Business and Human Rights
Issue Date:2022/06/30
Human Rights Policy
Chunghwa Telecom supports and voluntarily abides by internationally recognized human rights conventions, including "Universal Declaration of Human Rights", United Nations Global Compact", "United Nations Guiding Principles on Business and Human Rights", human rights framework and spirit of "International Labor Organization guiding principles,' human rights promotion assessment and other due diligence work, thereby strengthening the human rights awareness of internal colleagues and stakeholders.
Chunghwa Telecom's Human Rights Policy is applicable for the Chunghwa Telecom and its affiliated organizations. In addition, the same standard shall apply for Chunghwa Telecom's suppliers and partners to meet expectations in line with the policy spirit and basic principles.
Process of Human Rights Due Diligence
In order to identify potential human rights violations cases, Chunghwa Telecom conducts human rights impact assessments of value chains every year and provide subsequent remedial measures to mitigate the adverse effects of risks. Following is the due diligence process.
Step 1. Organizing Issues:
Assess issues relevant to company operation, based on internal and external human rights indicators
Step 2. Identifying scopes and issues:
Identifying scopes and issues
Step 3. Assessing impacts:
Based on different material issues, responsible units are designated to conduct further assessments and confirm relevant impacts, also record results of review and extent of impact on "Record sheet of human rights policy self-inspection" at length
Step 4. Mitigating and monitoring:
Summarize the result of assessments for mapping human rights risks, responsible units are also designated to review risky issues and develop improvement plans
Step 5. Reporting:
Disclose the implementation of human rights policy and due diligence process on corporate CSR report and website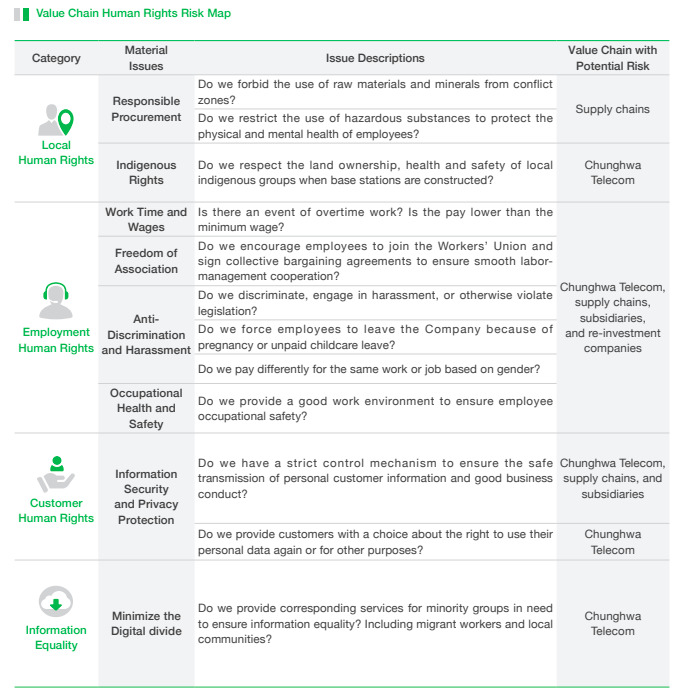 Human Rights Mitigation & Remediation Actions for All Employees
1. Working Environment for Employees' Safety and Health
(1) Risk Assessment:
ISO 45001 certificate
Employee health examination
(2) Mitigation And Remediation Actions:
Trainings on occupational safety and health
On-site health services by doctors with contract and full-time nursing personnel
Development of management tools to improve management timeliness
Health lectures
2. Prohibition of Forced Labor/ Child Labor:
(1) Risk Assessment:
Calling of labor-management meeting and establishment of grievance mechanism
Individuals, recruited or hired, are required to submit their CVs and identity documents to verify themselves to the Company as age 18 or above.
Mitigation And Remediation Actions:
Calling of labor-management meeting to facilitate communication and understanding
Compliance with the laws and regulations pertaining to working hours, while any violation thereof requires immediate remediation and review
Calling of negotiation meeting for any change to labor terms
No child labors
3. Freedom of Association:
(1) Risk Assessment:
Establishment of communication mechanism that is normal, mutually trusting, and effective
Establishment of labor union and signing of collective bargaining agreement therewith
Labor-management meeting at least once every three months
(2) Mitigation And Remediation Actions:
Enhancing labor-management communication and dialogue mechanism
4. Sexual Harassment:
(1) Risk Assessment:
Appeal Review Committee of 5-9 members established with the percentage of female members no less than 50%
Hotline and email box for appeal handling created with relevant information disclosed publicly in workplaces
(2) Mitigation and Remediation Actions:
An Individual that handles, investigates, or reviews an appeal regarding sexual harassment is to recuse himself/herself in a case if necessary.
Personnel are encouraged to take trainings related to sexual harassment prevention and correction.
An appeal is to be tracked, reviewed, and supervised to ensure an effective implementation of the resolution thereof.
Any individual in need of counseling or medical attention will be referred to professional counseling or medical institution.
5. Promotion of Employees' Physical Fitness and Life Balance:
(1) Risk Assessment:
Early warning and notification mechanism established for employees
Dedicated management unit for occupational safety and health
(2) Mitigation And Remediation Actions:
Employee Assistance Programs (EAPs) as well as psychological, managerial, health, and legal counseling services
Organizing hiking, cultural, and sports activities based on the feedbacks of employees
Installing fitness facilities
childcare subsidies for employee with child that aged 0-6

For more information, please refer to Chunghwa Telecom 2020 Human Rights Due Diligence Report.
Open Communication and Grievance Channels
We have open communication channels in place to ensure that employees needs or suggestions are heard. Any violation or misconduct in the workplace can be reported to the relevant department using the channels provided. There were 43 complaints in 2020, including behavior as disrespect of the CHT system, principles, administrative management, and violation of the employee code of conduct or other misconduct. There were no human rights related cases in 2020.
We hold regular labor-management meetings to maintain contact between employees and the employer. There are 9 representatives from each side, employer and employees. The chair is held by each side in turn. The Chairman and President of Chunghwa Telecom engage regularly with the Chairman of the Union, Directors, and Supervisors in meetings, in person and by telephone. The Chairman of the Chunghwa Telecom Workers Union is entitled to participate in disciplinary review meetings, performance appraisals, and business report meetings to ensure that workers are kept up to date on Company news. In 2020, the Company held 6 nationwide labor-management meetings during which employees and the employer were able to reach consensus on many issues. Meetings for the discussion of particular matters can be convened, or if any change to work conditions is necessary.