Risk Management
Issue Date:2018/06/23
Chunghwa Telecom places great emphasis on business risk management as a means of ensuring stability against impacts from the external environment and internal operations. It has the "Risk Management Policy" in place to guide employees' actions. The board of directors outlines the Company's risk management policies, framework, and culture. The secretariat assists the board in the implementation of risk management practices throughout the Company.
The Audit Division audits risk practices and reports findings back to the board. In 2016, the Company established its Risk Management Committee consisting of the President as the convener and senior managers as members of the committee. The committee supervises risk management throughout the organization and is responsible for prioritizing the identified risks, formulating response strategies to key risk issues, and reporting to the board of directors at times deemed necessary.
Chunghwa Telecom's risk management practices involve ongoing analysis of operational goals, the accuracy of financial reports, and impacts of high-risk events. These findings are constantly reviewed to ensure that all business risks can be identified and controlled, and thereby maintain business operations while protecting stakeholders' interests. We also have an enterprise risk management (ERM) system in place to control risks associated with our businesses. Risk managers have been assigned to all departments to monitor risk targets and risk events, and report findings on a monthly basis. Risk managers are also involved in the review and adjustment of risk measures, assessment of risk impacts, and execution of systematic records, management, and follow-up tracking.
We use a "risk map" for assessing regulatory risks, network maintenance risks, market competition risks, and financial risks. For every major concern identified in our operations, we conduct intensive sensitivity analysis and stress-testing to decide whether we should take steps to accept, transfer, mitigate or avoid the associated risks, thereby minimize our possible losses. Risk management expenditures are expected to be disclosed in 2017.
*More Operation Risk information: https://goo.gl/v2iGs6 (p.5-17)

Climate Change Risk
Climate risk and opportunity management is an integral part of our business and decision-making processes and is embedded into Chunghwa Telecom entire organizational structure and business processes. The scope of evaluation includes all business groups of the Company.
CHT has incorporated the climate change factor into the evaluation system for corporate performance and risk management. Significant risks are listed in the annual corporate operating plan. Target management and performance evaluation are then conducted along with continuing certification and feedback activities. The key components of our risk management system include our CSR Policy, guidelines and reporting systems, strategy, planning, and controlling processes; Internal audit activities; the establishment of CSR committees and the requirement for Environmental Management Systems within all of our operations with significant risks.
CHT Climate Risk Management Procedures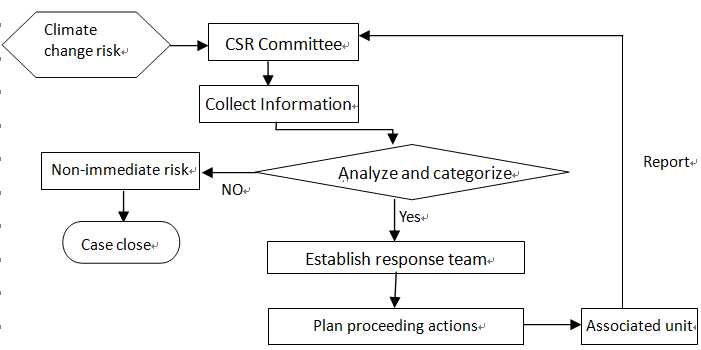 ● Evaluation conducted frequency depends on the business needs of individual group/department
●Criteria for determining materiality/priorities: Climate change risks and opportunities are determined with reference to probability of occurrence and severity and are measured against threshold values stipulated in the CHT's Policy for Opportunity and Risk Reporting.
●To whom are the results reported: Risk reporting is fully integrated into our standardized budgeting and controlling processes. The asset level Risk Owner reports into their department manager. The Manager reports into CSR Committee member. Significant Risks at a company level are reported quarterly into the CSR Committee and the Board of Management. The information is also publicly communicated on CDP questionnaire and CHT CSR Report.